Catch More Early Season Brook Trout!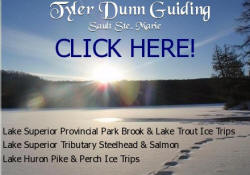 By: Tyler Dunn Tyler Dunn Guiding
Ontario is home to arguably the best province wide brook trout fishery Canada has to offer. Although parts of Southern Ontario offer some dynamite speck fishing; the north is where itís at!
Brook trout can most definitely be one of the hardest species of trout to consistently catch. The first key ingredient to catching quality brookies is to fish a lakes that actually host a population of quality fish. Lake size, depth and baitfish are key factors for big brookies. Lakes which boast an abundance of smelts offer brook trout a high in fat, protein rich diet which is the perfect combo for growing giants. Although, a ton of lakes, some of which are not much bigger than a puddle around my home town of Sault Ste. Marie. They do give up a ton of trophy specks to anglers here. That being said, most of the fish that are one in a lifetime monsters usually come from larger bodies of water.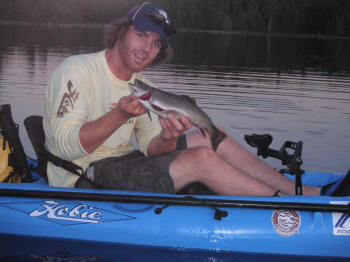 Ice out and into early summer brook trout fishing should be focused on shallow water areas of the lake. Water anywhere from 1-10 feet is ideal depth for finding brookies. Rock piles and brush piles are great hiding places for brookies to ambush baitfish from. Another great option is to work the shorelines of back lakes with an electric motor. The person off the front of the boat can chuck an aggressive presentation and the guy at the back throws a more subtle approach. Aggressive baits such as a minnow bait, spinner or spoon are typical. Minnow baits like as Rapala countdowns, xraps, huskyjerks, jointed and originals all can be found in my brookie arsenal. Small is usually better but I have landed enough fish on J11ís to know that should always run one. Spinners such as Bluefox Vibraxs and spoons like Gibbs Koho are staples in my tackle boxes. The guy at the back of the boat can work a jig/worm, buck tail or tube jig looking for fish that seem negative and didnít strike the aggressive presentation.
Although I tend to cast much more during the first several weeks of open water brook trout fishing. Trolling can also be deadly! Specks can be a hard nut to crack and sometimes covering water can be the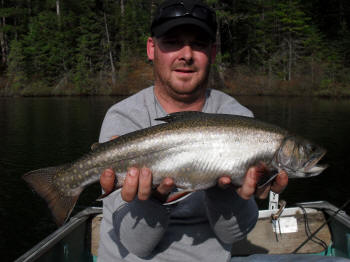 best method to put fish in the boat. On bright, hot, dead calm days and is when I sometimes find fish activity non-existent and this is when I usually opt to troll. My first trolling presentation will usually involve some meat. Meat being a worm or minnow. Slow rolling a worm or shiner behind a mini flasher works wonders. The same goes for pulling meat behind any flashy spoon. I like to tip flatfish with a juicy dew worm. I will hook the worms a few times and let roughly 2Ē wiggle around behind the plug.
Dragging flies around behind a flashy spoon is often deadly combo brookies often canít refuse. Pull around a wooley bugger or an egg sucking leech on an 18Ē fluorocarbon lead from a Williams Wobler or your favourite spoon. Just like any another trolling presentation, little twitches and jerks often trigger most strikes. Another option is to throw your rod in the holder and do S turns while trolling. This will keep your lures moving up and down in the water column with some added erratic action.
The open water is here early this year. Get out there and enjoy Ontarioís most prized fish species!