Slinging Soft Swimbaits for Green-Backed Bass
Justin Hoffman
Firing off a cast into the haze of early morning, while slowly inching the boat along a prime shallow-water flat, had my mind steadfastly thinking it was going to be one of those banner days. The lure shattered the calm surface – and after a few seconds of adjustment – I got the reel cadence down pat. The line and rod registered the tell tale paddle-thump of the retrieve perfectly…and then the waiting game began. I watched the lure swim tantalizingly toward me and readied myself as it cleared the top of a productive-looking weed clump. The strike was quick and aggressive. It wanted this bait bad. After an acrobatic leap and a short tussle, the three-pound largie was released to fight another day. And that was just the first of many to come that morning.
The lure being tossed was a soft swimbait – a relative newcomer on the bass fishing scene, but one I am already a firm believer in. If truth be told, I am a dyed-in-the-wool jig fisherman – always have been. This lure is challenging that train of thought.
As Natural As They Come
Soft swimbaits work for a number of different reasons, but the realistic action they exhibit is as close to Mother Nature as they come. Due to the design of the oversized paddle tails, a thumping action is easily achieved by way of a simple and straight retrieve. This "thumping" gives off vibration and a visual stimulation that is hard for a largemouth bass to resist.
The profile of a swimbait also mimics the prey that rates high in the diet of a bass – namely perch or shad – and is a definite triggering device. Rounding out the attractiveness of this lure is a soft and supple texture. It feels alive and natural and fish have a hard time letting go.
Take Your Pick
The fishing market has been flooded with an infinite design of soft swimbaits. Most manufacturers have a different sampling to offer the consumer. Personally, I have found a couple that routinely work well, and have the look, action and durability that I desire.
The "Money Minnow" from YUM is an excellent choice. The natural colours works well on the waters I fish, and the tail action is very pronounced and alluring. The Berkley Powerbait "Hollow Belly" swimbaits are also a compelling find, and offer a slight increase in durability but slightly less of a paddle action. Keeping both in the boat fits the bill for me.
For chasing largemouth, sticking with a five-inch swimbait seems to work best. The size and shape fits the profile criteria for a bass' prey. I generally throw this style of bait 90-percent of the time. However, if conditions are tough, or when fish are short striking the lure, dropping down to a 3.5-inch version will often lead to more strikes, and ultimately generate greater numbers of fish in the boat.
When choosing colour, stick with natural hues for clear water lakes, and increase the brightness the murkier the water becomes. Foxy Shad, Blueback Herring, and Hitch are my favourite go-to shades, although I am continually experimenting under different conditions or seasonal patterns.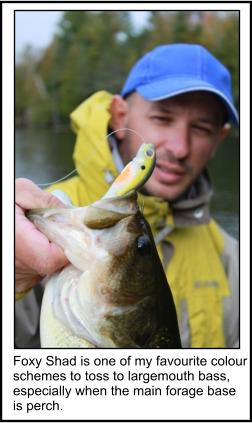 The Easiest Lure to Fish?
The design of a swimbait lends itself to being one of the easiest baits to fish. Simply put – you cast the lure out and reel it back in. It really is that simple. The most important part of the retrieve is getting the speed correct. Having the bait thump it's tail back and forth with the correct swimming cadence is what makes this lure work, and an angler figures that out after a few casts on the water. It is definitely not a fast way of fishing, but more of a medium-slow way of going.
Swimbaits seem to excel most when they are fished within the first two feet of the water column. This is certainly not a deep water lure, and really does its best work in water less than 12-feet deep. The prime depth of water for me is anything less than eight-feet.
Swimbaits are relatively weedless, so the options of where to toss this lure are varied and wide-ranging. Shallow-water flats, sparse pad beds, pencil reeds, alongside docks and fallen trees, and over weed clumps are a few places that come to mind. I think of this bait in similar terms as a spinnerbait – a great lure to cover water and search for actively feeding fish. Swimbaits, however, will also attract the attention of those neutral of negative-feeding fish, so its prowess is even greater than that of its flashy cousin.
Largemouth will hit a swimbait in a number of varying ways. Crushing it during the retrieve is the best scenario, as this will often result in a positive hookset. Other times a bass will suck in a bait and keep swimming forward – leaving the angler none the wiser of a fish being there. A quick game of catch-up usually ensues, and driving the hook home when the slack has been tightened up is paramount. Nipping at your bait or short striking can be a common exercise when fish are inactive. In this case, switching to a smaller bait or adding a trailer hook (see image) is in your best interest.
Tackle Tips
Although there are rods on the market specifically designed for swimbaits, many are often targeting those that throw heavier versions of the hard plastic variety. Look for a baitcast rod with backbone but a softer tip. I am currently using a 7"2" Medium Crankbait rod, and have found that the longer stature and softer end allows me to cast further and feel the lure work more efficiently. A medium ratio (think 6.1:1) retrieve rate will offer the best in terms of a reel choice.
As for line, straight fluorocarbon in 17-pound test has been my favourite, and will hold up to abuse yet still have some give for when a fish strikes. Best of both worlds in my mind.
Soft swimbaits are a great addition to your arsenal when targeting largemouth bass. Fish jump all over these life-like lures…and that means more bass in the boat for you. And like me, they may just challenge to become the number one technique in your bag of bass tricks!