Sock it to the Fish
By Justin Hoffman (
Click here to visit my new website!
)
Weather conditions are a fact of life for those that choose to wet a line. From pounding rain to sauna-like heat – and everything in between – we stoically stare down Mother Nature when there are fish waiting to be caught. But give us wind and we curse its existence – all while blowing mercilessly amongst the waves with each gust it rains down on us.
But there is hope. The light at the end of the wind tunnel is an essential and functional angling tool called the drift sock – a wind and wave tamer that too few anglers use, but a "day saver" item that should be stock on each and every boat that plies the water.
What To Buy
?
When purchasing a drift sock, the rule of thumb is to buy one to match the length of boat you run. This will give you a ballpark size to begin your search with, which can then be fine-tuned to the perfect fit dependent on what severity of wind conditions you routinely face.
Many drifting applications call for the use of two socks, so choose one sock that matches your boat specifications and another the next size up. This will cover a variety of bases while allowing you to experiment and see which methods work best.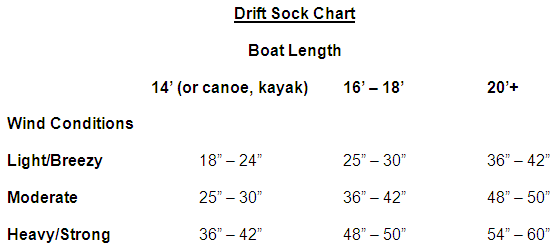 Tricks of the Trade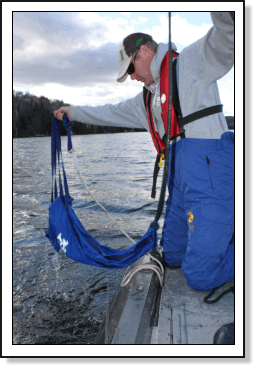 Drifting Flats
– Working expansive flats when the wind is howling can make for a tough day of fishing, especially if pitching jigs to walleye or tossing spoons to northern pike. In order to slow down your approach, while keeping a controlled drift, you will want to utilize two drift socks on the windward side of the boat. Attach a larger sock to a cleat just below the bow and a smaller sock at the rear on either the port or starboard side – depending on which direction the wind is blowing.
Deploying the drift socks in this configuration will alleviate any issues with uneven boat drifting, and with the outboard motor also creating drag, will allow you to slowly pick apart a flat and fish it effectively and thoroughly. Any minor positioning changes can be achieved with the bow mount motor, or with the transom electric, kicker or big engine.
Windblown Shorelines
– Nothing rings the dinner bell more loudly to a predatory fish than a windblown shoreline does. This is exceptionally true with walleye, smallmouth bass, and muskie. Trying to fan cast effectively, without being pushed up on shore, can often be an exercise in frustration – especially when the winds are gusting strongly. To combat this problem, a drift sock should be attached to the rear corner of the windblown side. With this configuration, your boat will remain parallel to the shoreline, and the bow mount trolling motor will be used to inch your way along the drift and periodically nose the bow out and away from the shore.
Backtrolling Precision
– Fishing breaklines or working humps requires controlled rigging. This is best achieved by backtrolling your offering directly and slowly in front of the fish. When winds are high and waves rough, however, the ability to keep the bow from swinging and overcompensating motor movements is often a reality. To combat this occurrence, tie a drift sock directly off the bow of the boat and backtroll with the wind. This will help you regain total control of your spinner rig or crank – and hopefully the walleye bite.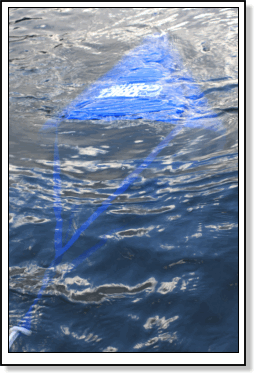 If speed becomes an issue, choose a larger drift sock or shift your motor in and out of neutral when needed.
Big Motor Trolling
– Although most applications for a drift sock revolve around wind, trollers are also seeing the merit in this device. They are especially useful for those anglers that don't have a kicker or electric motor, and are forced to use the big outboard.
In order to slow down "too fast" trolling speeds, tie off two "smallish" drift socks to each side of the boat – approximately at the mid-way point. Shorten the tow rope lengths so as to alleviate the chance of tangles in the prop.
Tying One On
An integral part of the drift sock system is the tow rope and dump line. As the name suggests, the tow rope is attached to the main harness of the sock. Tying off to a cleat on the boat is then done with the loose end. By using a length of rope (two to eight-feet) variances can be made for certain applications, and the drift sock itself can always be kept out and away from the boat.
Pulling a drift sock back into the boat when fully inflated and submerged can be a tough deal – and an exercise in brute strength. A dump line makes life easier.
Attached to the tail end of the sock (and the boat cleat or tow rope), a tug on this retrieval line will swing the smallest end forward, collapsing the sock and allowing it to be pulled easily and effortlessly on board. A key rule to keep in mind is to ensure that your dump line is longer than the overall length of the tow rope and drift sock.