Bass Fishing Lake Joseph
Delta Sherwood Resort, MUSKOKA ONTARIO
By Wil Wegman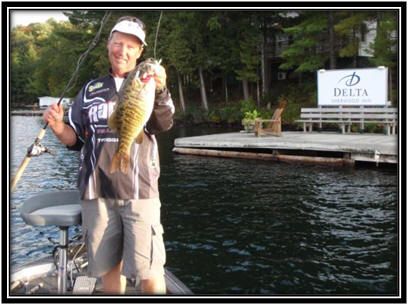 I was on the lake for less than an hour and was working my Rapala Skitter Pop across the surface in 30 feet of water. I had heard beforehand that " drop shotting is definitely the way to go on Lake Joe". My choice of a topwater lure to entice these deep may have been the last choice for many anglers … but I knew from past experiences in similar lakes… the rewards can be remarkable.
The clear water of this pristine Muskoka lake combined with the low light situation and slight chop provided tailor made topwater conditions. However the dark day also clouded my view below the surface. "Gosh … what's that big brown thing behind my bait", I mumbled to myself. A minor explosion followed; I waited a split second then set the hook, and was soon battling my first ever Lake Joseph smallmouth! It didn't want to be anywhere but airborne, however in spite of these antics, I was able to subdue my quarry; take a quick photo and then let her go.
I quickly saved my first waypoint on the Lowrance HD unit for future reference. Little did I know that this very first fish spot would ultimately become my most consistent and memorable place to catch big bass on the entire lake!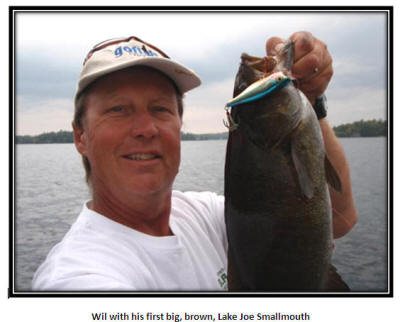 I had fished "Joe" plenty of times in the past … but that was all while walking on water and ice fishing for lake trout. Joe had already shown it could provide great hardwater action for beautiful lakers but now I was interested in bass. This time I came to fish open water near the end of September and I was there with my wife Loretta and oldest son Tyler (aged 25).
We were staying at the beautiful Delta Sherwood Resort – not far from the village of Port Carling in the beautiful Muskoka Region of Ontario. Earlier in the year, I was thrilled to learn that the Muskoka Region was voted Number One on National Geographic Traveler magazine's list of the 10 best summer trips of 2011. It beat out popular destinations such as Patagonia, Argentina and the Azores in Portugal.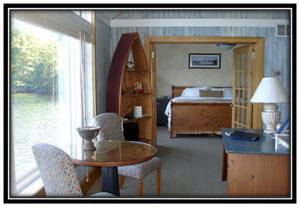 Left: A view of the only luxury boathouse suite on the Muskoka Lakes. With panoramic views of Lake Joseph, this suite is by far the most unique guestroom on the Delta Sherwood property.
I've had bass fishing Lake Joe on my bucket list for quite some time and when the opportunity to fish it and stay at Delta Sherwood came, I jumped in with both feet. The accommodations and service were outstanding. The smoked duck appetizer and rack of lamb was not something we will soon forget. Of course I really appreciated the nearby covered boat slips where my bass boat would reside for two nights while we slept. Plug-ins were handy to charge my batteries overnight while my boat remained safe and dry when it wasn't out with me fishing this new lake.
Fishing A New Lake:
I approached my first day out on the water a lot like I do when pre-fishing for a bass tournament on any new lake. This meant I did a lot of moving around to first learn the waterbody. The Navionics Hot Maps Supreme chip offered the most up-to-date digital map available, yet I was still amazed at how large and complex Lake Joseph was. There are several islands, shoals, and inlets leading to whole new sections of the lake.
Needless to say the scenery around the lake was gorgeous and although fall colors were still not prime … it sure was pretty!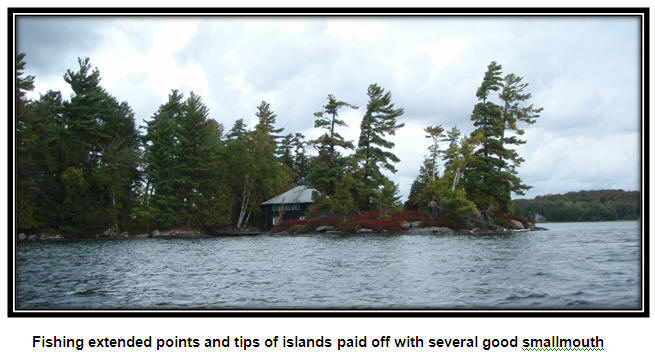 As I covered water, I considered seasonal patterns and the shift that takes place each fall amongst many northern bass populations. Smallmouth that were cruising the shallows looking for crayfish weeks ago are now visiting the deeper edges of offshore humps, shoals and extended points looking for cisco. This meant they were looking up for food, so topwaters were thrown constantly. The fish soon developed a preference for the Storm Chug Bug over my trusty Skitter Pop –so I would throw it religiously.
My gameplan for that first day and half of the second ... was basically to utilize a run and gun approach from one new spot to the next, followed by slowly covering water while watching my electronics and looking for fish. As with so many northern lakes, I found some steep breaking shorelines produced if they had baitfish on them but major points and secondary points with rocks were also key holding areas. So too, were obscure offshore humps.
Even if cisco and bass were present it still didn't guarantee success so other lures and techniques were necessary.
Productive Lures and Techniques:
As I moved along looking for fish I would often cast a Rapala X Rap ahead of me. However I soon learned that these smallmouth have no aversion to the X Raps' larger cousin the 11cm Clackin Minnow so I soon switched to it with gratifying results.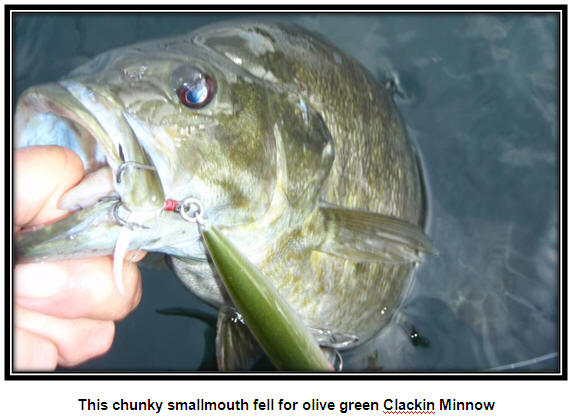 If I found fish directly below the boat I would toss a Voodoo jigging spoon and try to get the aggressive bass that way.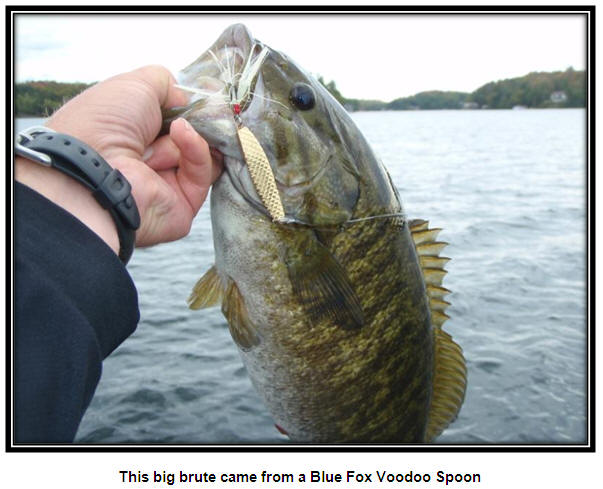 If fish could not be spoon fed, I would stop and drop shot for them ... My most productive drop shot bait was the new Trigger X four inch Fluttering Worm in shad color. Although typically rigged wacky, weightless and tossed in the shallows, I nose-hooked the bait and used a ¾ oz dropshot weight to fish it from 20-40 feet deep.
For those fishing the lake for the first time be prepared to use several baits and techniques. Work hard to decipher the movements of this lake's robust smallmouth population- and the cisco they feed upon. Rest assured however, the reward for your hard work will indeed be well worth it.
It wasn't until the afternoon of my second day that I began to reap the rewards when I developed a milk run of areas all within a 20 minute boat ride of home base at Delta Sherwood.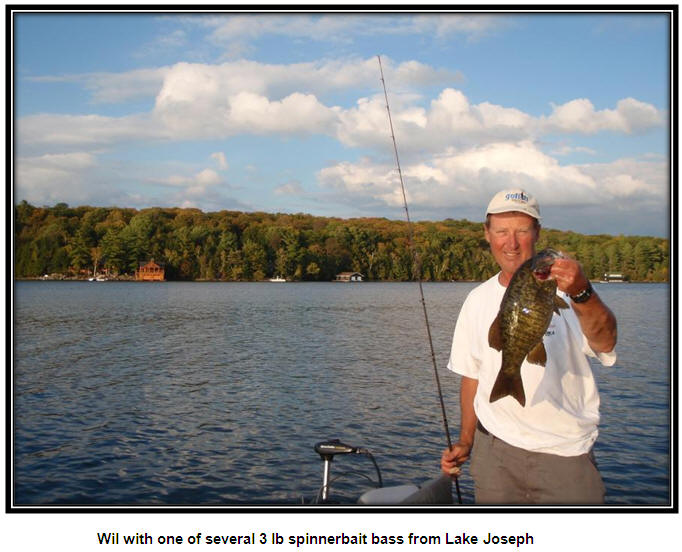 One of those areas was a large hump that topped out to about 14 feet with nearby deepwater over 30 feet. Twenty feet at this particular area was especially productive and for whatever reason a one ounce double willow leaf Terminator spinner bait was the hot ticket. Here the key was to not just toss … but to throw as far as you possibly could, this heavy blade bait to cover water quickly and efficiently. The amazing thing was to have smallmouth after smallmouth chase down and try to kill that lure - nearly ripping the rod out of my hands every time.
Even though you can technically use your waypoint mark on your Lowrance unit, for a reference I like the addition of the more visual marker buoy in the lake – so I would always toss it once I got the bass going.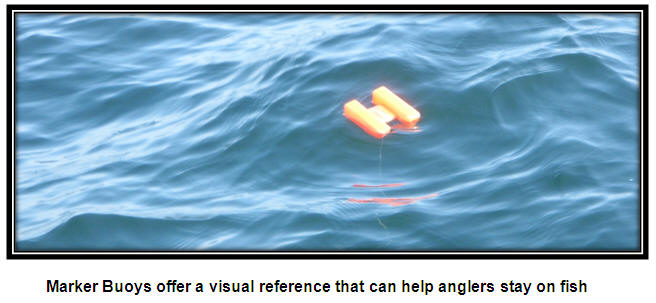 Last Day = Best Day On Lake Joseph:
Despite the rain that greeted us, our final morning on Lake Joseph was the most memorable and enjoyable. Everything seemed to come together in a few short hours as I fished all but one of the milk run areas I had lined up over the last two days. For the very early hours of the morning, I fished the spinnerbait spot and had a ball with three pounders, as well as the points of some nearby islands with the Chug Bug. I then came in for a leisurely breakfast and headed back out with Tyler.
I offered Ty the hot Chug Bug and gave him a description of the area I had saved just for him … An extended point, with fairly deep water near shore (12' or so) and much deeper water (25-40') nearby. There were some big rocks below too, ideal structure that can hold bass even if ciscoes weren't around. The Lowrance soon told us otherwise however, as we marked both baitfish above and bass beneath.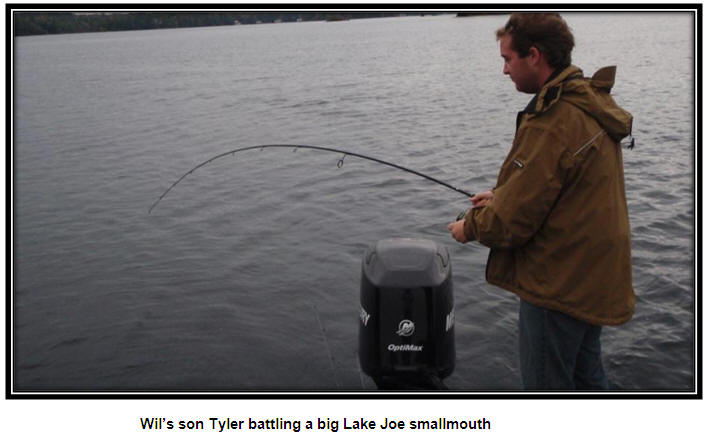 The first couple of hits came instantly but these hyper-active smallies sometimes don't have the best aim when they're skyrocketing to the surface from 30 feet below! A huge splash – followed by a swing and a miss on Ty's part and no fish to show. After a bewildered look I recommended, "Just wait a second or two after it hits Ty before you set that hook – then see what happens".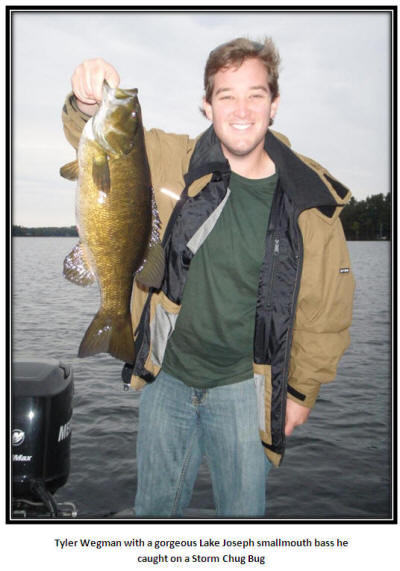 Moments after the advice was given there was a chance to put it to the test. The result was Ty battling a sweet looking four pounder that didn't know when to quit or what it wanted to see more, the sky above or the very bottom below.
I more or less admired the action for the next half hour as he battled one big bass after another … all coming from deep water to attack his bait. Then I got in on some of the feeding frenzy myself and enjoyed similar success. Admittedly I also had my share of blow ups that resulted in swings and misses. Sometimes waiting is easier advice to give then it is to take! All in all, we landed 10 smallmouth in the 4-5 pound range in less than an hour – Ty on his Chug Bug and mine from a Rapala Skitter Pop. It was the perfect ending to wonderful little vacation!
For those interested in booking their bass fishing get-away at Delta Sherwood, mention that you read about the resort and the fishing on this website in Wil's article, and you'll receive a special discount. This will apply to those interested in purchasing a Delta Sherwood gift card for your favorite bass angler as well!
For more Information:
http://www.deltahotels.com/en/hotels/ontario/delta-sherwood-inn
Wil Wegman is an award winning outdoor writer from Bradford Ontario. He has written for most of Ontario's fishing publications and several US fishing magazines. He is an avid bass tournament angler during the open water season and hard water competitor in winter.
You can contact Wil, through his Focus on Fishing website at: www.wilwegman.com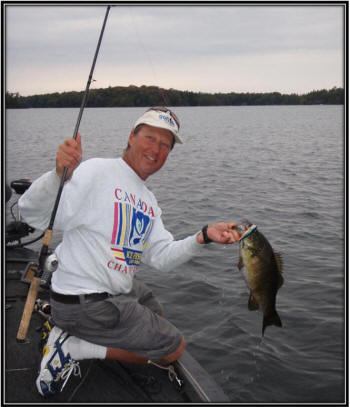 Tyler's dad Wil, get's in on some of the Lake Joe action using his Rapala Skitter Pop to pull bass from 30 feet below. Even with a thriving smallmouth population, he advises that anglers practice sound conservation principles like catch and release (especially for bigger bass) to help sustain this remarkable fishery for generations to come. "Big ol fish like this six pounder are just too precious to catch only once," says Wegman
---
Wills Upcoming Ice Fishing Seminars
● Sat Dec 10- Radio World in Toronto at 1:00pm
● Sat Dec 10 at Bass Pro Shops in Vaughan at 3:30pm
● Sat Jan 6 – Ottawa LeBarons 7pm
● Tues Jan 10 - Rack N Reel- Barrie 7pm
● Thursday Jan 12 - Ramako's Sudbury 7pm
● Friday Jan 13 Markham LeBarons 7pm