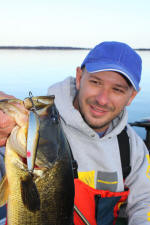 Bucktail Jigs for Cold Weather Green-Backed Bass
By Justin Hoffman

Toss some fur when the water cools for fantastic fall time bassin'….

As the month of ghosts and goblins descends upon us, determining what trick or treat to toss for scary-sized bass becomes definite food for thought.
Cooling water and shorter days signifies a change in largemouth bass behaviour. The once fertile and active shallows show less signs of life, as fish begin staging in deeper water, content to put on the feed bag for the long, arduous winter that lies ahead. Capitalizing on this movement – and the aggressive binge – can lead to fruitful days on the water. The diminutive bucktail jig is a trick that is sure to bring bountiful fall treats.
The Jig is Up
Bucktail jigs have an uncanny knack for replicating the movement and action of baitfish. Whether it is a shad, perch, or shiner, the undulating fur and flash of a streaking and fluttering jig mimics this prey perfectly.
Largemouth bass can be quite lethargic when the water cools. Chasing down fast moving baits becomes more of a chore, and many fish prefer to take the "sit and wait" approach when snack time is concerned. The dynamics of a jig is what shines. Tossing a vertical presentation equates to more time in the strike zone. It also means less of a chase factor for bass, which generally gives an angler many more bites throughout the course of a day. And although they may be docile in nature, largies can be downright mean when they slam a jig that happens to flutter seductively in their face.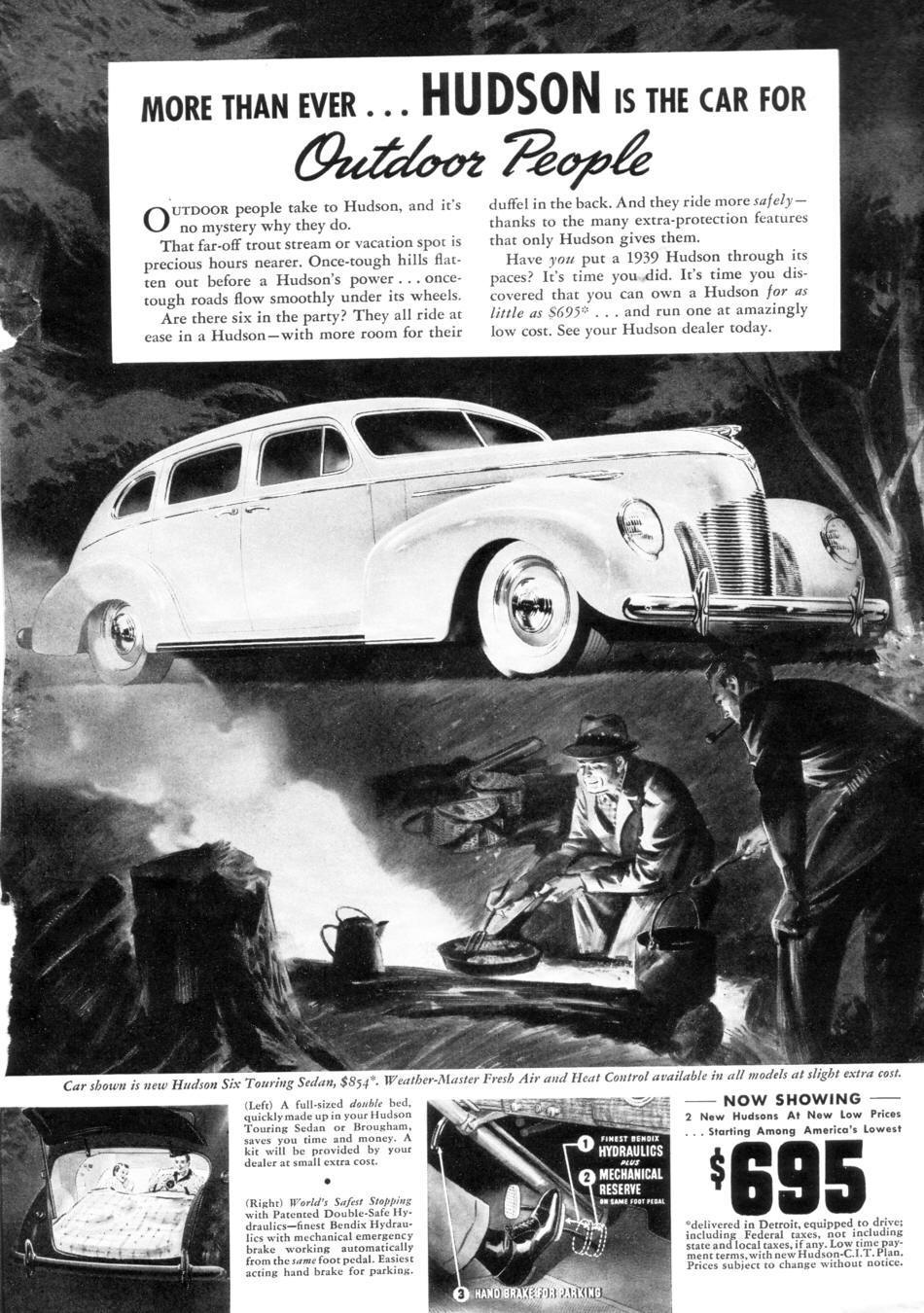 Another concept that works well with bucktail jigs is their snack-sized appearance. They are exceptionally easy for a bass to suck in (being only fur, light hook and a jig head) which means added strikes when compared to some of the more conventional styles of bait that are thrown come fall.
Where To Go
Good friend and fellow outdoor writer Tim Allard and I stumbled upon our bucktail jig tactic a few years back. It was late October and we were plying the abundant weed clumps for walleye on our favourite Eastern Ontario lake. Working the edge of green vegetation and amongst the inner clumps, we began trouncing the largemouth bass with almost every cast. Fish were holding within the thick weeds and eagerly hitting our jigs as we worked them in a rip and flutter technique. The spot coughed up a few walleye, but it was the largemouth bass that has kept us returning each fall ever since. (The 30 or 40 fish we routinely swing in the boat is also a definite draw!)
Finding healthy weeds is paramount for success. The more green the better. A mixture of different types – cabbage and thick coontail is an exceptional combination – will often lead to an increase in fish concentration.
In terms of depth, my best luck has happened in water between 7- and 10-feet deep. A tip is to head out from shore until you intercept the outside weed edge, and then work adjacent to it, while working inwards also. Getting them right on the edge – or within the thicker stuff – will usually depend on weather conditions. The more inclement the better the chances they will be positioned on the outside edge.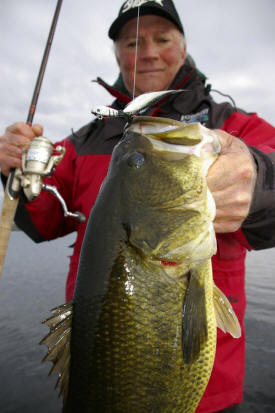 Tactics and Equipment
Working a bucktail jig is fairly simple. Start with short underhand pitches or casts. As your jig settles amongst the weeds on a fairly slack line, a sharp snap of the rod will quickly bring it upwards. How high you snap your jig up will often depend on the vegetation you are fishing – or the activity level of the fish – but a common rule of thumb is one to two-feet. Then simply repeat the process.
Most largemouth will grab a jig on the fall, registering as a "thump" or a dead weight at the end of the line. Set the hook hard on these fish. It is also common to have a fish tackle your jig as it breaks free of the weeds on a snap. In this case, the hook has already been driven home.
In terms of equipment, my preference lies with a 6'10" medium-heavy spinning rod. A rod of this type possesses the necessary backbone for ripping jigs and also ensures healthy hooksets. Couple this up with a high-quality braid in 30lb test strength. I forgo a fluoro leader with this set up as line visibility does not come in to play. Braid will also cut through weeds optimally, giving it a definite nod over both mono and fluoro.
Choosing a jig is fairly simple. Pick a weight that is light enough for optimum action and flutter speed but still enables you to feel its action. A mainstay on my rod is ¼ oz. If you are faced with wind and waves, upsize to a 3/8 or 1/2oz. Skinny water dictates a lighter jig.
I stick to a few select colours, including black, grey, white, blue, red, and yellow. Two-tone often gets the nod in any of these proven hues (with white or black being the base colour) and a bit of tinsel for flash can often attract a few extra fish.
Tipping your jigs is not necessary. Minnows and worms are easily ripped off when working the weeds and also alters the simplistic and streamlined approach that this technique is based on.
Give bucktail jigs a try for largies this fall. Be forewarned, though – you're bound to have a hauntingly good time!

Check out Justin's Website/Blog at: www.justinhoffmanoutdoors.com
Editors & Publishers
T.J. & Monique Quesnel

The Ontario Fishing Network E-Magazine is published 12 times a year on or near the beginning of every month. Our magazine is geared to any angler who enjoys fishing of any type in the wonderfully diverse province of Ontario. Editorial Submissions: We welcome query letters, but assume no responsibility for unsolicited materials. Subscriptions: Subscriptions are FREE of charge and delivered via email. You can subscribe HERE: Privacy Policy: Unlike other publications We NEVER make our subscribers list (your email address) available to any other companies. Advertising: If you are interested in advertising please email us. Circulation - 13,000 email subscribers © 2011 Due North Marketing / Ontario Fishing Network / T.J. Quesnel. All rights reserved. Reproduction of any material without prior written permission strictly prohibited.