In this issue:
WANTED: Fishing Videos on Tape! We are working on a new fishing video site. If you have any videos you would like to submit to our site email me!
Sonny-Bob Lodge - Sonny-Bob Lodge is located 210 miles North of Sault Ste. Marie on the eastern shore of remote Oba Lake and is accessible by the famous Algoma Central Railway or float plane. Oba Lake has always been known as one of the finest remote walleye lakes; also offering numerous large northern pike, as well as whitefish and jumbo perch.
Happy Landing Lodge The unspoiled beauty of French River Country. One of the finest outdoor vacation areas in Canada. Only 3.5 hours drive from Toronto, we offer you a memorable connection to the magnificent Nature of Near North. French River, as well as Trout Lake have well deserved reputations for great fishing You can go after: Walleye, Musky, Lake Trout, Northern Pike, Large and Small Mouth Bass as well as a variety of pan fish: Perch, Sunfish and Rock Bass
Red Pine Wilderness Lodge - Our 8 guest cottages set amidst towering, red pine trees on a 7 acre island is the place for your special remote fishing trip or wilderness family holiday. We are the Gateway to two huge parks: The Obabika Waterway Park and The Lady Evelyn/Smoothwater Wilderness Park. We offer the serious angler Northeastern Ontario's finest Walleye (Pickerel), Great Northern Pike, Smallmouth Bass, Whitefish and Perch fishing. Don't forget about the 3 species of Trout that also call this area "home".
Auld Reekie Lodge - Whether you pamper yourself with our full meal plan and the ultimate in comfort in one of our 6 luxury suites, or stay in a fully equipped 4 star cottage where you can cook your own meals, at Auld Reekie Lodge we feel we've got everything you're looking for and more. Auld Reekie Lodge, as featured on the Canadian Sportsfishing Show, is a true escape in the beauty of Northern Ontario's wilderness.
Lake Herridge Lodge - A mere 54 miles north of North Bay is Lake Herridge Lodge, a family oriented fishing and hunting camp set in the scenic tranquillity of the Temagami Wilderness Forest. The Temagami area has long been known for it's bountiful crystal clear waters. Combine this with comfort of our well maintained cottages, the attention to detail and the option of American Plan dining and you have to look no further than Lake Herridge Lodge for the perfect getaway.
"Spring Cleaning Your Fishing Equipment"
By Justin Hoffman
As we bid farewell to winter and look to beckon in spring, anglers everywhere begin to ready their equipment for the upcoming season. When it comes to importance, the tools you use to catch fish can make or break your day when out on the water. With this thought in mind, I've devised this simple checklist for getting your gear ready and in top condition for the most optimum performance and security. (Kind of like spring cleaning the house, but much more enjoyable and rewarding!)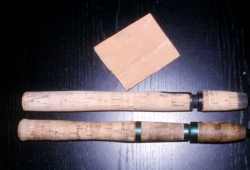 Fine-grit sandpaper works wonders for turning old cork handles into new again.
Rods and Reels
Your rods and reels take a lot of abuse over the course of a fishing season, yet they are often overlooked when it come to proper maintenance and care. This can be costly, as a breakdown in one of these components could cause you to lose that trophy fish of a lifetime.
Rods - A visual inspection of the rod itself is an important part of the spring cleaning process. Keep an eye out for cracks, breaks or weak spots that may result in poor performance or complete failure. If damage is present, it's time to repair or replace the rod altogether.
Another area to inspect is the rod guides. Take a cotton ball or Q-Tip and run it around each and every guide. If any cotton remains intact, your guide has a rough spot or burr, which will ultimately lead to a frayed and broken line. Replace any suspect guides for your own peace of mind.
Rod handles can also be spruced up before the upcoming season. If the cork on your rod is full of dirt and grime, simply rub some fine grit sandpaper (220 works best for me) along the length to get it looking like new again.
The last step I like to take is to wash the entire rod with mild soap and water and a soft-sided sponge. This will take off any water or dirt build-up from the previous year, and will leave you rod looking spiffy and full of shine.
Reels - Reels are an integral part of your fishing set-up and should never be overlooked. Start with a visual inspection, keeping a close eye out for broken, loose or worn parts. (Areas of concern for me would be the bail spring, washers, handle and the drag.) The next step is to take a small screwdriver or Allen key and tighten all of the mechanisms. You'd be surprised how loose some of these screws get over the course of a season! Lubrication should be your next plan of attack, and by following the manufacturers instructions, it should be quite an easy task. One piece of advice I can give is to go sparingly on the grease or oil - when it comes to reels, a little is usually better than a lot.
Unless you are using one of the superlines or braids, your monofilament fishing line should be stripped from the reel and replaced. Old line can degrade over time due to the elements, so starting off the season with fresh line is always the way to go.
Finish the reel off with a quick soap and water wipe down, and you're ready to take on your tackle box.
Tackle Box
To some anglers it can be a scary proposition opening your tackle box in the spring, unsure of the state you left it in the previous fall. Regardless of what lurks inside, the first step to take is to dump everything out. Much like you would the dishes, place your tackle box in the kitchen or laundry sink and give it a good cleaning and rinse. (Dish washing liquid works great for this.) Place your clean box on towels and allow it to dry thoroughly before placing anything else inside it.
Now, let's turn our attention to those lures and baits. Look closely at each individual lure for signs of cracking, worn or broken lips and bent or rusty hooks. If a bait is cracked or is missing parts, it's time to toss it into the garbage can. If the hooks are extremely dull, bent or rusted, replacement is your only option. (Excalibur and Owner make excellent replacement trebles that are both sticky sharp and strong - I like to replace most of my damaged metal with these high-quality hooks.)
Plastic baits are another area that will need your undivided attention. Worn or ripped baits should obviously be discarded, as should any torn or grimy storage bags. (Zip-lock sandwich bags are great for storing plastics in, as the see-through plastic allows for easy identification of baits.)
How many of us have lures and baits in our boxes that haven't touched the water in years. We're all guilty of hanging on to tackle for the sake of hanging on to it, although all it really accomplishes is wasted space. (Are you ever going to use that Hoola Popper from the 1980's??) Take out all of these "virgin" lures and place an add online or in the newspaper advertising their sale. Better yet, pass them on to a child who I'm certain would love to give them some use.
Once your tackle has all been sorted and put back into your box, it's now time to take an inventory. Make a list of lures that you are missing or that need to be replaced, and make it a priority to get out to the tackle shop at your earliest convenience. Don't forget to check on the status of hooks, weights and other terminal tackle. (The last thing you want to do is start the season off missing some vital lures that will help you catch fish.)
Miscellaneous Equipment
1. Check to see that your net and/or cradle is in good-working condition and free of holes and rips.
2. Oil and lubricate your pliers and hook removers, or replace if needed.
3. Check on your fish scent and add to your collection if supplies are running low.
4. Give your fishing glasses a good cleaning, and check for cracks or breakage.
5. Replace batteries in electronic scale if necessary.
6. Treat yourself to a new fishing hat - you deserve it!
Spring-cleaning your fishing equipment helps in alleviating the chance of mechanical breakdown while out on the water. It also ensures that your time spent fishing will be as productive and enjoyable as possible. Have fun sorting through your gear this spring, and be thankful that none of it involved picking up a vacuum cleaner! Here's to a productive and safe fishing season…