In this issue:
Fox's Den Lodge Fox's Den Lodge is located next to the Chapleau game preserve on Dog Lake, 1 ½ hrs northwest of Wawa Ontario. After a 30 minute boat ride from our launch in Missanabie, you can expect to enjoy excellent fishing for Walleye, Northern Pike, Lake Trout, and Jumbo Perch. We offer American plan and housekeeping packages.
Lake Obabika Lodge Our lodge is located on the shores of Lake Obabika, a pristine and remote 36 kilometer long lake in Northern Ontario. It is small and exclusive providing luxurious accommodations for 20 people at a time. We fish for Smallmouth Bass, Trout, Pike, White fish and Perch on four different lakes. After a great day on the lake or a hike in the old growth forest, join us by the fire pit for the newest fishing stories. Relax in the hot tub or the sauna to complete another great day at Obabika Lodge.
Sunbeam Bungalows - A family and fishing resort. Located in the small, picturesque hamlet of Callander, Ontario, yet only 10 miles from larger city attractions. Our resort is nestled under the pines, where we offer clean, fully-furnished, deluxe, spacious cottages. Enjoy Lake Nipissing which offers the best in fishing...we guarantee to believe all stories about "the one that got away".
Auld Reekie Lodge - Whether you pamper yourself with our full meal plan and the ultimate in comfort in one of our 6 luxury suites, or stay in a fully equipped 4 star cottage where you can cook your own meals, at Auld Reekie Lodge we feel we've got everything you're looking for and more. Auld Reekie Lodge, as featured on the Canadian Sportsfishing Show, is a true escape in the beauty of Northern Ontario's wilderness
Sydney Lake Lodge - Canadian fly-in fishing trips and vacations in Northwestern Ontario Canada. Trophy fishing for Lake Trout, walleye and northern pike. The only resort located in both Ontario's Trophy Waters and Woodland Caribou Wilderness Park. We are located on exclusive waters on Sydney and Kilburn Lakes. Unrivalled fishing and wilderness adventure.
Uchi Lake Lodge - Fly-in for the remote fishing experience of a lifetime!!! Fish Ontario for Walleye and Northern. Fish for Trophy Walleye and Northern. Why Fly? Because that's where the fishing pressure is at it's minimum. Ontario's beauty is an added BONUS!
"Mobility is Key to Ice Fishing Success" By Justin Hoffman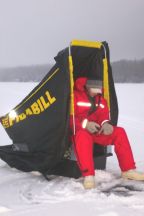 Ice anglers are a rare and hardy bunch. Willing to face sub-zero conditions and drifting snow during the course of battle, catching a fish is only half the fun when taking part in this winter experience. But let's face it - no one wants to spend a fishless day out in the cold. For those anglers that choose to drill a single hole while waiting for the fish, your chances for success are limited. Mobility is the key for fruitful days on the ice, and there are many tools and techniques at your disposal to help bring you to the fish.
Sending Out the Search Party
Ice fishing is similar to open water angling in many regards. Much the same way that you wouldn't dream of anchoring your boat and dropping a line for an entire day, the same can be said for fishing the hard water.
"Searching for the fish" may seem like an odd term to use when dealing with ice and snow, but it is a technique that needs to be utilized in order to enjoy a successful day. I never spend more than fifteen minutes at a hole (without any action) before moving on to a new location, because time spent not catching fish can be time spent finding fish. And finding fish is the key to catching fish.
After leaving your first hole, move out approximately twenty yards or so and drill another. Continue this process until you come across fish, working this "hot hole" over until the action slows right down, or dies off completely. When this happens, it's time to move on and try to connect with another traveling school. Fish in the winter, regardless of specie, seldom stay in one stationary position. They are constantly moving and feeding, and oftentimes staying one step ahead of the ravenous predators. Your job while out on the ice is staying one step ahead of the school.
Always pay attention to the depth of the water you are fishing above. If you start catching fish at a certain depth, then move laterally out from that hole, following the same contour to a T. If bites become sporadic, try moving shallower or deeper in the hopes of connecting once again. (A change in water depth of only a few feet can often make the difference between putting fish on the ice or just dreaming about putting said fish on ice.)
Portable Shelters
Stationary ice huts can be great for staying warm and catching fish, but they are nowhere near as productive as a portable hut. Portable huts have come a long way from the first design, with the current models on the market being lighter, sturdier and easier to pull on the ice and through the snow. The great thing about portable huts is that everything folds down into a small compact sled, holding all of your equipment and tackle for easy mobility and fast set-up. These huts are the optimum search weapon when out on the ice, as they allow an angler to constantly move, while keeping out of the elements and on top of the fish. Portable shelters can be easily heated with a propane heater, meaning no more cold hands or feet. In fact, it's not unusual for me to wear only a thin sweater or t-shirt when huddled in the safety of my protective barrier!
Without a shelter, fishermen are more inclined to stay stationary and hunker down (trying to stay warm can be a tough game out on the open ice!), whereas a shelter allows anglers easy movement to go on to the next hole, hopefully containing the next fish.
Ice Augers
Have you ever tried drilling twenty or thirty holes over the course of a day with a hand auger? Let me tell you, it can be tough work, especially when the ice becomes really thick. The fact is, in order to be mobile and catch more fish, you need to drill plenty of holes, and that's were the utilization of a gas powered auger comes into play.
Gas augers allow an angler to punch through the ice in mere seconds, allowing more time to fish while out on the ice, and making them an effective tool for covering large expanses of ice, while drilling plenty of holes.
Portable Electronics
A key element to finding fish is actually seeing them, which can be easily accomplished with a graph or sonar unit. By lowering the transducer down your cut hole, you can instantly see if there is any action below the surface, and if so, what depth the fish are relating to.
Many of the top ice fishermen across North America use their electronics as their underwater eyes, refusing to fish a spot unless they see action on the screen. This can be a great technique, as it allows you to only fish holes that have fish underneath them, and fishless holes can be quickly left alone.
Vexilar makes a fine product on the market, and the sensitivity and accuracy really is second to none. When you can actually witness your 1/64oz. crappie jig spiral down on the screen, you know the product is capable of marking any specie of fish.
Mobility is really the key for improved ice fishing. Although you can theoretically get by with the bare minimum of equipment, owning the above gadgets will certainly up your odds, and make your outing more comfortable and rewarding. But be prepared to move often - sitting above "dead water" is the worst mistake anglers can make when heading out on the ice. Stay safe and have fun this season!