In this issue:


Lake Obabika Lodge
5 Star Fishing Resort
Management Retreats
Great Bass Fishing!
www.obabika.com
(705) 858-1056
Late-Winter Walleye through the Ice
by Justin Hoffman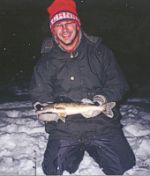 If you are feeling the mid-winter blahs of walleye fishing, and sense that the fish must hibernate during this slow period, take heart, as some of the best hard-water angling is just around the corner. Late winter walleye react in many different ways in comparison to earlier in the season, and their aggressive nature, typical holding areas, and plentiful numbers make this time of year your best bet to be out on the ice. Paying attention to key spots, and having a willingness to move with the school will cause you to turn that frown directly upwards into a smile, and that's the way fishing was intended to be.
Where to Search?
As spring approaches and the days warm up, walleye again become active, and will start their migration to typical spawning areas. Once this migration urge takes hold, walleye will begin travelling along shorelines in order to reach compatible rivermouths, as well as rock and gravel bars. After this movement has begun, usually during the last month of the winter season, ice anglers in the know will concentrate their efforts on staging pre-spawn walleye directly off rivermouths. Fish will set up on these prime spots of real estate until the water reaches an optimum temperature and the mating ritual is "activated." Areas such as these can stack up incredible numbers of fish, yet, can also attract large amounts of anglers, which can typically thin out the school due to heavy pressure. Hitting these spots during the height of the staging, or during early morning or late evening productive periods, will greatly increase the odds in your favour.
Another key area to search out are shorelines which feature prominent points, reefs or shoals; especially those located close to recognized spawning areas. These spots will hold large schools of hungry walleye that travel along these "highways" in order to feed, and wait, until the spawn begins.
Late-ice walleye typically relate to a variety of depths, and structures, during this migration, and the best word of advice is to maintain a "run and gun" attitude. Experiment with different depths and locations, and if the fish aren't present, don't try to force-feed something that isn't there. Cont..