---
---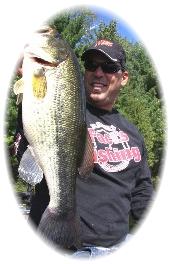 YELLOW PERCH REWARDS
By: JP DeRose


After enduring the often too long winter I focus my attention on one thing and only one thing. I impatiently wait and watch the progress of the ice breaking up of the ice on main lakes all over Ontario. Not only will I get a chance to get the boat out after 5 very long painful months, I will get to have some of the most fun that I will have all year catching giant Yellow Perch. Ice out perching is a lot like fall perching with one very big difference… the size of these fish. Spring time is the best time to capitalize on catching a personal best Yellow Perch in many waters across Southern Ontario and waters like Lake Simcoe, Lake Erie, Lake Ontario, the Kawarthas (last Saturday in April), and Georgian Bay offer some of the best fishing around as the impending spawn drives mature plump female perch into the shallows, first in search of food, and second in search of a spawning flat.

Action when fishing spring Perch can be non-stop with hundred plus fish days being quite common since Yellow Perch are a schooling fish and often school by size and in large numbers. Schools containing hundreds of fish are very common this time of year and if your timing is right, you will come across them when they are feeding. If you are wondering how to tap into this incredibly tasty fish's potential, use the following information to help you figure them out on your home lake.

Ice out in Ontario is fairly consistent, often happening within the same two week window every year. The third week in March will have the main lake rivers thawing as the daytime high's reach double digits for the first time. Next to go is the man made canals closely followed by the marinas and after a few more weeks, often a month, the main lake gives way as warm temperatures and strong winds rapidly eat away at the blanket of honeycombed ice. Once the main lake ice is gone, temperatures soar quickly reaching the low 40's and triggering the perch's instincts to spawn. Immediately following the thaw in each of the areas, the Perch funnel in chasing minnows that are drawn in by the rapidly warming waters. Slack water in the slow moving rivers, canals and marinas can prove to be chock full of tasty perch often averaging in the 6 to 10 in range, however these are

typically the males and juveniles., the big females are staging at this point waiting for the temperature of the water to trigger their movement.

Yellow Perch begin to spawn from mid- April until mid-May once water temperatures reach 7°C (45°F) - 10°C (50°F). Spawning areas will generally be 2 to 6 feet deep and contain short bottom hugging weeds as perch do not build nests like most game fish do, nor do they protect the eggs once they are released and fertilized. The roe laden females will cruise into the shallows usually at night with two or more males. She will lay a string of 10,000 – 200,000 eggs sometimes up to seven feet long , adhering to the weeds as the males follow and fertilize the eggs. The egg strings are left unguarded, hatching in 10 – 20 days. There are many who argue that the fishing of Perch during the spawn causes substantial harm to the population by removing the Perch from the water, however if you learn to practice selective harvest and release those big females there is minimal harm done as perch do not protect the fry as the eggs are dropped and immediately abandoned.

Feeding areas for the perch are ever changing; typically they will follow the food and can inhabit depths from 15 feet of water to 2 feet of water and be anywhere from gravel flats to sand strips to weedy bays. Finding areas like these that are adjacent to spawning flats and systematically eliminating all of the available cover will help find the biggest fish in that area.

Now that you know where and when to look for them, lets look at the tackle and techniques that you can use to catch them. There are two very different schools of thought when it comes to selecting the right rod for fishing perch. Some say ultra light 4-5' rods, reels and lines as small as 2 lb test, however I prefer the other, a 6' - 6'6" medium / fast action rod, meaning a rod rated from 4-10 or 6-12 lb test and one that has a nice quick tip with some backbone further down the rod. The fast tip on the rod will allow you to throw the small baits further and more accurately than a slow whippy rod. A Shimano Compre 6'8" Medium Light Extra Fast or a G-Loomis 6'8" Bronzeback Spinning rated 4-8 or 6-10 lb is the ideal rod for what I like to do. As for reels, any spinning reels that can hold 80 yards or more of 6 lb test will do, but one word of warning, if you like to use lighter line, make sure that the reel has a good drag as perch are very powerful when they get over 12 inches, often making power runs near the boat. When it comes to selecting your fishing line, try to get a top quality soft, supple line. Fluorocarbon lines are more popular due to the lines' ability to disappear underwater all the while having a lower stretch rate making them more sensitive to those light biters that often show up. Today's fluorocarbon lines are also becoming more flexible making them sit on the spool much better than their predecessors. Spooling up with 4 - 6 lb fluorocarbon, 4 - 6 lb monofilament or co-polymer will be more than enough to get your trophy to the net. Just remember when fishing around weeds and rocks to check your line often as zebra muscles will wreak havoc on those light lines.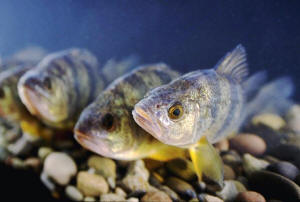 When it comes to selecting lures for perch, the sky is the limit. They are a very aggressive fish and have been known to knock down 7" jerk baits when hungry. My main stay for artificial lures for perch is 2-3" minnow style plastics, 2-3" grubs, 2 - 2.5"tubes and shad style baits. All of these baits are placed onto either a Fin-Tech Knuckle Ball jig or a collared lead ball head jig loaded with a super sharp #1 hook and ranging from 1/16th to 3/16th oz. depending on the winds and currents. The windier the day, the heavier the head ensuring bottom contact as the perch are almost always lying on or near the bottom. With all these bait selections, there are more colors available than space in your box, so choose by confidence. I like to have natural selections for clear water conditions and brighter and bolder colors for off color or cloudy days. A good start would be white, black, brown, green, yellow and pink, these will cover just about anything that you will come across and for more attention getting flash, select baits that have glitter flecks in them since on those cloudy days they can really pay off.

Once you have found a good area, how do you approach it? Properly picking apart the area is very important to staying on top of a school. By fan casting in 10 degree increments you can determine which way the school is moving and adjust accordingly. Try to lay out a nice far cast, letting the bait settle on the bottom. Once the bait settles, reel up some slack and give the bait a light snap off the lake's floor letting it slowly fall back down to the bottom. Reel in the slack and repeat. During the fall of the bait is when 90% of the hits will occur. Perch will often swim up to the bait and stare at it as it lies on the bottom, when you snap that bait up, it imitates a fleeing or injured minnow or crayfish and the perch come charging in and hammer it hard!!! Cover the areas thoroughly and use your trolling motor on low speed to assist in following the school. On windy days, the use of a drift sock or sea-anchor will dramatically slow down the drift, keeping your bait in the strike zone longer.

The daily limits in Ontario are 25 fish for a conservation license and 50 fish for a regular license but always remember that selective harvest will ensure years of great perch fishing and keeping those 12+ inch females for the table is not the best choice. These fish are 8-10 years old and represent the future of the perch fishery in your home waters. In my humble opinion, the best eaters are the 8 – 10 inch fish and their abundance will stifle you if you get your timing right. Bring the family out, enjoy the days of spring and the perch of a lifetime as summer will undoubtedly be here before we know it and we will surely be complaining about the humidity before too long!

Tight Lines and Long Weekends
JP DeRose

---
---
Get North!
Stressed? need a vacation? Visit Get North to find your Northern Ontario get-away!
Fishing Lodge Classifieds
Come fish your heart out at one of these many Lodges, Camps and Resorts.
Archived Articles - Click here to see articles from past E-Magazines