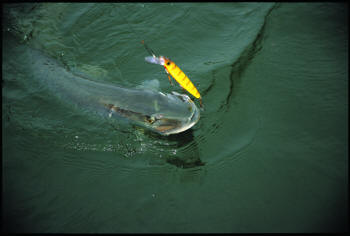 Fish of a Thousand Casts? By Craig Ritchie
Not so in Kentucky, where it's not only possible to boat a dozen muskie a day but have an honest crack at that trophy of a lifetime.

Stories about muskie are the stuff of legend. Fish of a thousand casts. Anglers going a lifetime without ever hooking one. Phooey on that.

Fact is, Kentucky anglers not only boat up to a dozen muskie a day with scorching regularity, but have a legitimate shot at bona-fide trophies pushing 50 inches and 40 pounds.

I had heard about southern muskie fishing for years, and finally got a chance to sample it first-hand in June 2004. My destination was Green River Lake, an 8,200 acre impoundment on the historic Green River created by the US Army Corps of Engineers. Considered the crown jewel of Kentucky's muskie waters, Green River Lake snakes through the rolling countryside like a giant letter S. My first priority was to hook up with Bill Jarboe, the best muskie guide on the lake.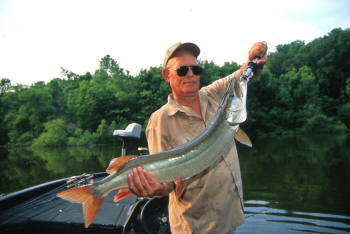 After meeting Bill at Emerald Isle Marina and loading his boat with ice-cold water and pop, we set out under a brilliant sunny sky in perfect, flat calm weather. As we only had a couple of hours to fish before dinner, I jokingly told Bill that I needed photos and since the light was just right, the pressure was on. Evidently, pressure doesn't bother Bill Jarboe a whole lot.

We arrived at the entrance of a long, cone-shaped bay. Bill rigged me up with a jointed Baby Depth Raider and said we should begin by casting along the shoreline. About 30 seconds later, I felt a solid thump and hooked my first muskie of the trip. Bill just smiled as he put his rod down on the deck and asked "That what you were looking for?"

The muskie was a pretty fish alright – not a monster by any means, but a thick, healthy looking fish that probably weighed in the mid-teens. With the beautiful tree-studded shoreline and the sun sitting low to the west, casting that gorgeous golden light that always looks so good in pictures, I couldn't believe our good fortune. For a fishing writer like me, photos mean everything on these trips. With Bill holding the muskie with the polish of a pro, I had all that I needed within five minutes of leaving the dock.


"We do aim to please down here, you know," Bill grinned as he released the fish.

That muskie was the first of seven that we landed between us in a little over two hours of fishing. Okay, one was a little guy of about six pounds, but Bill had a 45-inch fish eat his Depth Raider within a rod-length of the boat. All the rest were gorgeous muskies between 10 and 15 pounds – average fish for Green River Lake.

Back on shore over dinner, Bill gave me some background on the fantastic fishing he enjoys year-round. Each September or October the State stocks Green River Lake with about 3,000 juvenile muskie in the 12-inch range. With an enormous population of gizzard and threadfin shad to feed on and relatively warm water year-round (Green River Lake almost never freezes), the fish grow quickly and attain solid weights. "The average muskie here is about 37 to 40 inches long," Bill told me. "But we have a lot of much larger fish that would weigh anywhere between 20 and 35 pounds, plus a few legit 40s. If you put in the time, you'll see them."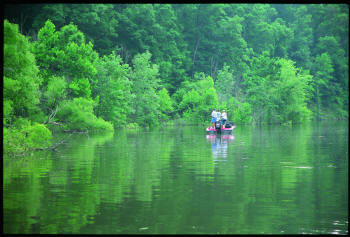 Bill fishes from a 19-foot bass boat and casts exclusively. He generally works medium-sized, deep-diving crankbaits like the small Swim Whizz or six-inch Baby Depth Raider. "Because the muskies here eat shad, I find that smaller baits work really well," he explains. "When muskie have schools of shad pushed into bays or up against shore, the smaller lures will produce more fish. They're more like what the muskies are naturally eating."

Because Green River Lake is an impoundment, the water level fluctuates considerably over the course of the year. According to the Corps of Engineers, Green River Lake fluctuates from a minimum winter pool elevation of 664 feet above mean sea level (MSL) to a maximum flood level of 713 feet above MSL. That's a difference of 49 feet! This explains the lack of shoreline development and local's fondness of floating docks.

At the time of my visit, the water was up by more than 12 feet. While fishing the shoreline of one particular bay, I was casting my lure over the tops of saplings that were covered with bright green leaves. The up-and-down water makes simply locating muskie the greatest challenge you face. To further compound things, current and water clarity changes with the overall level. High water means stronger currents that stir up sediment and reduce visibility. Low water usually means the opposite – slow currents and tremendous clarity. As conditions change, shad and muskie adapt. To catch muskie consistently, you have to understand shad movements and how changing water conditions affect their location.

The next morning I was up bright and early, cameras loaded with fresh film, and was on the dock at Emerald Isle Marina a half-hour early. Bill and I had a full day of fishing ahead of us, and after the previous evening's introduction, I couldn't wait to get started. After wolfing down a big breakfast (Bill insists you have to be well fortified, perhaps a throwback to his former life as a US Army Ranger) and after once again loading the boat with cold drinks, we returned to the same bay we fished the evening before.

About halfway along the shoreline a huge tree hung precariously over the water, marking our starting point. Bill's plan was to work the shoreline from there right down to the back end, where a small creek flowed into the lake. Bill explained that the fertility afforded by the creek would attract huge numbers of shad, so we would work our way up it as far as the boat would go. Then, we would turn around and circle back out, repeating this basic course till we got tired of catching fish.

You have to love that kind of confidence in a muskie guide.

As if to prove he wasn't just talking, we only went a few yards down the shore when Bill hauled back on his rod and grunted, "This is a good one." Right on cue, the fish went airborne – a gorgeous green muskie with flaming red fins, easily 20 pounds, probably closer to 25.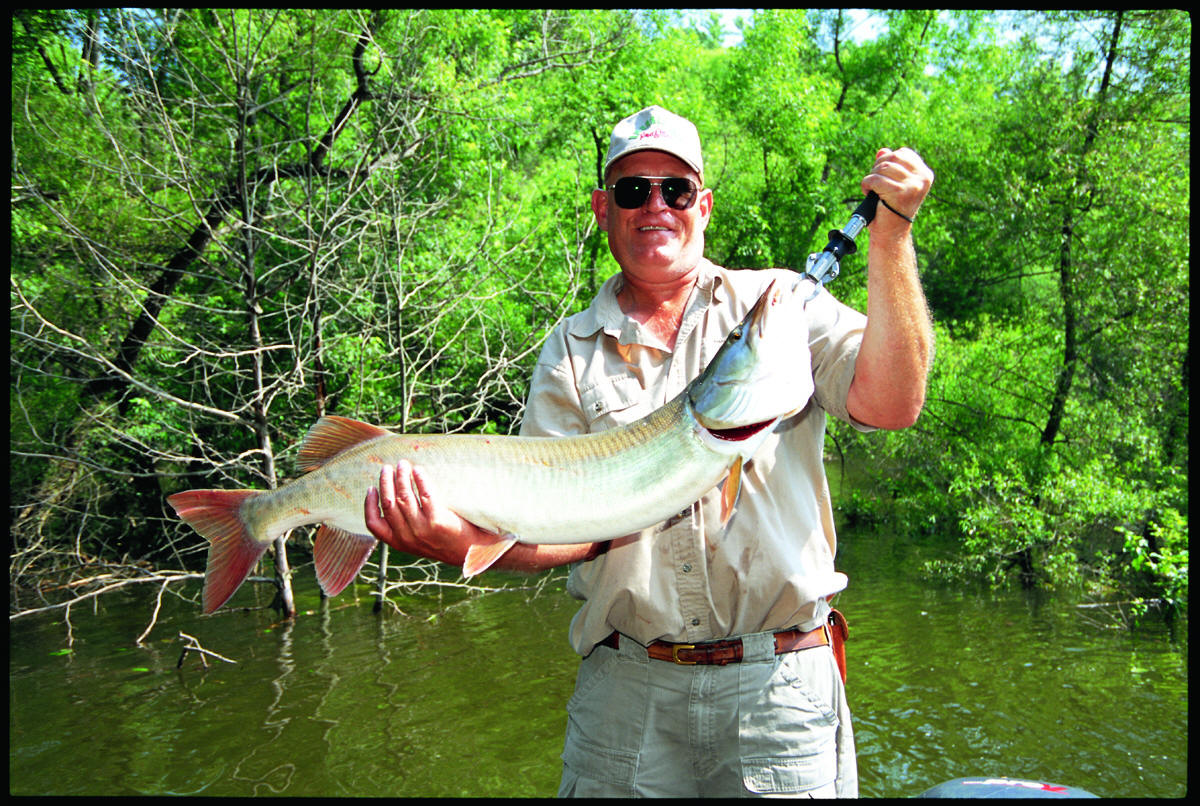 I reeled quickly to get my line out of the way so I could take photos, a great plan till a muskie of around eight pounds drilled my bait 30 feet from the boat and also went airborne. Shocked, I didn't even try to set the hook, which was probably just as well. With Bill's fish thrashing all over the bay's glassy surface, I was quite relieved when my much smaller fish shook free.

With Bill's beautiful muskie safely landed, photographed and released, I fired a cast back to the same area where the small muskie hit, cranked the reel quickly to get the lure down and immediately felt a solid, throbbing weight. This time I was prepared, set the hook properly, and had a beautiful muskie of my own to contend with. It fought like a demon in the shallow water, with nowhere to go except straight up. Bill asked me if I wanted a photo holding the fish. After all, so far, all my pictures were of him.

"Sure," I replied, explaining how the camera worked while trying to wrestle the fish boatside. Bill hit the motor drive and I beamed while unhooking the fish and returning it to Green River Lake.

The action continued consistently all morning long. We had a double-header. At one point I hooked three muskies on three consecutive casts. Bill boated another big fish, pointing out its fin clips, evidence of the State's exceptional hatchery program. By the time we broke for lunch, I was hooked.

With its year-round season and unique combination of big numbers and large fish, Kentucky might just have the hottest muskie fishing on the planet. Add in great food and legendary southern hospitality, and you truly do have the stuff of dreams.

FOR MORE INFO

Emerald Island Marina has great accommodations just steps from the docks, or will rent you a houseboat so you can live on the lake and fish around the clock. The drive from the Toronto area is about 10 hours or so, mainly on the I-75.

Call owner Terry Brown for pricing and availability toll-free at 1-888-815-2000, or visit www.emeraldisleresort.com .

You don't absolutely need a guide to catch muskie on Green River Lake, but a day or two with a pro cuts the learning curve substantially. Because the water fluctuates so much, location is everything, and a professional guide like Bill Jarboe can mean the difference between a trip you'll never forget, and a trip you wish you could forget. You can book Bill's services through Emerald Isle, or call him directly at (270) 465-3788.