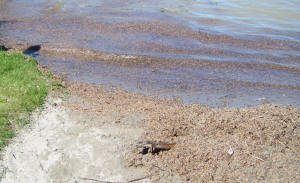 Gearing Up for the Ice
By Lawrence Gunther Euteneier / Feel the Bite!
Anyone who is considering or has already taken up the sport of ice fishing has wrestled with the idea of purchasing three of the more pricey "must-haves". 1, some form of portable shelter; 2, a power auger; and 3, a flasher or sonar device. While the list of essentials has remained more or less steady over the past number of decades, these three more recent innovations, some might argue, have now made it on to the "must have" list. And then there's the really big ticket 4th item – the ATV or Snowmobile – the ultimate "toy"…

There's no doubt that the introduction of flashers and sounders designed specifically for the ice has led to an increased interest in ice fishing. However, it wasn't so long ago that fishers would use the absence of light inside their wooden fishing shacks to do with their eyes what they can now do with their electronics. IN fact, earliest ice fishing traditions had Inuit fishers kneeling on the ice and using the hood of their parkas to create a light barrier around the whole, all while holding a feathered but hookless jig tied to a length of sinew in one hand and a fish spear in the other. While peering down ice holes may work, sonar does make ice fishing somewhat more entertaining, and used to its full potential, such as when combined with GPS and some good maps, more likely to result in fewer fishless days.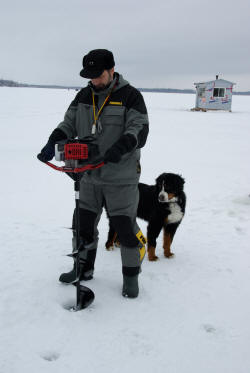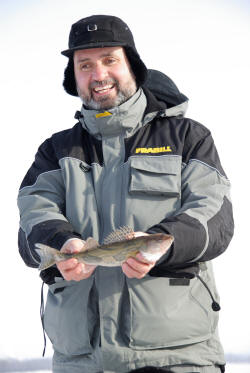 I'm often somewhat amazed that seasoned fishers perceive ice as some sort of impervious shield that renders fish witless about what's taking place just meters above their heads. Whether there is ice or not, fish are still capable of being aroused and ultimately spooked. Pounding from heavy boots, clatter from equipment being unloaded, vibrations from gas-powered engines, wholes filled with intense light suddenly opening up above their once silent ice and snow covered worlds, all offer ample evidence that things are not as they should be. I'm not advocating ninja training or fishaflage; however, "Out of sight, out of mind" doesn't apply on ice. The more "kit" one drags around the more reasons fish have for getting over their initial curiosity and switching to the defensive.

Try to keep movement over bare ice to a minimum, use snowy patches to minimize shadow flickers below, and drill all your anticipated wholes in one shot. Punch a line of wholes that extends across known structure leading from shallow to deep. Don't be in a rush to scoop all the slush out of the drilled wholes ; leaving it in minimizes light penetration below. The challenge is to cause as little disruption and get baits down as quickly as possible before curious fish grow weary and adopt a "wait-and-see" mentality.
For sure, ice fishing is a social event, but it also involves team work. While large shelters, permanent or not, can seem like a great idea for hosting ice fishing gatherings, their efficiency for aiding in finding fish is minimal. A group of friends spreading out over the ice can serve to more effectively determine where fish are staging. Once fish have been found, moving closer together will increase everyone's chances of catching fish. Only then should one go ahead and set up a shelter or wind break, depending on temperatures. However, it would seem that the use of such enclosures has gone full circle with many now electing to employ "wearable shelters" (warm clothing) thanks to a number of ice fishing companies who have begun marketing fashionable and functional extreme weather outerwear designed specifically for the ice fisher. The new Ice Suit from Frabill is a light-weight breathable two-piece shell that offers fishers layering flexibility for maintaining ideal comfort – excellent given the wide range in temperatures that now seem to typify our winters.

It's more often the case ice fishing involves heading out to known community fishing wholes and joining in on the action. There's nothing wrong with selecting to fish along side others already set up on the ice. They are there for a reason – it's often where the fish are. If you already have pre-selected likely fish-holding structure using tools such as Google Earth or detailed maps such as those offered by Navionics, or you took the time to locate and create way points during the soft water season using your GPS unit on your boat, then by all means, try your hand. This is how community wholes first start.

Fishing over or next to structure is just as important in the winter as it is in the summer. Because the water will have "turned" prior to freezing over, the temperature and oxygen levels will be the same at all depths. This means fish who have spent their summers seeking out specific temperature zones now have the chance to roam wherever they please. Downloading the Navionics ap on to your I-Phone can assist in locating structure under the ice on unfamiliar bodies of water.

The Lowrance Elite 5 Ice Machine combines the ability to utilize Navionics maps with a sounder / flasher, all contained within one unit safely stored inside it's own padded carrying case along with a light-weight rechargeable battery. While some might claim that the traditional flasher style of sonar display is the only technology that allows the fisher to see a jig's movement in real time, sounders that offer both a flasher and traditional sounder display such as the Lowrance Elite 5 provide the best of both worlds; including a time –laps sequence of images.

For sure there are times when I head out on the ice equipped to "rung and gun". Rapala's new Sherpa series of inexpensive pop-up shelters can be easily transported using the shoulder straps built into the carrying bag. A soft-sided ice rod combo carrying case with 4-6 pre-rigged combos, a manual 6"-8" auger, and a 5-gallon bucket containing gear fitted with a lid for sitting pretty much covers all my needs. However, once ice has begun to thicken, adding a power auger such as Rapala's new "Black Ice" line of light-weight machines to the list of essentials continues to allow one to cover territory without working up a significant sweat, and later chill.

Even if power augers and electronics aren't in your budget, it's still possible to catch fish. The newer style of ice rods such as the Frabill Bro Quick Tip series have built in indicator tips that flex under the slightest pressure from even the lightest bite, a handy alternative to removing mitts in order to feel the bite. When outdoor temperatures allow, or when sheltered from the wind or enclosed inside a heated shelter, my favourite method is to use slightly stiffer rods such as those available through the Frabill Ice Hunter series. I hold the rod so it can freely tip up and down by simply balancing the outfit on my index finger while keeping the palm and thumb of the same hand hovering just over top of the rod's grip. The handle will apply pressure on my palm when a fish is drawing down on my bait, and the rod will tilt upwards and touch my thumb on those occasions when fish swim up with my offering. Just as importantly, this style of grip allows me to follow actively jigged baits back down without establishing tension in the line that takes away from the natural fall of the bait.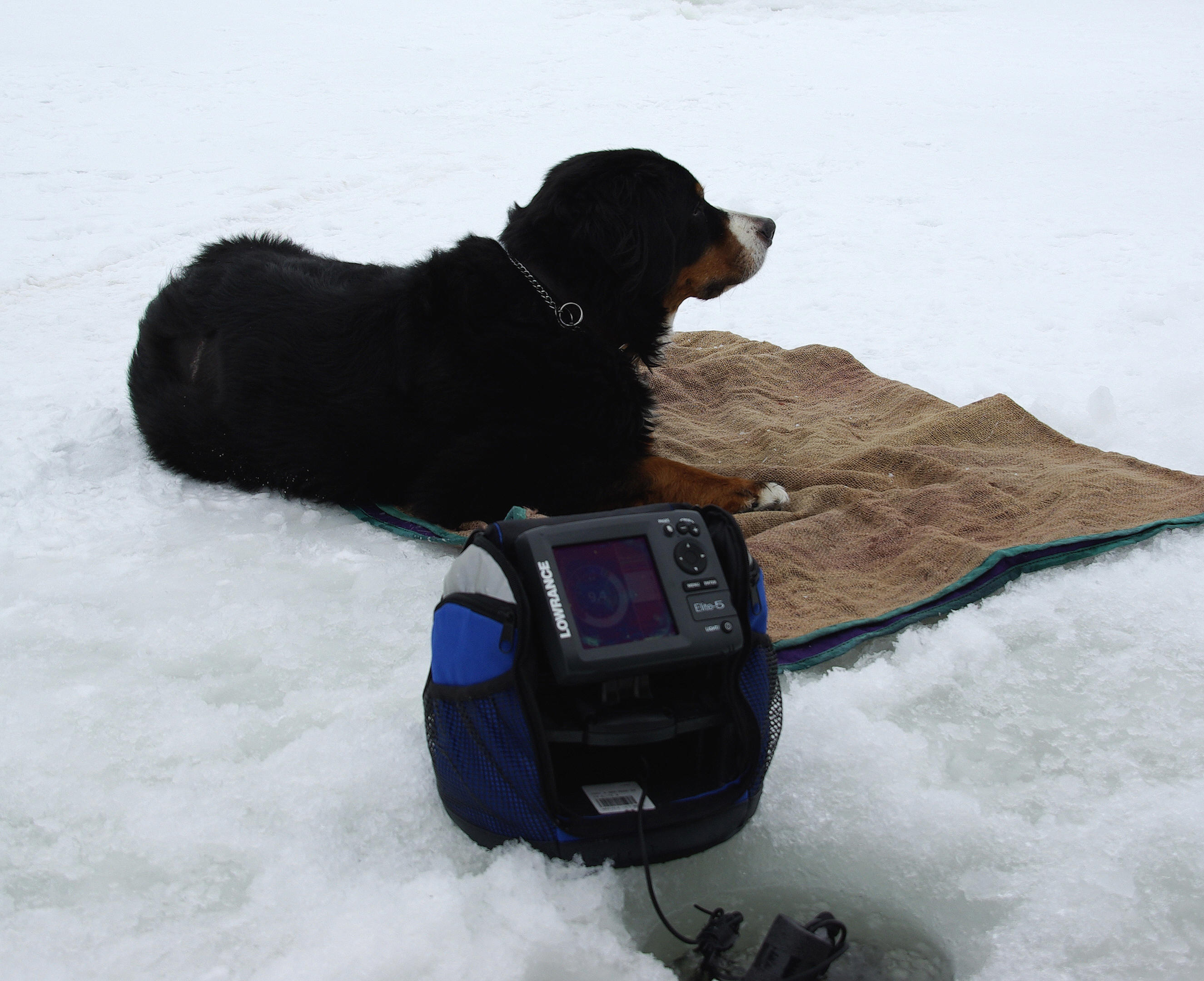 Some of my favourite artificial baits include Lindy's original Viking Spoon and their Darta. Their new Slick Jigs are also excellent. When fishing any jig, tie on using a loop knot to allow maximum movement to the jig. However, try to avoid your jig spinning -- nothing turns off a fish quicker than a jig turning 360's. Braded line, although more susceptible to ice build up, manages to absorb line twist much more efficiently than mono or fluoro. Finally, Rapala's Jigging Raps are consistent producers, especially when the centre treble is tipped with a live minnow.

Naturally, the presentation you choose will depend largely on the fish species being pursued. But, don't hesitate to ask others what works locally. Ice fishing really is a sport that involves people sharing. Whether it's an offer by a neighbour to punch some holes for a stranger, or passing on advice on where and when to go, there just doesn't seem to be the level of secrecy that one normally associates with those fishing open water.

Most community holes can often be reached with a vehicle, but avoid parking along side everyone else. Nothing's worse than a collection of heavy trucks parked together and then someone drilling a "pressure release" hole near by resulting in water gushing on to the surface.

Remember, wearing a flotation suit on newly formed or potentially treacherous ice, such as those made by Salus Marine, and carrying ice pics is always a good idea. Wearing a personal flotation device is also perfectly acceptable. There's no such thing as safe ice.