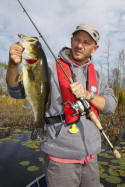 Fishing and Fitness By Justin Hoffman

Fishing can be tough on the body. Fighting waves, working motors, standing upright, and firing off repeated casts can easily put strain on overworked limbs, joints, and muscles. Injury is the worst-case scenario, but for the most part, a lack of comfort and the ability to power through a day on the water will both be greatly diminished. Bottom line is – fitness can enhance your fishing experience, hands down.
I think of myself as a fairly fit guy. But I have had my share of bumps and bruises along the way. One season I felt the crippling effects of "flippers elbow." Being a dyed-in-the-wool largie guy, a reliance on this particular technique – and the repetitive motion it involves – left me with a taped up elbow, on pain meds, and barely able to lift my prized flipping stick for a few weeks. That was a tough pill to swallow.
Last week came more news. Having had pain in my left shoulder since Christmas, a visit to the doctor and an ultrasound gave me the answers. I was diagnosed with calcific tendinosis of the supraspinatous tendon causing mild impingement. I also had thickening of the subacromion and subdeltoid bursa. It all became clear what the route cause of this was after my first visit to my physiotherapist. Her words still ring in my head over a week later: "you have terrible posture!" Combine that "terrible posture" with 23 years of working a tiller motor, and over time, the injury has manifested itself. The thickening of the muscle was a clear sign of how much strain is put on the shoulder from repeated turns of an outboard – year in and year out.
Fortunately, an injury of this type can be corrected through strength conditioning and working the muscles and tendons in different angles. Luckily, bass season is still five moths away!
These two stories are meant to illustrate how important staying in shape is, and how being conscious of correct body posture and alignment, while utilizing strengthening and stretching exercises, can lead to a risk-free and more enjoyable time on the water.
Facts of Fitness?
Dave Mercer, Canadian fishing personality and host of Facts of Fishing, has embraced a healthy lifestyle and made fitness a priority in his life. This slimmed-down runner and gym-goer shared his thoughts and views with me recently on his own road to fitness, which hopefully can inspire more to be proactive in their approach to life.
Justin : Hi Dave! Thanks for taking the time out of your busy schedule to share some of your thoughts on fitness with the readers of OFN e-Magazine. In terms of motivation, did you find your prior level of health was creating any disadvantages when out on the water?
Dave: To be honest, Justin, I never really felt that it slowed me down at all. That is one of the great things about fishing; you can do it at any age or level of fitness. But I really think it's one of those deals that you don't really notice at the time until you see how much better it can be. Now that I have been working at getting myself in much better shape, I find I have much more energy. The more energy you have, the longer and easier it becomes to focus, so I think that will really help when out in the boat.
Justin: What advantages do you feel can be gained by leading a healthy lifestyle and appropriate fitness level – in terms of tournament competition, spending long days on the water, or the time on the road that a fisherperson endures?
Dave: Really everything! I sleep better now. When I wake up I'm not tired. I have energy all day. No matter what you job is, if you are doing it tired you are not doing it as well as you could be. Making healthy choices and daily exercise has given me the stamina to face every task head on and know I am doing it to the best of my ability. Whether I am shooting a show, fishing a tournament, or emceeing the Bassmaster Classic, I love knowing that I am doing the best I can. As if that was not important enough, another huge benefit is the smaller I am the bigger the fish are going to look in the picture!!!! (insert hearty Mercer laugh!)
Justin: What are some of your goals in terms of your own fitness plan?
Dave: One thing I am learning is that my fitness goals and plans will always change. When I first started it was never about making sure my butt looked good in a pair of jeans! It was about getting healthy and that is still my goal. But I now find myself doing things that I never thought I would even think of doing. I have even decided that I will be running in a half marathon this spring! Really, my life worked out way better than I ever imagined. I have my dream job and an amazing wife and kids that I could not love more, so I just want to be healthy and fit so that, God willing, this does not end any time soon.
Justin: What advice do you have for anglers that may be out of shape or overweight?
Dave: Just start. Starting is truly the hardest part. When I first started running I was not really running … I was actually walking. My goal each day was to make sure I made the time and did it. Then after a week or so I started running for a minute and walking for ten. Before I knew it, I was running for ten minutes and walking for one. Now I run 5 to 10 km's 6 days a week. However, none of this would have happened if I did not get started.
I hope that my getting active will help inspire a bunch of people. Because truly, if I can do it, anyone and I mean anyone can do it. Just get started and don't let anything or anyone stand in your way to a better life.
One cool thing that I am lucky to work on is a campaign that I am doing with Subway called Commit To Fit. In the next year you will see a lot about it, but basically we are just asking Canadians to Commit To Fit by making healthy food choices and getting active. It is not a set program or diet. It is simply asking people to find an activity that they enjoy and do it to get active and make better choices.
Justin: Thanks for taking the time to share your story, Dave. Yours is one that I am sure will inspire. Good luck with the Bassmaster Classic!
Dave: Thanks, Justin!
Start Small
Take a look in the mirror and eye up your posture. After talks with my physiotherapist, bad posture is one of the leading causes of injury and soreness. It takes a conscious effort to correct this one, but once you do, the change you feel is immeasurable.
As anglers, we utilize a lot of movement when working a boat or casting a line. Get into the habit of stretching before each fishing trip, and again at the end. This will help in loosening up muscles, and will lessen the chance of strain.
Work on the key muscle groups. Shoulders, forearms, and abdominal all come into play when casting. Legs take a beating when working trolling motors and through hours of standing. Weight lifting, daily walks, and yoga can all help in strengthening key body parts, while improving stamina and ability.
Eat healthy. Not only at home but in the boat. Long gone are the days of chips, pop, and chocolate bars in my boat. Adequate water, healthy snacks, and a nutritious meal will not only make you feel better, but also perform better.
Make 2012 the year that change happens in your life. With open water still months away for most of us, there is no better time to get your body in shape for the coming fishing season.
* Please consult with your physician before beginning any fitness or weight lifting plan or activity.
Editors & Publishers
T.J. & Monique Quesnel

The Ontario Fishing Network E-Magazine is published 12 times a year on or near the beginning of every month. Our magazine is geared to any angler who enjoys fishing of any type in the wonderfully diverse province of Ontario. Editorial Submissions: We welcome query letters, but assume no responsibility for unsolicited materials. Subscriptions: Subscriptions are FREE of charge and delivered via email. You can subscribe HERE: Privacy Policy: Unlike other publications We NEVER make our subscribers list (your email address) available to any other companies. Advertising: If you are interested in advertising please email us. Circulation - 13,000 email subscribers © 2012 Due North Marketing / Ontario Fishing Network / T.J. Quesnel. All rights reserved. Reproduction of any material without prior written permission strictly prohibited.