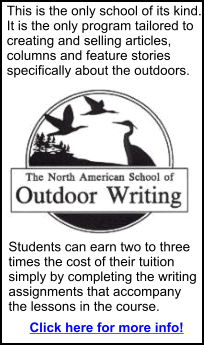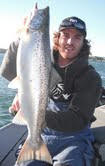 Northern Ontario's Steelhead!
By: Tyler Dunn Tyler Dunn Guiding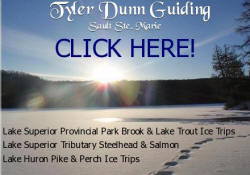 Northern Ontario is blessed with world class walleye, pike, brook and lake trout fishing. The Canadian Shield offers the perfect habitat for our lakes to host generous populations of each species. With so many different species available in abundance to anglers of the north we can be easily described as "spoiled". Not only does the Canadian Shield offer magnificent lakes but the rocky rivers of Superior boost a healthy population of hard fighting rainbow trout. For whatever reasons it might be many local anglers pass up the opportunity to catch migratory trout during the spring spawning season. This leaves huge sections of rivers relatively untouched throughout the entire season. The following is a few tips for bouncing and floating tributaries on the north shore of Lake Superior.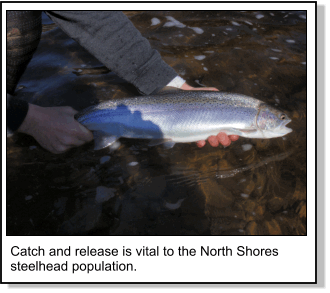 Bouncing Bottom
The northern tributaries of Lake Superior are cold flows, rich with rock. Gravel and sandy spawning areas can be found mixed in with the rocks. These areas are perfect for the beginning stages of steelhead reproduction. In both the big and small rivers these cold, fast, clear conditions are ideal for a bottom bouncing angler. During early spring when water conditions are high and murky I especially like to bounce. I can get the bait down into the strike zone much easier rather than with a float. There are several options to use when bottom bouncing but the most common setup and my first choice is a three-way swivel with a short two to six inch dropper line to a pencil sinker. A two to three foot leader is then tied to the remaining eye on the swivel. When I do plan on bouncing bottom, I always bring 15-20 pencil sinker with me in 1 – 1 ½ oz weight and a set of side cutters. The side cutters are used to trim my pencil weights to the exact size needed for a perfect bounce. A perfect bounce isn't continuously slamming bottom but it is a rather gentle tap every couple seconds. Your bait is just kind of ticking along bottom, drifting downstream with all the other food. Be prepared to tie a ton of knots. Better yet, start at home before you even go by pre-tying 8-10 inch pieces of monofilament to your pencil sinkers the night before. This will save you one knot each time you break off your sinker lead and trust me that one less knot is nice especially on cold days. The right length for bouncing is in the 8-10 foot range with a soft, sensitive tip and some much needed backbone for turning fish. Reels should have a super smooth drag with a high line capacity for the long, fast runs a steelhead will take. Another asset a quality steelhead reels possess is a high gear ratio. The high gear ratio will help you catch up to a hot fish that changes direction several times at high speed. A Shimano Stradic Fi in the 2500 or 3000 size is a great choice for bouncing and pairs up nice on almost any rod. Bouncing bottom is definitely an art form. It takes a ton of practice but once you get the "feel" down steelhead don't stand a chance. Superior steelhead are suckers for bounced roe, flies, worms and several artificial baits.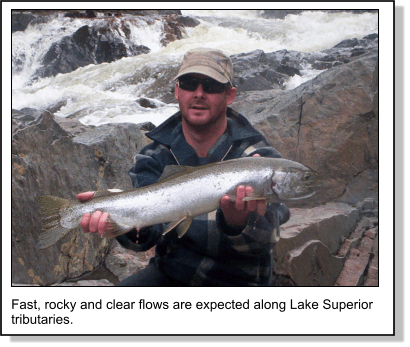 Floating
Probably the most common way to hook a steelhead throughout southern Ontario is under a float. Northern Ontario isn't much different in that aspect although the centerpin phenomenon hasn't quiet caught on up here in the north. Most anglers still opt to float with a spinning reel. I imagine that will change soon enough. When targeting steelhead with a float on Superior's tributaries you always have to remember one thing before you begin. You have time. It isn't uncommon to have nice, long sections of river all to yourself for a few hours, a half day and often times the entire day. Don't rush yourself and try to stay away from running and gunnings especially if you're from out of town and unfamiliar with the area. If you find yourself fishing a good looking area, stick it out. More often than not there are fish around. 10-13 foot rods excel on the northern tributaries with some rivers allowing rods up to 15 feet to be used. Raven tackle offers an amazing line up of rods that are reasonably priced and backed with a great warranty and customer service. Ravens new RV9 float rod is extremely light and is the perfect match for the Superiors flows along Highway 17. The RV9 also has enough power to tackle fish in flows such as the Soo's rapids where big steelhead and even Atlantic salmon can be taken. An 8-10 pound mainline attached to a leader that is anywhere from 4-8 pounds is more than sufficient. Most of the rivers running into Superior are glacier cold, gin clear flows. There are a few exceptions but for the most part northern steel headers are plagued with clear water conditions. What is the remedy? Light fluorocarbon with a longer lead and some much needed patience. I like to run my leads with 8 pound fluorocarbon as much as I can but I continue to find myself regularly dropping to 4-5 pound for finicky fish.

Ontario's spin and float anglers have the pristine waters of Lake Superior at their fingertips. The TransCanada Highway 17 runs along the shore of Superior and is an absolute hotspot for steelhead from Sault Ste. Marie all the way up to Thunder Bay. Almost all rivers with some water, host a population of steelhead looking to spawn each spring. Take an adventure north to Superiors tributaries and take advantage of one of Ontario's best kept secrets.