---
Gearing Up for the Season
By Keith Kavajecz and Gary Parsons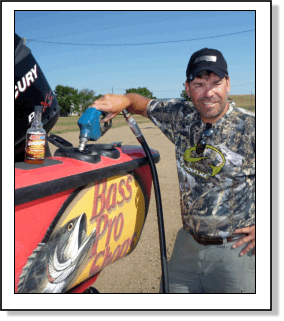 We know some of you have already been wetting a line and catching some walleyes this year; we've seen the Facebook posts and the Tweets – Don't rub it in. Fact is, some of us are still in the preparation stages for the upcoming season (and a few are even still shoveling snow!). Hours have been spent checking rods and reels, changing crankbait hooks, and taking inventory on everything from spinner blades to jigs. The boat has been buffed to a glossy shine, and new accessories added to enhance this year's angling experience. If you haven't been fishing and you aren't getting prepared, then GET WITH IT! Spring is here and the walleyes are chompin', or at least they will be soon. Now is the time to make sure you are geared up to make this season your most best yet!
First thing you'll need is fresh fishing line. No one should start off a new season with last season's line still on your reels. Since most of the early walleye action seems to be centered on jigging, your spinning tackle should get first priority. When it comes to lines for jigging, Berkley FireLine in 6 pound test is tough to beat. This no-stretch, thin diameter line (2 pound diameter) features great sensitivity, allowing you to feel every bite. If you are an angler that prefers monofilament style lines, a good choice for jigging is Berkley Sensation in 6 or 8 pound test. This stuff is amazing, having very low stretch for great sensitivity, yet it's a soft line that doesn't retain memory like so many similar lines. It's perfect for use on spinning tackle, especially in the cooler temps of early season.
You're going to need a good supply of jigs to tie to the end of that fresh line, and there are some neat new jigs that are going to help a lot of anglers boat walleyes this spring. Bass Pro Shop's line of Walleye Angler XPS Jigs continue to catch a lot of fish for us and the hordes of fishermen that have made these their go-to jig. Their "semi-stand-up" style positions a minnow or artificial dressing perfectly when at rest on the bottom, making it easy for the fish to inhale the bait. The jigs also feature some dynamic holographic color finishes that really shine and attract fish.
Unless you've been living under a rock the past year or so, you no doubt have heard all the raves regarding the fish-catching ability of the Berkley Flicker Shad. This crankbait continues to fool fish everywhere it's fished, and for 2011 there are not only some cool new colors being offered, but by the time the summer trolling bit is in full swing, we should be seeing the introduction of a couple new sizes too. If you haven't stocked your crankbait box with a good selection of these jewels, you seriously need to consider dropping a few in your shopping cart next time you're at your favorite tackle retailer.
We mentioned earlier about spending a little time changing the hooks on our crankbaits to get ready for the upcoming fishing season. That is a practice we have carried out for several years now. Our #1 go-to replacement hook is Mustad's Ultra Point Triple Grip Treble (model 36233) in both Black Nickel and Red. We have now added another hook to the arsenal; the Mustad Ultra Point KVD Elite Treble (model TG76BLN). This short-shanked treble hook features the same unique "inward bend" as the Triple Grips for great hook-ups, but on smaller cranks, really helps prevent hook tangles. It's also a heavier wired hook making it extremely strong for handling big fish. Crankbait hooks can take a real beating from year to year, so take the time to give your old reliable baits a new "bite" with upgraded hooks. It's cheap insurance against losing the big one!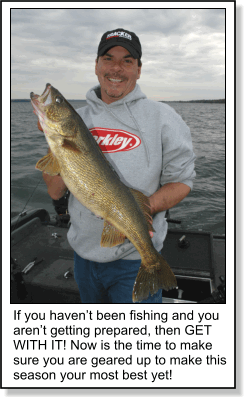 That'll at least get you started on the tackle end of things, and your "gearing up" may include many things we wouldn't even consider. One item many anglers forget to seriously consider is your boat and motor. Chances are it's in dire need of some long overdue attention. Stuck away in storage since last fall, the boat is usually the last bit of preparation many anglers tackle in the spring. Hopefully you did your winterizing routine and everything is in relative readiness.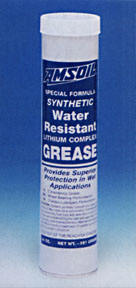 When you go to pull the boat out and ready it for the season, you'll want to do a few things to make sure things are going to run smoothly for you. Greasing the various zerks on the engine and on the trailer are always a good idea and surprisingly something that is often overlooked. If you stored your boat with fuel in the tank, adding a fuel additive designed to increase performance in marine engines can help fight off issues like gunk and/or water in the fuel and help to clean out the engine's fuel delivery system. AMSOIL is a company that has long been providing products to help us outdoors-types keep our motorized toys and vehicles in tip-top running order, and that goes for our boat and motor rigs too. AMSOIL Synthetic Water Resistant Grease is perfect for everything from your trailer's wheel hubs to the steering linkage on the outboard. Quickshot SE is a fuel additive from AMSOIL that's formulated to thoroughly clean and restore peak performance in small engines and fuel systems. It also stabilizes fuel between uses and during short-term storage periods. And whether your outboard is a new 4-stroke or a 2-stroke "veteran of many seasons", AMSOIL offers a motor oil perfectly designed for your engine.
Hopefully by now the snow will be gone and you will be packing up for another trip to your favorite walleye water. But if that's not the case, take advantage of the "off time" to take care of those last few things you need to do to get "geared up" right. That way when your chance does come to go fishing, you'll be totally prepared to get your Next Bite.
Editor's Note: If you have questions or comments on this or other articles of ours you may have read, contact us through our website at www.thenextbite.com .
---