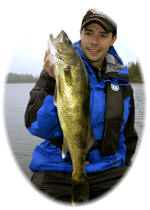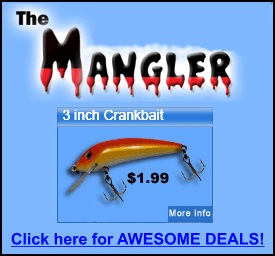 Hauling Baits for Panfish
By Tim Allard
Spring to autumn, panfish occupy a range of habitats from shallow weed flats to deep, rocky structures. Casting has merits, but there's plenty of trolling methods that will pull big panfish topside. Here are some popular strategies.
Propulsion Picks
I most often use an electric motor for trolling. It's quiet, well-matched for following lake contours, and delivers a lethargic pace when needed. Controlled wind-drifting and a small outboard are viable alternatives.
Fast Enough?
Trolling success relies on choosing an appropriate pace. This will be species and mood dependent, but should always ensure panfish are able to attack the bait accurately. Speed influences lure action, so always check it runs properly at boat side before letting out line.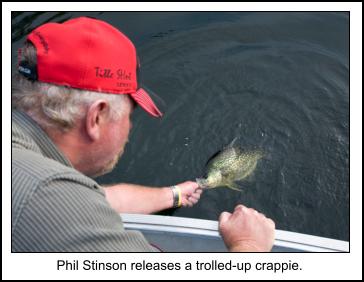 Cranking 'Em Up
Hard-baits work in a variety of situations. Two to three inches is a good average size. Straight and jointed minnowbaits are excellent for skimming over cover for up-feeding panfish. Diving crankbaits, such as a Rapala Shad Rap, pulled through mid-depth areas regularly fool panfish from rock bass to perch. In pothole lakes, trolling crankbaits beyond deep weed edges and along basin drop offs will take suspending crappie.
Whirling By Weeds
A live-bait spinner rig's streamlined properties make it a good choice for probing plants. Tickling the top of vegetation or skimming a weed wall will catch all sorts of panfish. Use a 1/4- to 1/8-ounce bullet weight on the mainline, followed by a bead for knot protection, a swivel, and then a #2 to #4 Colorado or Indiana bladed leader with a #4 to #8 bait hook. Sweeten the offering with a live or artificial chunk of nightcrawler, a leech, or a 2- to 3-inch minnow.
Working Jigs
Jigs are another viable trolling bait. Flat-lining's the basic approach for shallow water. Adding short twitches imparts a nervous scurry that'll trigger strikes. Soft-plastics, tied tinsel and hair jigs all work but experiment to see if fish have a preference. For flash and added vibration use a bladed model, like a Northland Crappie Thumper Jig.
Floating Around
Presenting a jig beneath a float's a good slow-trolling option. On a recent outing it proved the best way to take crappie suspended high around standing timber. Keeping a wide berth, I'd motor to the wood's mid-way mark, lob out a cast to the target, and then troll it back into the strike zone. The float increased casting distance and accuracy, served as a reference point to position the jig, and signalled bites.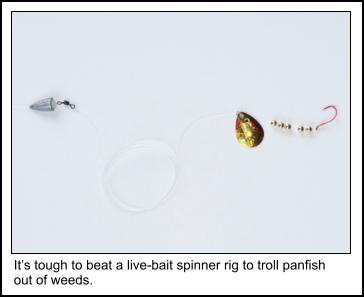 Touring Bottom
In summer and autumn deep bars and humps are hotspots for big panfish. A bottom bouncer or a three-way rig dangling a bell sinker are both options to plunge a bait to bottom while trolling. Run a small minnowbait, spinner rig, plastic on an Aberdeen hook, or wet fly behind these set-ups on a 30- and 48-inch fluorocarbon or monofilament leader of 4- to 6-pound test.
Two's Better Than One
Using two jigs is a common strategy for trolling deeper fish, whether suspended or near bottom. Separate jigs cover more of the water column but also allow experimentation to determine if panfish prefer a particular profile or colour. To assemble it, tie the lighter jig of the two to 18- to 24-inches of 6-pound mono on the middle eyelet of a three-way swivel. Attach 30- to 38-inches to the bottom eye, followed by a heavier jig to avoid tangles.
A further variation is adding a split shot half way down the bottom lead. This allows two lightweight jigs to be trolled. The extra weight keeps the presentation vertical in deeper water and permits faster trolling. Check fishing regulations for hook-per-line restrictions before using these rigs.
Map it Out
Regardless of presentation, plot a trolling route, ideally in a GPS unit, before wetting a bait. A designated path allows precision trolling around sweet spots, helps avoid hazards, and prevent hang-ups. Use polarized glasses to locate healthy weeds and their contours in shallow water. Map charts, like those by Navionics, provide contour data for trolling deep structures.
Editors & Publishers
T.J. & Monique Quesnel

The Ontario Fishing Network E-Magazine is published 12 times a year on or near the beginning of every month. Our magazine is geared to any angler who enjoys fishing of any type in the wonderfully diverse province of Ontario. Editorial Submissions: We welcome query letters, but assume no responsibility for unsolicited materials. Subscriptions: Subscriptions are FREE of charge and delivered via email. You can subscribe HERE: Privacy Policy: Unlike other publications We NEVER make our subscribers list (your email address) available to any other companies. Advertising: If you are interested in advertising please email us. Circulation - 13,000 email subscribers © 2011 Due North Marketing / Ontario Fishing Network / T.J. Quesnel. All rights reserved. Reproduction of any material without prior written permission strictly prohibited.