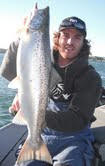 Hobie Kayak Fishing Ė Opening Doors For Anglers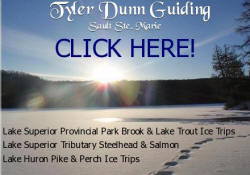 By: Tyler Dunn Tyler Dunn Guiding
Anglers spend huge amounts of money each year on fishing. They are not only shelling out cash for bait, tackle, electronics and the newest cutting edge equipment. Add in running, maintaining and upgrading their boats and motors can have quite the price tag. Whatís an easy alternative? A kayak!
Traditional kayaks are typically seen throughout Ontario on a regular basis but are more commonly used for paddling rather than fishing. Hobiecat is one company in particular that has taken kayak fishing to a new level. Hobie offers an amazing line of fishing kayaks designed to fit any anglerís needs. These fishing kayaks give the angler the choice to use the Mirage Drive (foot pedals) or paddle option. Even with the option, 100% of my kayak fishing has been with the Mirage Drive rather than paddling. The following are some tips for anglers interested in kayak fishing with the best innovation that industry has ever seen!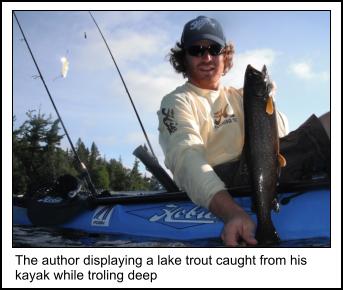 Trolling
Probably the biggest advantage I have noticed from using a Mirage Drive kayak is the ease of trolling deep, hands free. When paddling a kayak or even a canoe for the matter while trolling isnít an easy task. Add a little wind and it can be a complete headache. When using my feet on the other hand. I can troll with my rod in the holder and always have one hand steering the rudder while my other hand can be used for whatever is necessary. I can control my speed and incorporate speed changes, power turns with pin point accuracy using my graph and GPS. Most of my deep trolling is targeting summer lake trout. This is when I want to get my bait deep I usually use a 3-way swivel with a 2-3 ounce weight when Iím targeting fish in 30-60 feet of water and just adjust how much line I have out to keep bottom contact. This rig is hard to beat for consistent results in any inland lake trout lake that Iíve been too when downriggers were not an option.
Trolling shallow water from a kayak can be a stealthy method when youíre trying to cover water with minimal noise. Shallow fish tend to be spooky and the virtually silent kayak is much quieter than any outboard or electric motor available.
Casting
Casting from a kayak actually turned out to be much easier than I had originally anticipated. It is definitely different when youíre beginning just because of the fact that youíre casting sitting down. After you get used to this (which will only be a dozen casts) you will be firing your bait into the same areas you would from a boat and again with a much more silent approach. Hobie kayaks are unbelievably sturdy boats that offer a ton of room for your gear allows anglers to cast comfortably with no worries of tangling in their other rods, nets, tackle bags or maybe even themselves. Like most, when I am approaching a spot I want to cast. I always like to have a couple different lure options quickly available. Some Hobie models offer multiple rod holders give you the opportunity to have a variety of rods rigged with different presentations without having to keep tying new baits on. Landing fish beside the boat by hand sometimes is the easiest way to land and release a fish. Although, I usually opt for a rubber coated net especially when dealing with a big or toothy fish.
Mirage Drive kayaks are simple to run, cost effective and quite honestly allow you to fish in the exact same areas boats can.....Sometimes even better ones!