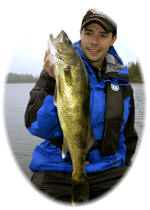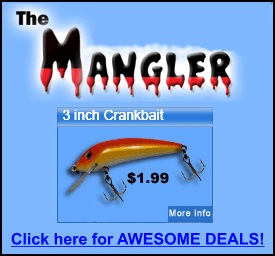 Walleye Current Trolling Secrets
by Tim Allard
Without question trolling crankbaits is a consistent walleye tactic from spring to autumn in rivers. Fast flow poses challenges, but with the right tools and methods these hurdles are easily overcome. The reward: lots of overlooked, willing-to-bite walleye.
Reliable River Obstructions
Classic walleye structures will hold fish on rivers. Islands around deep water and shoreline points rarely disappoint as they obstruct water flow and create current breaks. A hydro dam releasing water, a wing dam and a bridge are other zones that create current anomalies and regularly concentrate walleye in rivers.
Fish activity levels will influence their whereabouts. Inactive fish will seek refuge from fast water. They may be belly to bottom among boulders, in a deep hole, or hiding in weedy bays. Contrastingly, active fish have no qualms swimming in current if itís a hunting advantage, such as invading the top of underwater points, bars, and shallow sand flats.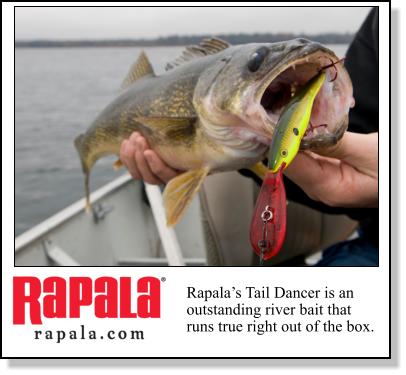 Crankbait Considerations
Proven river baits include: Rapala Tail Dancer, Minnow Rap, and Trolls-to-Minnow, Storm Lures Deep Thunderstick, Bomber Deep Long A, and Yo-Zuri Crystal Minnow Deep Diver.
Always test a crankbait at boat side to verify itís running straight. If it isnít, tune the lure by bending the line tie in the opposite direction than the baitís pulling. A boat side test will also give clues on how certain lures perform in current at different trolling speeds.
Planning the Attack
Unless you already know the river intimately, do some reconnaissance before trolling. Drive over the areas you plan to fish while watching the electronics for fish signals. Mark fish concentrations, promising-looking structures, and current anomalies in a GPS unit or use landmarks to triangulate the position.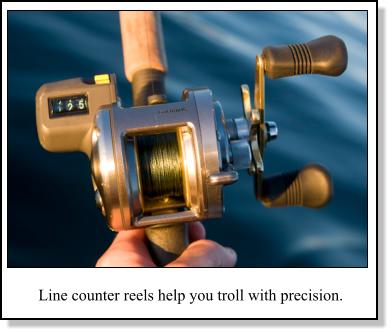 Current Trolling Runs
Once you plot a trolling run and understand the areaís current dynamics, itís time to start fishing. Generally, itís best to troll lures upstream into the current. This gives you more control over boat position and trolling speed. Getting fish to bite demands precise bait placement in the sweet spot where fast and slack water meet, so begin a distance downstream of the prime zone to give yourself enough time to position the boat.
Gear Tips
A line counter reel helps troll crankbaits in current with precision. Tracking line lets you run a lure at a specific depth where fish are holding and then repeat the fish-catching formula on each trolling pass.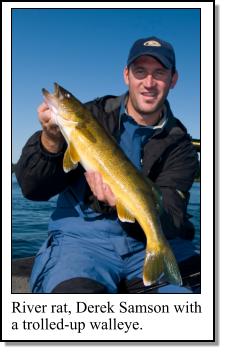 Many anglers today are using moderate action rods combined with superline for trolling current. No-stretch superline might seem counterintuitive with a horizontal presentation, but it delivers the sensitivity needed to feel the crankbaitís action in a way that monofilament canít in fast current. This lets you know if the lureís running true and when a bait's fouled. The latter happens often in rivers where floating plants and wood often catch on a bait rendering it ineffective.

As many veteran river anglers will attest, crankbaits are proven producers when it comes to plying current for walleye. Tie one on, tune it up, and hold on tight the next time you troll a river.
*Tim Allard of Ottawa, Ontario is a hard-water expert and author-photographer of the newly released book, Ice Fishing: The Ultimate Guide. For information visit: www.helipress.com/product/ice-fishing-138.cfm
Editors & Publishers
T.J. & Monique Quesnel

The Ontario Fishing Network E-Magazine is published 12 times a year on or near the beginning of every month. Our magazine is geared to any angler who enjoys fishing of any type in the wonderfully diverse province of Ontario. Editorial Submissions: We welcome query letters, but assume no responsibility for unsolicited materials. Subscriptions: Subscriptions are FREE of charge and delivered via email. You can subscribe HERE: Privacy Policy: Unlike other publications We NEVER make our subscribers list (your email address) available to any other companies. Advertising: If you are interested in advertising please email us. Circulation - 13,000 email subscribers © 2011 Due North Marketing / Ontario Fishing Network / T.J. Quesnel. All rights reserved. Reproduction of any material without prior written permission strictly prohibited.