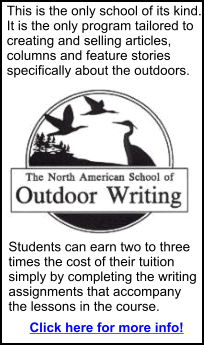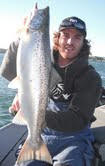 Sault Ste. Marie- Any Angler's Paradise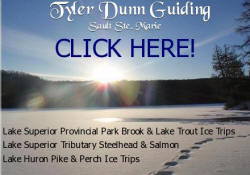 By: Tyler Dunn Tyler Dunn Guiding
Ontario offers province wide, world class fishing opportunities. Southern Ontario boosts amazing fisheries with trophy fish common on bodies of water such as the Bay of Quinte, Niagara River and Lake Simcoe; only to name a few. Northern Ontario is world renowned for its fishing opportunities. Not only do the fish grow to trophy sized proportions but the numbers can be staggering.
Sault Ste. Marie in particular offers a wide variety of species available in a countless number of lakes and rivers.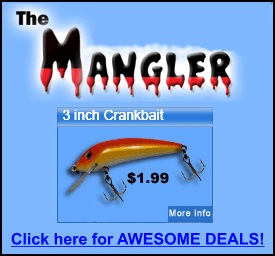 Big Water
Sault Ste. Marie is located on the St. Mary's River which connects Lake Superior to Lake Huron. The St. Mary's River is extremely similar to the Niagara River found in Southern Ontario. Like the Niagara, the St. Mary's is a gin clear, extremely fast moving river. Another common denominator is big fish! Trophy walleye, pike, bass, lake trout, steelhead, musky, and five species of salmon are available during different times throughout the year. The upper river is where the fast current can make fishing the most difficult and quite frankly dangerous. The St. Mary's might be best known its rapids and the world class rainbow trout fishing. Each spring and fall, migratory rainbow trout (steelhead) move from Lake Huron up river to spawn or feed. The Steelhead average 4-6 pounds with behemoth 10 pound plus trophy fish always lurking in and around the rocks. During the summer months spunky resident rainbows can be found. These fish are smaller but can reach a respectable 3 pounds. One u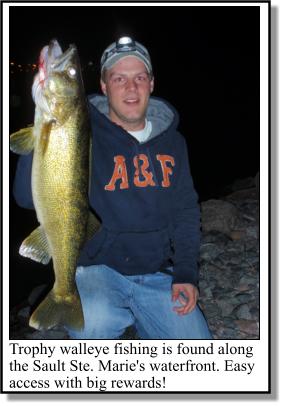 nique opportunity found in the St. Mary's River is a thriving population of Atlantic salmon. Each summer the Atlantics that are stocked by Lake State University can be found gorging themselves on the giant schools of smelts. Atlantics can be targeted by boat on both the U.S and Canadian sides of the river or with waders in the rapids. One thing that stands out about this fishery is they are aggressive, feeding fish. The lower stretches of the St. Mary's is littered with schools of small and largemouth bass, aggressive pike and a wonderful walleye and perch population.
Lake Superior can be accessed at several spots north of the city. Salmon and trout are usually the targeted species although walleye, pike, perch and even musky are available. Goulais Bay, Haviland Bay and Old Women Bay are quite common places for anglers to troll throughout the entire open water season.

Inland
The Soo is surrounded by countless lakes, ponds, rivers and streams. So many lakes in fact, nobody could ever fish them all in their entire lifetime; even if they tried. Most lakes around the Soo are teeming with wild and stock populations of lake or brook trout. Inland rainbows, browns and splake are available but are not as abundant as the lakers and brookies. Lake Superior Provincial Park north of the city is loaded with angling opportunities for the adventurous angler looking to explore and experience the wild, rustic Canadian wilderness. The park is located along Highway 17 north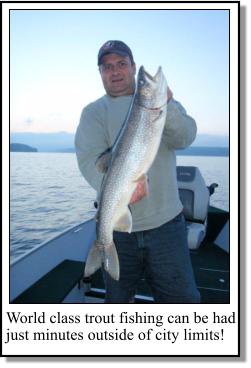 of Sault Ste. Marie and south of Wawa.
Other highways such as the 638,129 and the 556 are some of the most widely used roadways by locals that give them access to prime fishing areas. With a little homework some fantastic fisheries are literally a stones through from these highways. If you're feeling a little more adventurous there are hundreds; or should I say thousands of small roads and trails into even better lakes. Now, although the Soo is trout paradise, walleye, pike, perch, and bass are available.
Many of the lakes just outside city limits boost good populations of these species and receive relatively minor fishing pressure.

Sault Ste. Marie, Ontario is a midsized city for Canadian standards with a population of 75 000. The city not only offers topnotch fishing but boosts a charity casino, locks tours, train tours, famous Italian cuisine and one of the most beautiful waterfronts in Ontario!