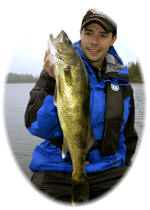 The Three "C" s of Early Spring Crappie
By Tim Allard*

Immediately following ice crappie flock to protected, shallow water areas. These zones are teeming with forage and crappie will feed heartily for several weeks until the water's warm enough for spawning, which occurs between late spring and early summer. Cracking the code on early-season crappie relies on the golden rule of real-estate: location, location, location and when talking paper-mouths in spring, this means fishing the Three Cs: coves, creeks, and canals.
The Action's In The Sheltered, Shallows
Protected, sun-drenched, shallow-water areas that fit the Three Cs are the VIP lounges of the spring paper-mouth party. They're comfortable, bustling with activity, and well-stocked with hors-d'oeuvres. This is because they're the first areas to warm after ice-out. Spots on a northern side of a water system can be particularly good as they receive the most sunshine, and are protected from cold, north winds.
To go a step further, look for soft, dark-bottom areas. Like solar panels these zones absorb the sun's energy. Dirty water and decaying plant materials can have a similar heat-soaking affect. Don't get put off by the muddy appearance; this is ground-zero for the feeding festivities.
The abundant sunlight that coves, creeks and canals receive increases their water temperature. This stimulates the food chain. Plants grow and give off oxygen. Aquatic insects also get rambunctious as fly hatches loom in the near future. In turn, the boom in food and warmer water attracts baitfish. Crappie follow, moving shallow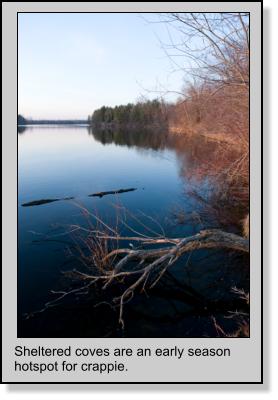 to chow-down on invertebrates and minnows. The Three Cs all provide a cornucopia of crappie edibles and when combined with the right habitat they're prime early-season spots.
Coves
I think of coves in a nautical sense when it comes to spring crappie. These are sanctuaries hidden from winds and open water. On blustery days these inlets are relatively tranquil. Not all coves are created equal though when it comes to alluring crappie.
Bullrushes and reeds boost a cove's property value. The winter's snow and ice will have pushed over a lot of their stalks and the result's prime cover for crappie and a multitude of insects and minnows. Add some sunken or standing wood and the area's even better. Healthy weeds are always good to find in coves. They attract crappies and their forage alike.
Some coves feature an inflowing creek. The warm meltwaters and the various foodstuff creeks carry appeal to panfish. Finding these two components together often means you've located a prime fishing spot.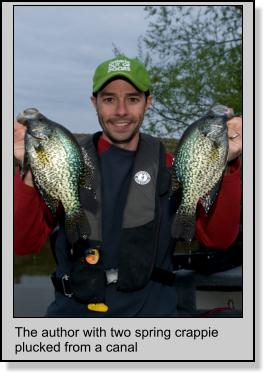 Creeks
Still to slow-moving creek arms are other great spring-time spots. Fallen or submerged, standing trees are crappie magnets. Look for timber that's outside of a creek's main flow. There also tends to be a lot of debris floating in creeks during spring. Expect branches and other pieces of cover that collect this refuse to hold fish.
Undercuts are another hotspot. Add some wood cover and you've hit pay-dirt. The shelter and space of these two combined elements appeals to crappie. Bullrush-lined inlets and pockets are also good bets on creeks.
A word of warning, rain and subsequent increased water flow can temporarily set back fishing quality. Once the system stabilizes, creeks will crank out catches again.
Canals
Several different types of canals are paradise for crappie in spring. One type is constructed to expand waterfront property and create sheltered docking space for land owners. Another is a trench created for agriculture irrigation. Bullrushes, stumps, healthy weeds, and old dock pilings will all hold fish in these dug-outs.
Another type of canal is designed to connect lakes and feature locks. These robust structures attract crappie in spring, before the gateways begin their open-water operation. The stone walls of these structures serve double duty. They block wind but also absorb the sun and radiate its heat. Regardless of style, the best canals have little or no flow, helping them quickly warm-up and retain their temperate water.
The initial weeks of spring crappie fishing can be fantastic. To boost your catches, position yourself on the prime real-estate of the Three Cs and focus on woody and weedy cover. Give early-season crappie fishing a go this season. It's tough to beat the fun of landing slabs in the warm spring sunshine. .
*Tim Allard of Ottawa, Ontario is a hard-water expert and author-photographer of the newly released book, Ice Fishing: The Ultimate Guide. For information visit: www.helipress.com/product/ice-fishing-138.cfm
Editors & Publishers
T.J. & Monique Quesnel

The Ontario Fishing Network E-Magazine is published 12 times a year on or near the beginning of every month. Our magazine is geared to any angler who enjoys fishing of any type in the wonderfully diverse province of Ontario. Editorial Submissions: We welcome query letters, but assume no responsibility for unsolicited materials. Subscriptions: Subscriptions are FREE of charge and delivered via email. You can subscribe HERE: Privacy Policy: Unlike other publications We NEVER make our subscribers list (your email address) available to any other companies. Advertising: If you are interested in advertising please email us. Circulation - 13,000 email subscribers © 2011 Due North Marketing / Ontario Fishing Network / T.J. Quesnel. All rights reserved. Reproduction of any material without prior written permission strictly prohibited.