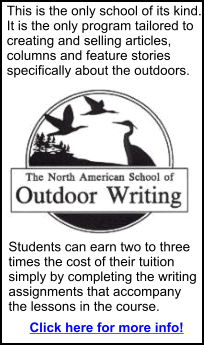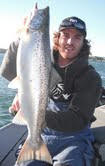 Shore Tips for Summer Walleye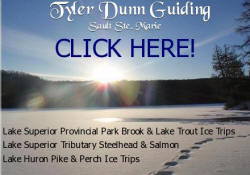 By: Tyler Dunn Tyler Dunn Guiding
Shore anglers often find themselves doubting the angling opportunities that can be had. Most species are readily accessible from shore but walleye are without a doubt one of easiest and most plentiful fish Ontario has to offer. It doesn't matter if you're on a lake or river, walleyes can be caught from shore in both good numbers and size.

River Walleye
River walleye that are found in systems throughout the Great Lakes region are spoiled with world class walleye opportunities. Smelt are found throughout the Great Lakes which are a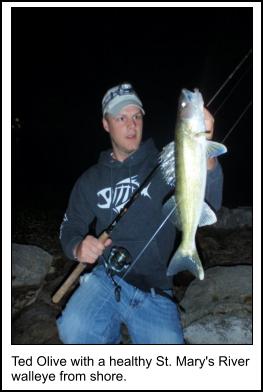 generous portion of a walleyes diet. On my home waters of the St. Mary's River, walleyes are caught literally at your feet. The shoreline found on the upper St. Mary's boasts an extremely rocky shoreline. These rocks offer the perfect ambush spots for walleyes looking to feed. The schools of smelts can actually be seen along shore with glowing, green eyes just below in the rocky crevices. When faced with this situation, twitching suspending jerk baits is tough to beat. A Rapala Husky Jerk in sizes 12-14 are my absolute favourites to entice, tight to shore walleye. Suspending jerk baits will get you down to the strike zone and keep you there but keep you out of the snags when needed. A key ingredient to success in situations like this is to keep your cast close to shore or cast parallel with the shoreline whenever you can. Since walleye are along the shoreline feeding. It doesn't make sense to fire; long bomb casts over top of the feeding fish. A parallel cast will keep your jerk bait in the strike zone for a longer period of time compared to casting straight out. As far as a retrieve goes it varies almost night to night. A general rule I use is to run slightly smaller jerk baits in the spring. These smaller baits are used in the coldest water of the year and are worked through the water painfully slow. As the water warms and the seasons change, I will then increase the size of the jerk bait and my retrieve speed. Pauses on your retrieve will also trigger strikes. Sometimes a short pause followed by a couple quick snaps of the rod tip will connected with a walleye or two. Other times, long, drawn out pauses followed by only a slight twitch is what the fish will respond too. Jerk baits have to be only of the most versatile baits for catching walleyes from shore on rivers. Give them a try!

Lake Walleye
My shore walleye fishing usually occurs on trips into the Chapleau area. After a long day in the boat, nothing beats cooking a hot meal and popping a few more walleye while you're at it.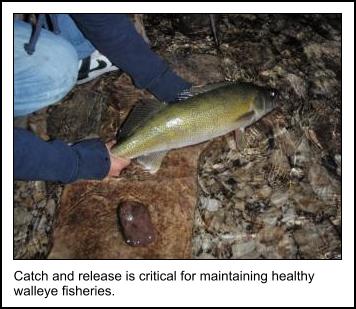 When you target walleye from a shore on a lake there are various methods that can be used. Casting cranks, minnow baits, jigs, spinners and even top waters will catch you fish. Even though these are all great ways to catch walleye, my favourite technique is to hook a lively minnow beneath a slip float with a glow sick attached. Similar to a steelhead set-up, I just run a barrel swivel under my float. Then I attach a leader from the swivel to my jig. The leader might be fluorocarbon because of use during the day but low or night conditions is when a monofilament leader can be used. My jigs usually range from 1/8-3/8 oz and I usually match the size of jig and float with the wind conditions. During strong winds a bigger float and heavier jig is called upon. I obviously choose a lighter float and jig during calmer conditions. Although round glow jig heads are usually my first choice, Northlands Whistler jigs have became my favourite jig on windy nights. The natural jigging motion from the float, bobbing up and down with the waves spins the blades on the jig giving off vibration for the walleye to hone in on. Teamed up with a Gulp or live minnow it is a combo most walleye can't resist!