---

---
Late Fall St. Francis Smallmouth
By Lawrence Euteneier

When an email from Frank Ramsay popped into my inbox inviting me to spend a day pre-fishing with him on Lake St. Francis, a stretch of the St. Lawrence River sectioned off by a series of shipping locks, I was quick to reply with an affirmative. Frank is a well known B.A.S.S. competitor and a regular top 10% finisher in the Berkley B1 fall Bass tournament.

Lake St. Francis is a significant body of water that hosts a variety of fish species, but is probably most famous for their large Smallmouth Bass. It was on St. Francis that Charles Sims and Nigel Touhey set a Canadian record in 2008 for the largest bag of Bass with a weight of 30.35lbs.

The lake itself consists of enormous weed and sand flats, shoals, bays and channels. But what makes St. Francis truly unique is the current. Trans-Atlantic shipping passes through the lake and in spite of the locks being closed most of the time, a continuous rush of water through man-made spill-weighs equivalent to that which passes over Niagara Falls ensures a consistent 3 mph current.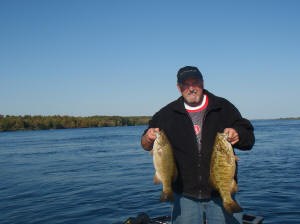 As with Lake Erie, the Goby has invaded St. Francis as well as Zebra Muscles. The muscles have improved water clarity significantly making it far easier for Smallmouth to prey on the Gobies. Popular techniques for catching these river-hardened Smallies include burning spinnerbaits over the weed flats, dragging tubes on the sand flats or drop-shotting shoals and humps. All three techniques seem simple enough, but understanding the interplay between presentation style and the current is where things get tricky.

Our fall day on the St. Francis started off with a bone-chilling run out of Cornwall Ontario aboard Frank's Stratos. Our plan was to focus on fishing drop-shot rigs for Smallies over shoals and humps. One might assume that drift fishing on a large body of moving water would make life simple in that one need only cut the motor, drop a line down vertically, and then let the current move you from one large Bass to another. Not so.

Having grown up fishing streams and rivers for Trout and Salmon, I thought I understood the fundamentals of current dynamics. However, what Lake St. Francis offers the fisher isn't really a lake, and isn't a river either. A significant slip stream means the bottom 10-15 feet of the lake's water hardly moves while the water above this slips along on top at speeds that can reach over 3mph. The net result is a fishing experience similar to Lake Erie on a windy day, with 50 yards and more line stretching out from the boat. Excellent boat handling and heavier weights are essential to get down 20-25 feet.

Positioning the boat with the bow pointed up stream allowed Frank to use his electric trolling motor to counter the effects of the current. This doesn't mean fighting the current, as trying to maintain a stable position in 3mph of current will kill even the biggest batteries in a few short hours. Instead, by Frank's keeping the trolling motor at between 20 and 40 percent power, he could reduce the boat's drift speed from 3mph to around 1.8 to 2.2mph. Yes, the boat drifted backwards, but it was still possible to maintain steerage while countering winds so that lines being dragged off the bow weren't tangled. Minn Kota's Autopilot or I-Pilot can assist greatly in this regard by automatically maintaining the boat's orientation.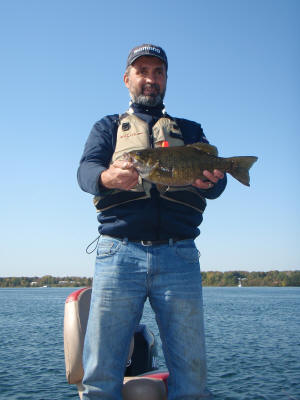 Frank's GPS chart plotter / sounder configured to display a split screen assisted in his dissecting this huge body of water. With one side showing depth and contours and the other side displaying his tracks, Frank made it seem simple to execute consecutive drifts over target areas. The net effect is the recorded GPS tracks displaying much like a well-ploughed field with tighter groupings where most of the bites occurred. Running maps such as Navionics "Fish & Ships" at the helm is essential for scouting fertile waters and avoiding the notorious shallow portions of the shoals that snake out from the shore for miles.

Drop-shotting water such as this eliminates all possibility of a slack-line presentation. Thus, selecting your baits accordingly is crucial. Where as smaller more supple offerings such as X-Zones Slammers may perform excellent on a slack line, when being dragged just off the bottom at 2mph their attribute for responding to subtle currents is lost. Frank recommends baits with paddle tails such as X-Zones new Swammer to take advantage of the constant forward movement. Up-sizing the presentation to account for large fall appetites is also a must.

Tackle includes 1/2 ounce cylinder Ultra Tungsten weights. Tungsten not only allows for stronger tactile feedback over lead, but slip through the water faster with less resistance due to their 50% smaller profile. The smaller tungsten profile also reduces the likelihood of Bass mistaking the weight as prey. Avoid the round weights as these will have you repeatedly firing up the main motor to return up stream to dislodge weights jammed between rocks.

Given the amount of line needed to get the presentation to the bottom, braid is a must to both maintain strong tactile feedback and ensure solid hook-sets. A miniature swivel for use in connecting the main line to a 36" 10 or 12 lb fluoro leader is mandatory to minimize line twist. Tougher leader material is warranted due to the rig being continuously dragged over Zebra-Muscle incrusted rocks. Size 1/0 hooks or larger will reduce the chance of large river Smallies from straightening out your hooks.

Once the boat is positioned to begin drifting backwards, cast out your line about 50 feet in front of the boat. Dropping vertically over the side will only have you opening the bail time and time again to establish consistent bottom contact. Keeping the weight ticking bottom is essential to catching Smallies. This is especially the case when coming off humps or shoals when a distracted fisher might allow minutes to pass before realizing their bait is soaring many feet above the bottom. Frank suggests giving the bait a few shakes and twitches when bumping over significant bottom structure while re-establishing bottom contact to simulate injured pray.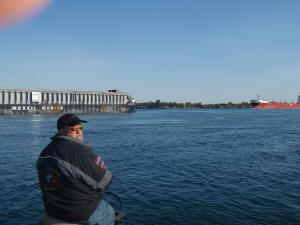 Spinning gear over baitcasting is preferable due to the amount of line needed to be released to establish bottom contact. Spinning reels release line quickly with their zero resistance. My preferred set-up is a Shimano 2500 Stradic C4 and Shimano 6'10" Cumulus medium weight extra-fast action rod. I have to admit that when I first picked up the Cumulus my initial impression was that there is no way a rod this light could properly manage 5lb+ Bass, but was I wrong. The Cumulus is not only super light and sensitive, but recently proved its power when I landed a 35" Musky caught on a Baby Slammer.

It's not unusual to have more than 50 yards of line out when drifting in 20+ feet of water. Remember, even though the boat may be moving at 2mph, the bottom 10'-15' feet of water you are fishing in isn't moving. Heavier weights and extra line is a must to get to the bottom.

Strikes almost always come in the form of pressure. Swing for the fences with your hook sets. Not because these fish have unusually hard mouths, but the top 1/3 of your drop-shot rod is little more than a spring that needs to be fully extended before the rod's lower power section can be brought into play. Keeping your tip pointed just slightly to the side during the drift also assists with hook sets as the rod's bend is taken out of the equation as the line runs almost perfectly straight between the hook and the reel, meaning little to no give coming through the braid.

If Frank and I had been fishing a tournament that day we would have had about 22lbs in the bag including two 5lb kickers. It's no wonder then that people will make the drive from central Ontario to try their hand. Frank strongly recommends studying your maps prior to arriving. This is truly big water fishing, and the added element of current means you need to be strategic in lining up drifts over productive areas. Oh yes, watch out for the ships.