Lac Seul Lessons By Tim Allard*
Without question fall is trophy time for monster muskies. Ontario is blessed with dozens of lakes holding these fish, but few have the right recipe of forage, habitat, and other elements to continuously produce 50-plus-inch fish - the northern gem, Lac Seul ranks high on this list.
Moosehorn Mecca
When planning your stay you need look no further than Moosehorn Lodge, owned and operated by Linda and Carter Rice. Linda (aka Muskie Mamma) currently holds the women's world record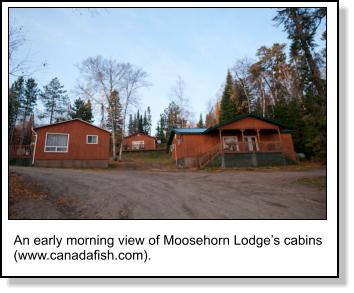 for live release musky thanks to a 57-inch brute she caught in 2005. Located on the English River watershed in Sioux Lookout, Moosehorn Lodge is your gateway to Lac Seul. It has nine comfortable cabins, in addition to the main lodge containing a restaurant and tackle shop. Cabins come with housekeeping or American plans. For details on boat rentals, rates and other information visit their website at www.canadafish.com .
The resort also touts some primo muskie guides. This October, I spent four days with Greg Marino and Ben Beattie ( www.benbeattieoutdoors.com ). Marino is well versed in chasing trophies and has been in the boat 80 times when a fish over 50-inches has been caught. Beattie is a hot stick too, touting an intimate knowledge of the fishery and has seven years experience guiding on the lake. Here are some of their tips on chasing down big fall muskies.
Trolling to Cover Water
While casting shines on Lac Seul in summer, trolling reigns supreme in autumn. Our trolling runs ranged from short, 10 minute courses to hour-long routes. Speeds were between 2.5 and 3 miles per hour; water temperatures hovered around 58F.
Productive areas included rocky structure and shorelines near deep water. "I like spots that drop off quickly to 20 feet or more with lots of ins and outs, ups and downs, that act as ambush points," says Beattie. Marino likes trolling deep structures, like points and reefs, that are close to summer casting areas, such as bays or cabbage beds.
Recommended trolling lures include Muskie Mania Jakes, Grandma Crankbaits, Legend Perch Baits, Drifter Tackle Jointed Believers, and various custom crankbaits. Baits ran between 25- to 60-feet behind the boat when trolling between 10- to 20-feet of water.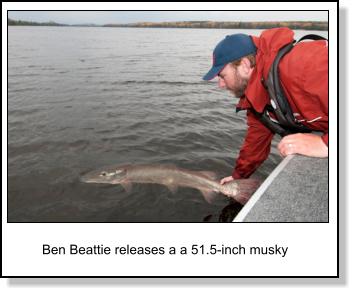 Pitching Plastics to Prime Areas
At times, Marino and Beattie will toss baits to dissect high-percentage areas. During an hour casting session three muskies followed baits, and one of these spots eventually produced a muskie later while trolling. Tossing lures will catch fish in autumn but it will also reveal followers - and these fish are the equivalent to bright neon signs declaring you're in the right area.
Top autumn casting spots are points, current areas, rocky shorelines, and reefs. Bait choices include chunky plastic offerings such as Musky Innovations Bull Dawgs and The Jimmy.
Equipment Overview
Heavy gear is a must when chasing fall trophies. Beattie favours an 8'6" Thorne Bros. Custom heavy trolling rod outfitted with a line counter reel filled with 80- to 100-pound Power Pro braid. At the business end is a 36-inch, 150-pound-test fluorocarbon leader and a heavy Stringease Stay-Lok Snap. Catch and release tools are also a must and include: a big muskie-sized net, Knipex cutters, and long-nose pliers.
Persistence Pays Off
"Lac Seul is the type of place that whenever your line is in the water there's a chance to catch a giant. But it's not a numbers game," says Beattie. Fall muskie fishing demands patience and commitment. Not to mention lots and lots of warm clothing - Marino's favourite water temperature for trophies is between 42F and 38F.
If you're serious about catching a 50-plus-inch musky it's best to invest at least 4 days of fishing in your quest. It can be tough slogging, but catching and releasing one of these northern behemoths is worth the effort!
*Tim Allard of Ottawa, Ontario is a full-time outdoor journalist and author-photographer of the award-winning book, Ice Fishing: The Ultimate Guide.


Editors & Publishers
T.J. & Monique Quesnel

The Ontario Fishing Network E-Magazine is published 12 times a year on or near the beginning of every month. Our magazine is geared to any angler who enjoys fishing of any type in the wonderfully diverse province of Ontario. Editorial Submissions: We welcome query letters, but assume no responsibility for unsolicited materials. Subscriptions: Subscriptions are FREE of charge and delivered via email. You can subscribe HERE: Privacy Policy: Unlike other publications We NEVER make our subscribers list (your email address) available to any other companies. Advertising: If you are interested in advertising please email us. Circulation - 13,000 email subscribers © 2011 Due North Marketing / Ontario Fishing Network / T.J. Quesnel. All rights reserved. Reproduction of any material without prior written permission strictly prohibited.