In this issue:
Discover the Joy of Small-Stream Trout
ALL NEW ONTARIO BOATS FOR SALE CLASSIFIEDS
CLICK HERE!
TOTAL TACKLEBOX
We are on our way to becoming the worlds largest fishing tackle search engine!
Red
Pine Wilderness Lodge
- Our 8 guest cottages set amidst towering, red pine trees on a 7 acre island is the place for your special remote fishing trip or wilderness family holiday. We are the Gateway to two huge parks: The Obabika Waterway Park and The Lady Evelyn/Smoothwater Wilderness Park. We offer the serious angler Northeastern Ontario's finest Walleye (Pickerel), Great Northern Pike, Smallmouth Bass, Whitefish and Perch fishing. Don't forget about the 3 species of Trout that also call this area "home".
Lakair Lodge - With miles of twisting shoreline, picturesque islands and hidden back bays. Choose from 1, 2, 3 or 4 bedroom cabins, each with a modern generously outfitted kitchen and 3 piece bath. After a hard day fishing, put your feet up and relax on your own sundeck or screened in porch. American Plan guests will enjoy three delicious meals daily plus maid service (including towels and bedding).
Sunbeam Bungalows - A family and fishing resort. Located in the small, picturesque hamlet of Callander, Ontario, yet only 10 miles from larger city attractions. Our resort is nestled under the pines, where we offer clean, fully-furnished, deluxe, spacious cottages. Enjoy Lake Nipissing which offers the best in fishing...we guarantee to believe all stories about "the one that got away".
"Discover the Joy of Small-Stream Trout" By
Justin Hoffman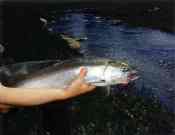 Imagine yourself exploring a small tranquil stream - lost in your own world yet in the thick of trout country. Cascading waterfalls, riverbank critters and satisfying solitude are yours to enjoy and explore for the length of a day. Thousands of tiny creeks and rivers call Ontario home, and the wondrous colours and energetic tussles that the resident brookies, browns and rainbows exhibit is like discovering a new realm in the land of angling fun. Come take a walk off the beaten path and reap the rewards that small-stream fishing can offer.

Finding A Stream
Finding a small stream that is rich with resident trout can be as simple as doing a little bit of homework before heading out. Chances are you drive by or over a small stream or creek every day on your way to work or out shopping. These can be teeming with hungry fish, yet are never given a second look from unsuspecting anglers passing constantly through. Stop your vehicle the next time you hurriedly pass by and discover what treasure may possibly await you under that man-made bridge.
Another trick is to call your local Fisheries or Environment offices in order to find out stocking records for the area you are interested in exploring. They may even go as far as letting you know quantities of fish that have been stocked, which can be a real bonus in finding the perfect honey hole. Road maps and topographical maps can help you find a gem in the rough by showing small streams and creeks and the roads to access them. Circle a half dozen of these urban prospects and take a leisurely drive through town to find the one that suits you, and the small-stream trout, best.

Tackling Trout
There are two routes to take when targeting small-stream brook trout - spinning or flyfishing gear. Each has its own merits, and it is really a matter of personal choice when it comes to picking a method. Whichever one you choose, the key aspect is to keep it light. Rods should be short and line should be a thin diametre. Remember, the trout you will be targeting will not be monstrous, and neither should your equipment. Most of these urban dwellers will be measured in inches, not pounds, so light action tackle is definitely the way to go.
For spinning gear, my personal choice is an ultra light rod between four and five- feet in length. A rod of this size will make it easier to travel through bushy undergrowth and to deal with small stream conditions. Line in the two to four-pound-test weight is all that is required. Most streams you will come across will be crystal clear, and many of the fish are extremely "line shy."
There is a large array of small-stream baits on the market, but I find it best to keep everything simple. Small number 0 spinners are extremely effective, especially in silver or gold tones. If the water happens to be a bit murky, a switch to a fluorescent hue may do the trick. Tiny crankbaits have also fooled many a trout for me over the years, and are most effective when "hotshotted." Hotshotting is a simple and effective technique for small-stream trout - here's how it works. Stand upstream of fast water and let your crankbait float down current until it is at the point where the rapids spill into the pool. Engage your reel and the bait will dive and wobble in place. Slowly let the bait slip back through the rapids and into the deeper water. Baits can be sent under fallen trees or log jams in order to access hidden fish. This is a great technique for tempting those fish that lazily and stealthily hide in the dark shadows of cover waiting for an easy meal to swim by.