"An Introduction to Springtime Crappies" By Justin Hoffman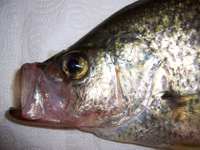 We all as anglers have our special rites of spring. For some it involves floating roe down a tributary stream for early season steelies. Others enjoy the opportunity to lock horns with the ice out water wolves that slowly cruise the shallows. My early season angling is occupied by one specie and one specie only - and that is Mr. Crappie.
Crappies hold a certain soft spot in my heart. I admire their tenacious fighting capabilities when using light line, their chameleon-like habit of blending into the surrounding cover, and of course, their exceptional taste when tossed in a pan with butter, garlic and oil.
Follow me as I offer up some tips on finding and catching crappie this coming spring.
Location is Key
Timing is everything when it comes to catching crappie, especially at the start of the season. Once ice out occurs, there will be an influx of crappie flooding the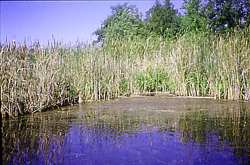 shallows. They have one thing on their mind at this time, and that is to feed. The water during the early goings will be too chilly to begin the process of spawning, yet this migration to the shallows is often referred to as a "fake spawn." This period of fishing can be hit and miss at best, as they will usually only stick around for a week or two, then retreat back to deeper water in anticipation of the oncoming warming trend.
As the water heats up, once again crappie will head to shallow water. As soon as 66-68 degrees is reached, the spawn will commence.
Depending on the type of lake, and the attitude of the fish, most crappie will stay on this shallow water pattern for the good part of a month. It is this particular month that we are most interested in.
Shallow water can bring about many different connotations, but there are certain attributes that consistently attract springtime slabs. The first is depth. Search out areas that are 4 feet or less. This shallow water will hold the highest concentration of fish, and will help greatly in weeding out unproductive water.
The next thing to keep an eye out for is cover. Structure and cover can come in many forms, but at the top of a crappies list are cane and bulrushes, stumps and wood, man-made docks and pilings, as well as scattered weed. The best spot I have ever located contained a mixture of peat/mud with some wood thrown in - an ideal area for digging nests while also offering safety and security.
Although you can catch crappie out and away from structure areas, they do seem to prefer an object to lie beside or under. Old wooden docks can be a gold mine, especially if the structure is low to the surface of the water. Target the legs of the dock itself, as this will be the primary location that the crappie will set up in. Trees or branches that have fallen in the water are also at the top of my list, and in my experience, evergreen branches or full coniferous trees rate up there as number one.
Canals (both man and nature-made), shallow back bays and shoreline areas are where you should be concentrating your searches on. Keep in mind that south facing shorelines will warm the fastest, so it pays to seek out these hotspots first thing in the season.
Putting Together a Game Plan
Before heading out and fishing blindly, a bit of preplanning and homework can go a long way. Whatever body of water you intend to fish, obtain a topographical map. Highlight the productive looking spots, using depth, position of the areas and structure points as your variables. Things to be conscious of are marinas (docks), bays (south facing and shallow) and canals. These can all be easily located on a map prior to launching, and can save you considerable time when searching out fish.
I like to stick with clear water lakes. Clear water allows me to visually see fish (lets you quickly know if fish are in the area), see structure below the surface, and when everything comes together, will give me the opportunity to sight fish for those big slabs. Sight fishing is a very effective technique, as you actually can pick and choose which fish to go after. I will generally cast blindly less than 25% of my time in the spring, preferring to get a fish in my sights, before gently lobbing a cast in his direction.
Stealth is part and parcel of the crappie game, and an electric motor is certainly an asset when fishing the skinny water. Crappie can spook easily at times, so make slow and quiet movements when working your way through productive areas. It also goes without saying that wearing a pair of polarized glasses is mandatory for this shallow water fishing.
Stocking the Tackle Box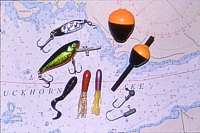 The neat thing about chasing crappie is not having to rely on expensive gear or bottomless tackle boxes. A 6 or 6.5-foot ultralight spinning rod coupled with a small ultralight reel takes care of the equipment side of the equation. Spool up with 4 or 6lb test mono and you're pretty much good to go.
When it comes to baits, the plastic tube reigns supreme. Choose a panfish-sized micro tube, and pair it up with 1/32 or 1/64 oz. jig head. My most trusted colours have been white, pink, chartreuse, brown, red and purple. Two-tone jigs allow you to use more than one colour, upping your odds of discovering which combination works best. I prefer to suspend my jigs below a slip float, paying close attention to keep my plastics high as the crappie will always feed upwards.
Small cranks and spinners can also work well, especially when fish are aggressively guarding their nests, or when water temperatures greatly increase. I've had a few banner outings that included some true slabs - all falling prey to a small crank slowly twitched along the surface of the water. I must say - it's pretty exciting to see a crappie blast a topwater in a foot of water!
As you can see, chasing the crappie of spring certainly isn't a complicated affair. In order to get in on the game, you have to know where to look. Whether you head to the Kawartha's, Rice or the mighty Ottawa, you can be assured of some fantastic early season fishing - and that's what we all need after such a long, cold winter of the white stuff.