In this issue:
"Dunk the Weeds for Sunshine Walleye"
NEW ONTARIO FISHING CHAT
CLICK HERE!
Long Point Airways
Last minute fly-in trips. We have some openings available at some of our fly-in lakes. These trips have been discounted for the rest of the summer. Go on the fly-in trip you been dreaming of at extremely affordable rates. Click here to find out more!
Auld Reekie Lodge
- Whether you pamper yourself with our full meal plan and the ultimate in comfort in one of our 6 luxury suites, or stay in a fully equipped 4 star cottage where you can cook your own meals, at Auld Reekie Lodge we feel we've got everything you're looking for and more. Auld Reekie Lodge, as featured on the Canadian Sportsfishing Show, is a true escape in the beauty of Northern Ontario's wilderness.
Camp Raymond
- Camp Raymond is situated on the picturesque northwest bay of Lake Nipissing. A fully equipped housekeeping camp geared to both families and fishermen. We offer many amenities to make your vacation a memorable one
Trails End Lodge
- A full service facility, situated on Pipestone/Clearwater chain of lakes, offers incredible fishing experiences with Muskie, Lake Trout, Walleye, Bass and Northern on 76 miles of pristine waters. Enjoy a shorelunch prepared by experienced guides and explore the white pine forest. Join the fall hunters for white tailed deer and grouse. The new Conference Centre allows for groups of up to 80 people for reunion or corporate meetings.
Ontario Walleye Fishing
"Dunk the Weeds for Sunshine Walleye" By Justin Hoffman
Hot, penetrating sunshine and the sensitive eyes of the walleye can make for a frustrating and energy-draining day out on the water for the exuberant angler. Fish become scarce during these trying times and without the proper locations or techniques needed to find and catch these fish, a fisherman's moral can reach an all-time low. Green, healthy weeds, a handful of jigs and a technique called "dunking" are all that are needed to find success during these "dog days" of summer.
Where are the Walleye Hiding?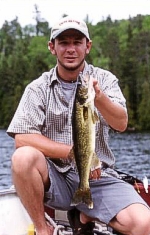 During the days of summer when the humidity and sun become scorching hot, the intuitive walleye will begin his retreat and search for cooler climes for a more comfortable existence. Although common knowledge tells us that walleye and rocks are the perfect pair, the green vegetation that is on your home lake is also a preferred habitat for a walleye seeking shelter. Shallow, fertile lakes are the number one choice for patterning walleye this way, however, any lake that supports weeds will always play host to weed-wandering walleye. Water that is relatively clear and is less than ten feet deep are the most ideal characteristics to target for certain success.
Green weeds lure walleye in for a number of reasons. They provide a cooler environment, shade from the sun, oxygen, safety and comfort and an abundant food source with an added ambush point for attack. When you put all of these pluses together, you get a sure-fire plan for putting walleye in the boat.
When the sun is beating down, there will be certain weeds and areas that will draw fish in more than others. Look for the greenest, most lush vegetation that you can find. These weeds can take the form of coontail, milfoil or a variety of other species, but they must have a base or openings for the walleye to lurk under and through. Also, try to pinpoint weed areas that are relatively close to deeper water. Walleye feel safer when deeper water is in the vicinity as it provides an escape route - the shallow weed flat, in turn, provides an ideal feeding shelf. One last thing to keep an eye out for is isolated weed clumps in the area you are fishing. Huge expanses of vegetation will hold good numbers of fish, but isolated weed clumps provide a hiding area in a vast space of "coverless" water that roaming fish happen to stumble upon and call home.
Dunk till you Drop
Dunking is a close-range fishing technique that involves lowering your lure vertically down from your boat into a weed pocket. The maximum amount of line you will use in most situations is ten feet, so be prepared to for some excitement when Mr. Walleye takes a fast swipe at your jig.
There are two ways to approach a weed pocket for dunking - drifting and by using your electric motor. If the winds are calm and you are fishing a large expanse of weeds, simply allow your boat to drift with the breeze and dunk all of the pockets that you can as your boat slowly drifts over them.