In this issue:
Choosing the right fishing line.
ALL NEW ONTARIO FISHING MESSAGE BOARD
CLICK HERE!
Charlton Lake Camp

-

Charlton Lake Camp is a housekeeping cottage resort set among towering pines in Northern Ontario's La Cloche Mountains. The camp offers fishing (bass, walleye, pike and lake trout), swimming, boating and hunting. Eco-tourists will love the easy access to Killarney Provincial Park for canoeing, kayaking and hiking. Artists and photographers will revel in the same natural beauty made famous by the Group of Seven.
Opimika Wilderness Camp & Cottages
- Opimika Wilderness Camp & Cottages is a remote wilderness lodge, open year round. Fish, hunt, ATV & snowmobile at Opimika. We offer fully equipped cottages with kitchen and bathroom, camps and outpost cottage. You will have access to 30 lakes within 10kms of the lodge. Fish for Walleye, Northern Pike, Bass & Trout. Hunt for moose, deer & bear.
Island 10 Fishing Retreat
- Island 10 nestles among pine-clad islands dotting the water on Lady Evelyn Lake. With over 650 miles of shoreline, the area is very remote,secluded and definitely a non-commercial area with excellent fishing. There are no roads to Lady Evelyn Lake. It is accessible only by boat or plane. As a result of our prime location, good fishing is just a short distance away, and guides are simply not necessary
"Choosing The Right Fishing Line" By Justin Hoffman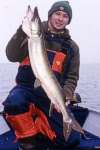 The strongest, and most fragile link you have between yourself and a fish is undoubtedly your fishing line. Choosing an inferior product in order to save a few bucks, or picking the wrong style for the type of fishing you do, can lead to heartbreak when out on the water. So what are the best lines to choose and when should you use them? The following will hopefully explain the subtleties of the common "fishing line."
Monofilament
Monofilament is the most commonly used line when it comes to fishing, and is a mainstay on the majority of angler's reels. The one problem many anglers make the mistake of is buying the cheapest mono they can find. In fishing, you normally get what you paid for, so spend a little bit extra and buy a reputable brand. Berkley Trilene, SilverThread, Stren and Ande all have proven track records, and make a high-quality line. It is also important to change your line regularly - at the bare minimum once a season - as the sun and water will break down the line, leaving it weak and partial to breakage.
Mono is a great line to choose when you are faced with clear water conditions. This type of line is virtually invisible once it is under the water's surface, and can really up your odds for "line-shy" fish and those with excellent eyesight. Mono can be used for virtually every fishing situation you may encounter, and it is generally regarded as the best all around fishing line for all situations. (Braided lines fill some of these cracks when it comes to specific techniques.)
Monofilament will stretch a fair bit on hook sets, so extra force is generally required to drive the hook home. (Compared to the no-stretch traits that braided lines have, where less force is definitely needed.) Mono is generally a strong line, most are extremely abrasion resistant and are thin in diametre. One problem that many find with mono is the "reel memory" that this type of line has. Coils and loops are common occurrences for the mono angler, which can lead to backlashes and knotted lines on reel spools. One remedy for this unpleasant aspect is to make sure you are using the correct line weight for the reel size you are using. Unless you are doing Great Lakes salmon fishing with a spinning reel, the maximum line strength I suggest for freshwater applications is ten-pound test. Anything higher and coils, backlashes and tangles will rear their ugly heads. Your distance and accuracy will also suffer by going above this recommendation. Anything higher than ten-pound test is best fished on a baitcasting reels. There are certain situations and styles of fishing that afford some leeway in this generalization, but for most anglers chasing bass, walleye or panfish, this advice will make your fishing much more enjoyable.
The Braided Lines
Braided lines have come on strongly over the past few years, and more and more anglers are realizing the advantages these lines possess for specific situations and techniques. Braided lines are made by "braiding" or "weaving" fibers of a man-made material like Spectra or Micro-Dyneema into a strand of line. This process produces a line that is very strong, extremely abrasion resistant and has virtually no stretch whatsoever.