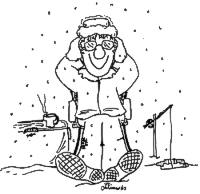 Reasons your wife should let you go ice-fishing
By L.C.M. Giroux

It's 6:00 am. Looking up at the sky you can just see a sliver of the sun popping up in the east. You take a deep breath, filling up your lungs with cool, crisp air. Ah yes, a perfect day for ice fishing. You've managed to pack your gear and cooler into the truck without waking anyone. But just as you're about to hop in, the front door swings open and your wife steps up in her bathrobe and slippers. "And just where do you think you're going mister?" Busted. If the truck was already running, you might have had a chance, even if it meant sacrificing the extension cord connecting the outside plug of the house to your block heater. But don't fret. You can still make it out onto the ice. You just have to convince your wife that it's the best place for you today, and you can do that with these simple suggestions.

You're not going fishing because you want to, you're going because you have to, as a favour to mother nature. The fish spend all summer feeding off of worms dropped by birds flying overhead. But now that the birds are gone and the worms are frozen, what are the fish supposed to eat. Are they supposed to just starve to death? And what about oxygen? If you didn't make air holes for them, they breathe up all the oxygen in the water and die. It's called winterkill. It's happened before and you're not gonna stand there and let it happen again!

She's proven a good point. If you're just trying to feed the fish, why don't you dump the minnow bucket down the hole instead of baiting a hook? Well, you're doing it for your children. Everyone knows that fish are full of vitamins, omega fatty acids and all kinds of good stuff. In fact some "experts" even refer to fish as brain food. Doesn't she want her children to grow up to be smart and strong? Doesn't she want the best for her kids? You sure do. That's why you're going out fishing today; so your kids can be tomorrow's leaders.

Vitamin supplements can be found in a bottle at the drug store. Who knew? Apparently she does. So now she wants you to stay home and spend some quality time with tomorrow's leaders. They could use some help with their homework. Help with their homework? How are they going to learn responsibility and independence if you help them with their homework? Besides, you'll see them when you get home. After a long day out on the ice, you won't have the energy to go out bowling with the guys. Just because you're sleeping, doesn't mean you can't still spend some quality time with the kids. All you have to do is hide a few coins under a cushion of the couch and play "find the hidden treasure without waking the sleeping dragon". The thrills, the suspense…the kids are gonna love it.

If you haven't convinced your wife by now, there's only one thing left to do. It's risky, but tell her she's right. It might be nice to stay at home today. Instead of freezing your butts off on the ice, the guys could meet you here for a fun filled day of sports viewing and playing poker. Ask her how fast she can cook up a pot of chilly and those little weenies wrapped in pastry? And could she run out to the store for some chips, pretzels and nachos? Oh and make sure she doesn't forget the beer. There's gonna be quite a few guys so she might want to get a keg. It's easier to carry than a bunch of two-fours.

After this last statement, you'll find yourself out on the lake in no time, sitting in your lawn chair, jigging your line, sipping on a nice warm cup of coffee you poured yourself from your thermos. The silence, the tranquility, it's just you verses the fish…and a bunch of guys pooled together trying to think up of a good excuse why your wife should let you back into the house. But at least you're fishing!