In this issue:
Our Fishing Video Site is up and running. If you have hi-speed internet access click here to see some great short fishing video clips. We've added a few new UNDERWATER Videos
Midnorth Outpost Camps - We have fly-in remote fishing & hunting outpost camps, located half way between Elliot Lake and Chapleau. Choose from several lakes that offer fishing for Walleye, Northern Pike, Lake Trout, Brook Trout, White Fish, Bass, & Perch. We als have a variety of hunting options available.
Anglers Kingdom Lodge - Catching the fish of your dreams is our No.1 priority. Trophy northern pike and walleye is what we're all about. Guests will experience one of the highest trophy rates to be found. Not surprising considering that Nungesser has the perfect blend of ingredients. Our lake has approx. 30,000 acres of fish holding structure. 20 rivers and creeks provide excellent spawning areas for Walleye, Giant Pike and the Whitefish. Housekkeping and American Plan.
Auld Reekie Snowmobiling Vacations We offer several winter vacation options. You can snowmobile hundreds of kilometres of groomed trails, go cross country skiing on nearby trails, take a dog sled tour, or enjoy some of our breathtaking scenery. You can also try your hand at ice fishing on one of the hundreds of lakes in this area. Regardless of what you do at the end of the day you can come back to the lodge and relax beside a cozy fireplace and enjoy some of the great food offered in our licensed dining room.
White Birches Camp - Explore and fish the Pickerel River system. Lakeside housekeeping cottages, RV and tent camping and secluded outposts. Well maintained docks, and boat and motor rentals. Beaches, recreation room, children's playground, laundomat, sauna. Off season discounts.
Country Cabins & Campground - Ice Fishing/Snowmobile packages available. Cozy full housekeeping cottages with woodstoves. Fully equipped!! Cozy restaurant with excellent homecooked meals. Meal plan package available at reasonable prices. 25 minutes east of North Bay,On. 2 1/2 hrs north of Barrie. Huts close to your cottage - woodstove in each hut. Wood provided. Call for more info
Frontier Lodge - Ice fishing and accommodations near Elliot Lake Ontario
Glen Echo Ice Bungalows - Ice fishing at Glen Echo takes on a whole new meaning. Our "BUNGALOWS ON THE ICE" offer a truly unique experience. You stay on the ice in our comfortable, fully equipped four and six man housekeeping bungalows. Each bungalow features propane heat, lights and stove as well as a table and chairs and a kitchen complete with pots, pans, dishes and utensils. We have even added a TV and a propane BBQ. (Added: 10-Jun-2003 Hits: 891)
Greening Bay Ice Fishing - "For top-notch quality, service and pricing, Greening Bay Cottages offers the best in ice fishing packages on the south shore of Lake Nipissing. Deluxe accommodations, reliable heated transportation to heated huts, great fishing. All equipment supplied. We're the "REEL DEAL". For more information, please contact 705-752-3558 (Added: 27-Sep-2002 Hits: 1181)
Ice Bungalows - Stay in your own bungalow on the ice on Lake Nipissings south shore (Added: 9-Jan-2001 Hits: 3078)
Ice Fishing Adventures in Northern Ontario - Ice Fishing guided day trips to outback lakes in the James Bay Frontier. Also heated huts or 2-4 day adventures in ice bungalows on Kenogamissi Lake.
Mountain View Camp - Ice Fishing and Accommodations near Blind River, Ontario
Okimot Lodge - Just 15 miles north of Lake Nipissing and 4 1/2 hours north of Toronto, come to OKIMOT LODGE on Tomiko lake for the ultimate Ice Fishing experience. Cozy fully equipped housekeeping cottages with wood or Propane stoves. Wood heated Sauna. Meal plan is available and home cooked meals are served in the main lodge. Transportation to and from the heated ice fishing hut available. Call 1-888-286-6456 for packages or more information.
Robs Ice Bungalows - Robs offers ice fishing bungalows on Lake Nipissing near North Bay.
"Swim Baits Below the Ice"
By Justin Hoffman
Ice fishing can be a game of hit and miss. Be in the right spot at the right time, and reap the rewards that come your way. However, fishing 'dead' water with the wrong baits will ultimately spell a long, lonely time on the hard water once again.
If you're looking for a definite edge this coming season, and you're not akin to icing plenty of fish, then take a look at the latest craze to hit the ice fishing scene - swim baits. (It's the closest you'll get to tossing a crankbait once the snow begins to fly!)
What Are They?
Swim baits or swim lures, as many call them, are a lead-molded bait that replicates a baitfish to a T. In terms of shape, there are two styles available to the angler - thin and narrow or stubby and fat. The thin baits resemble a baitfish, while the stubby lures (offering a bigger profile to the fish) are reminiscent of shad.
Whereas a crankbait has a diving lip on the nose in order to provide depth, a swim bait has a plastic keel positioned on the rear, designed for steering and to return the lure back to it's original position after a lift or jig. (An exception to this standard keel would be Salmo's Chubby Darter and Storm's new soft plastic swim lure.)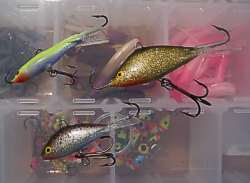 Swim baits are an excellent tool for icing fish. Rapala and Nils Master produce top-rate lures, such as shown here.
The majority of swim baits come adorned with a variety of hooks, with a single, upturned one positioned on the front lip and rear of the bait, and a treble protruding from the belly section. This allows excellent hooking qualities when a fish strikes, while also offering numerous tipping options to the angler.
Swim baits are produced in a wide array of colors, running the gamut from natural tones to bright, gaudy hues. In fact, their resemblance to crankbaits in this regard is second to none, allowing an angler countless options in order to trigger strikes.
It's All in the Action
The typical ice presentation consists of a spoon or a jig, all vertical presentations, although with little or no side-to-side or horizontal movement. This can work great if fish are in the immediate vicinity, but often lacks for drawing fish in from the outer perimeter of their strike zone. This is where the beauty of the swim bait really shines.
When pulled or jigged up, a swim bait will scoot or dart outward, in many cases varying more than two-feet from its initial resting position. This creates the illusion of a fleeing fish, oftentimes causing a 'chase' reaction or kill instinct in predators. When the bait is left to fall, it will swing back to its original spot. This exaggerated movement will attract more fish in for a closer look, allowing catch rates to greatly increase.
Since the lure resembles a baitfish, (both in movement and shape), your chosen quarry is more prone to strike, as to them, this is the real deal. One of the best things I love about these lures is its individuality. Lets face it - fish have been seeing the same spoons jigged up and down below the ice for decades now. Something a little different and unique is just what the doctor ordered.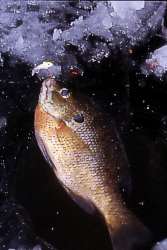 Panfish go crazy for swim baits, as this jumbo bluegill certainly demonstrated.
Tricks and Tactics
The neat thing about swim baits is that they work on virtually all game fish. For walleye and perch, they really can't be beat, and they are standard on my rods at least 75% of the time when targeting these two species.
Working these baits can be done a number of ways, and I've found that the best course of action is to experiment when out on the ice. Saying that, I do have a number of techniques that have worked well for me in the past that I will share.
When it comes to catching jumbo perch, (or slab crappies and gills), swim baits are an excellent tool. I like to keep my lifts and jigs quite small, and have found that simply twitching the bait at rest can be your best bet. The majority of time, panfish will strike while the bait is stationary. Taking this into consideration, start off with larger pulls at the onset to draw fish in, while then proceeding to slow down the speed and action in order to coax them to hit. Small minnow profile baits will usually work best, although I have been having great success with the smallest version of the shad style. Again, see what the fish want and utilize that knowledge to your advantage. Two great lures that have worked well for me have been the Rapala Jigging Rap or Shad, and the Nils Master Jigger.
Walleye will undoubtedly desire larger swim baits, so a shad style is my primary lure of choice for these toothy critters. A 1 ˝ to 2-inch body (not including hooks or keel) should be about right for the job, although if you routinely hit big fish, don't be afraid to upgrade the size. The Nils Master Shad and Baby Shad has been a great lure on the ice these past few seasons for me.
I fish swim baits much more aggressively when chasing walleye, not only to draw them in, but also to entice them to strike. Exaggerated pulls, with slight pauses at the top, seem to work well for me, especially when the screen is showing no fish in the immediate vicinity. Once you pull them in, twitching, pausing and jigging should agitate a strike. Walleye will routinely hit a swim bait on the fall or the pause, so line watching while using a sensitive rod is part and parcel of the game.
Tipping Options
The jury is still out on whether to tip or not, but for myself, I always include a little something in order to tempt a fish with added smell and taste. Although swim baits do an incredible job of imitation bait fish, why not add a real morsel for added attraction. Makes sense to me.
When it comes to tipping, minnows or maggots are your two top options. For perch, either will do. A couple of maggots on the treble hook, or one on the front and rear hook will work extremely well. My preference is to put a small piece of minnow on the belly hook, usually in the form of a minnow tail or head. Surprisingly, this will stay in place for a good many fish, and will only have to be replaced periodically. (A small pair of sharp scissors will do a fine job in portioning the minnow.)
For walleye, I like to add a half minnow to the treble hook, although if the size of the baitfish I've purchased are small, a whole one can be used effectively. A good thing about a whole minnow (especially one that is alive) is the added action it provides while the lure is being held stationary.
Find out what a swim bait can do for you this coming season. They are completely different from the repetitive spoons we are all used to using, and that my friends, is what makes them such a force to be reckoned with when out on the hard water. Happy 'swimming' all!