Get Glowing This Ice Season
By
Tim Allard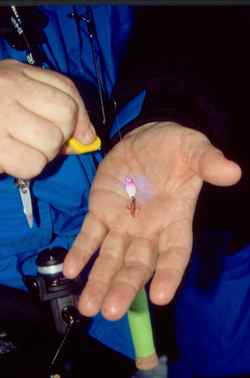 Glow baits are not new to fishing and color patterns have improved these baits in recent years. I concentrated on using new-generation glow baits the last two ice seasons and have noticed an increase in my overall catch. Fish see these baits easier and I'm convinced the glow features of small baits have helped me coax negative or neutral mood fish to bite. The evidence of glow baits effectiveness is not hidden from anglers; the proof lines the shelves of tackle shops with more of these baits coming out each season. If you have yet to stock your ice fishing tackle with glow baits, you're limiting your ice fishing catches.
Jig Baits:
Today, most tackle manufacturers provide glow patterns for many lures, including: jigging spoons, jig heads and micro-jig baits. Old generation glow baits often consisted of one- or two-tone patterns, and it was rare for the paint to hold a charge for an extended period. Recent advances in paint application methods, glow pigments and colour patterns have created intricate designs. Additionally, colours are able to hold charges better than in the past, creating super-glow baits.
Let's look at two examples of how glow paint increases the pattern options available to ice anglers. Many swimming jigs are available in a glow perch pattern. The finish features yellow, green and orange glow colours, with a barred pattern over the glow paint. On one hand, this pattern gives the bait the attractiveness of a glow presentation. On the other hand, it also gives the bait contrast, created by the non-glow paint applied in vertical bars, mimicking a perch's natural patterning. Another good pattern found on spoons is only covering one side of the lure with glow paint. In so doing, the bait maintains the attractive flash of a silver or gold on the non-painted side, with the illuminating appeal of glow paint on the other side. In both examples, glow paint adds another dimension to bait colour and contrasting patterns, which in turn increases your chance of presenting a pattern of interest to fish.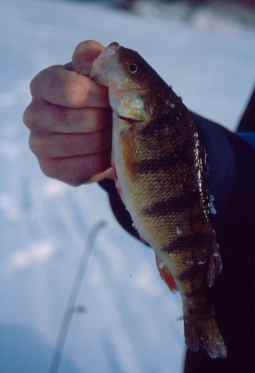 Other Terminal Tackle:
In addition to the above-mentioned baits, various terminal tackle is available in glowing options. Glowing micro-plastics for panfish are extremely productive when teamed with a glow jig head, and the combo gives the bait a larger phosphorescent profile. Anglers can also pick up hooks that have been coated in glow paint, and glow beads are also available. These latter two options can make minnow presentations particularly deadly. Finally, anglers can purchase glow paint in powders or liquids and apply it to tackle not yet available in glow options (like sinkers) or use it to make their own colour patterns on baits.
When To Use Glow Baits?
For glow-bait fanatics the answer to this question is simple: always. But in low light conditions glow baits tend to out-produce regular baits. For the same reason they are effective in open water fishing, glow baits help fish see and attack your lure better than baits that don't feature glow paint. Anglers should also try glow tackle when using tip-ups as both glow hooks and beads will enhance your live bait offerings. The latter I have found particularly effective when targeting walleye at dusk and into the evening.
When jigging in deep or stained water, glow baits are more visible to anglers watching the movement of their baits to ensure they are imparting the right action on their lure. It also helps one detect faint hits when the bait is easily seen. These two traits can be particularly helpful to individuals not using electronics and sight fishing from a shelter. It also pays to experiment with glow colours as you would with other baits. Sometimes the glow of blue or red will entice hits better than a yellow or green.
Holding a Charge:
The advantage of glow baits over other lures only lasts as long as its ability to glow. The first generation of glow baits had difficulty holding a charge. Powerful flashes and flashlights were used to charge baits, but the lures couldn't hold a charge long. Today's glow baits can hold charges longer than past products. Equally important are the small, but powerful, chargers available to anglers to get baits glowing. Many manufacturers have high-intensity lights that can be put on a key chain or clipped to the brim of a hat. In many ways, these devices are simply micro LED flashlights marketed towards ice fisherman. These lights should be used to often charge baits and keep them glowing.
Another trick to help baits stay charged is carrying your glow baits in a clear, plastic case. Leave them exposed to the sunlight when fishing instead of hidden in a dark tackle bag. This way, when you change tackle, your glow baits have already been charging and after a zap from a LED light they're at a maximum charge.
Glow baits are deeply rooted in the ice fishing tackle market, and savvy anglers will welcome the fish-catching properties of these baits. Their glowing-hue attracts fish. Also, enhanced colour patterns and painting techniques make baits more sophisticated than earlier generation lures. Incorporate glow baits in your ice-fishing arsenal this winter, and you'll catch more fish.
Photo Caption Sheet
Glow Spoon.jpg:
Charging up glow baits with high-power LED lights is a great way to keep your baits burning bright.
Ice Perch.jpg:
Micro-baits in glow colours are deadly on panfish, like this perch pictured here.