In this issue:
Take Ice Fishing To The Next Level
Our Fishing Video Site is up and running. If you have hi-speed internet access click here to see some great short fishing video clips. We've added a few new UNDERWATER Videos
Andorra Lodge Resort - A private and peaceful setting located at the shores of Net Lake. Our cottages have features such as satellite TV, BBQ even some come with fireplace, washmachine and dryer. Our boat's have swivel seats and we offer new motors each season. Chose a package that suits you & American plan or housekeeping cottages. Excellent fishing for Lake Trout, Walleye, Smallmouth Bass, Pike and Whitefish. Temagami is also well known for excellent Moose, Bear and Grouse hunting.
Buckeye Cottages - With fully equipped housekeeping cottages, we offer the comfort everybody needs for a perfect holiday, safe environment for the children, there's a playground with swings and slides, badminton, horseshoes, paddle boat and canoes are also available. Excellent fishing and hunting; for the winter lovers, we are open year round.
Fireside Lodge - Fireside Lodge is located in Sioux Lookout, Ontario 150 miles north of Canadian U.S. border above the state of Minnesota. Being the only Lodge on a 10 lake system Fireside Lodge offers all guests fabulous sportfishing for Smallmouth Bass, Northern Pike, and Muskie. Come join us for this "GREAT CANADIAN WILDERNESS EXPERIENCE"
Anglers Kingdom Lodge - Catching the fish of your dreams is our No.1 priority. Trophy northern pike and walleye is what we're all about. Guests will experience one of the highest trophy rates to be found. Not surprising considering that Nungesser has the perfect blend of ingredients. Our lake has approx. 30,000 acres of fish holding structure. 20 rivers and creeks provide excellent spawning areas for Walleye, Giant Pike and the Whitefish. Housekkeping and American Plan.
Auld Reekie Snowmobiling Vacations We offer several winter vacation options. You can snowmobile hundreds of kilometres of groomed trails, go cross country skiing on nearby trails, take a dog sled tour, or enjoy some of our breathtaking scenery. You can also try your hand at ice fishing on one of the hundreds of lakes in this area. Regardless of what you do at the end of the day you can come back to the lodge and relax beside a cozy fireplace and enjoy some of the great food offered in our licensed dining room.
Kenda Wilderness Lodge - Located on Mesomikenda (Beaver) Lake, near Gogama. Kenda is a small informal camp designed for your comfort. Fish for 30 miles on a beautiful chain of lakes without a portage, or if you wish to portage we have several lakes within walking distance that we maintain with boats and motors. The log cabins are built of peeled log. The cottages are insulated and paneled. We offer bear and moose hunting, and fishing for walleye, pike, rainbow, speckled (brook) and lake trout.
Thunderbird Resort - Our camp is located north of the Quetico Provincial Park in northwestern Ontario. The camp is accessible by road,just 6 miles off Highway 17, 90 miles west of Thunder Bay, Ontario. The cold, clear waters of Lac Des Milles Lacs provide some of the best walleye and northern fishing available.
Trails End Lodge - A full service facility, situated on Pipestone/Clearwater chain of lakes, offers incredible fishing experiences with Muskie, Lake Trout, Walleye, Bass and Northern on 76 miles of pristine waters. Enjoy a shorelunch prepared by experienced guides and explore the white pine forest. Join the fall hunters for white tailed deer and grouse. The new Conference Centre allows for groups of up to 80 people for reunion or corporate meetings.
Shoal Lake Lodge - All new quality accommodations will include six individual cottages, the Lodge/Dining Hall, Recreation Room and out buildings. Our specialty is Northern Pike and Small and Largemouth Bass fishing. Northern Pike fishing is simply fabulous both in number and size. Shoal Lake is rated by Ontario out of Doors as the #1 drive to pike lake in Ontario.
"Take Ice Fishing To The Next Level" By Justin Hoffman

With ice fishing in full swing across Ontario, anglers are beginning to realize the importance of having the right tools for the job at hand. From portable huts that afford added mobility to powerful gas augers for efficient hole drilling, specialized equipment will put you on more fish - plain and simple.

Although the fishing world has had its share of fads and empty promises, new products fresh on the scene can often revolutionize the way we fish, and ultimately become solid winners out on the ice. Take a peek at the new generation of ice fishing gear - this stuff can help us all become better hard water anglers this year.

Monitor Those Tip Ups
Here's a common scenario. You're sitting in the comfort of your hut, concentrating on your jigging rod in hand, all the while oblivious to the status of your tip up. Did the flag just go up, or has it been 'sprung' for the last ten minutes? It's happened to us all, and usually coincides with a slew of coarse words and a promise to be more attentive next time.

With the Strike Sensor from HT Enterprises, the days of watching your tip up for signs of action are long behind you. The Strike Sensor is an ingenious device that actually monitors your tip up, alerting you to a striking fish through a series of audible beeps that are transmitted to your person.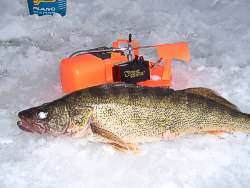 The Strike Sensor will alert you to movement on your tip up, all through the use of a wireless pager and transmitter.
Here's how it works. The Strike Sensor comes in two parts - a transmitter and a pager. The transmitter is attached to your tip up by a strip of Velcro, with a trip line running to your flag and secured by a clip. The battery-powered pager can be worn on your belt or placed in the hut, as long as it is within a range of 100 yards. When a fish takes your minnow the trip line is pulled free of the transmitter, and the pager instantly summon you to the action happening outside.
The Strike Sensor is useful for allowing you to get to your tip up fast, long before fish have had a chance to drop the bait or steal your minnow. It also allows you worry-free fishing. Instead of straining your neck to see your tip up, you can now concentrate on the hole before you, evening up the odds between you and the fish.
In my opinion, it leaves one less thing to worry about when looking for those big fish of snow and ice.
Brighten Up That Lure
Glow baits are a hot new fad to hit the ice. From spoons to plastics, glow-in-the-dark lures can literally outshine the competition when lowered to the dark depths below. But how can we spend less time recharging them and more time fishing them? The answer lies in the form of the LED laser beam.
The Lindy Tazer or Northland Glo Buster are two key-chain accessories that produce a high intensity light, turning any glow paint or tape into a brilliant and dazzling display. The lithium-powered battery produces a laser that will supercharge your lure, allowing your bait to stay charged for much longer durations while shining considerably brighter than ever before. When compared to the charging attributes of a flashlight or lantern, the LED wins hands down. The laser also can be visible for up to a mile in distance, making this small keychain an excellent signaling device and possible lifesaver. Certainly a nifty addition to the tackle bag or belt loop.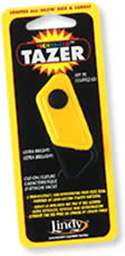 To give your lures a "beacon" of a shine, turn to one of the LED lasers currently on the market.
Get The Motor Running
It's common knowledge that in order to achieve lure action below the water, you must impart a jigging motion through hand and rod above the water. Whenever your wrist or arm moves, so will your bait - ultimately mimicking your body's actions. Well folks, those times are about to change.
Nature Vision has manufactured the first motorized ice fishing rods, capable of producing hard to duplicate jigging and twitching motions through the simple touch of a button. The Buzz Stix uses a battery-powered motor that transmits vibration down the solid graphite blank of the rod, initiating a micro-action that is impossible to duplicate by hand.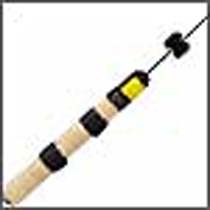 The Buzz Stix will allow hands-free movement to your jig - an action that seems to do the trick on gamefish.
They can quiver the tiniest ice flies and jigs, yet shimmer larger jigging spoons and ice lures, all by the simply changing the mode. This delicate (but deadly) quivering action simulates the movement of larvae and injured baitfish, meaning these rods will work equally well with panfish up to pike.
(Watch batteries will last the duration of ten hours before needing to be replaced on these units.)
Power Up That Line
We all know the merits of PowerPro line. Whether it is through trolling for musky or jigging for smallies, this no-stretch line allows positive hooksets and increased sensitivity. It only made sense to bring those unique qualities to the hard water environment.
With the invention of PowerPro Ice Line, the folks at Innovative Textiles have churned out a sure-fire winner. This microfilament line absorbs almost no moisture, while also resisting the build-up of ice. Line sensitivity is second to none, allowing precision jigging, especially when dealing with deep water or lure-shy fish. With many of the same qualities of its freshwater companion, PowerPro Ice Line is extremely flexible, while offering better knot performance and superior strength.
Currently, spools can be purchased in 8, 10 and 15-pound tests. Take a look at these new items, and see the merits they can bring to your game of fishing. Anything that can help land a few extra fish is a winner in my books, and these gadgets and gizmos will certainly do that and a lot more. Enjoy the rest of the hard water season!