In this issue:
Golden Eagle Camp - Great fishing for Northern Pike, Walleye, Smallmouth Bass and other pan fish in the famous Montreal River system. We're surrounded by many remote lakes to plan your daily fishing adventures. Complete packages available with meal plan, boat & motor, all equipment, bait and ice included. Plan this year's vacation with us for fishing, bear hunting, moose hunting and great snowmobiling!
Triggering Crappie
By
Tim Allard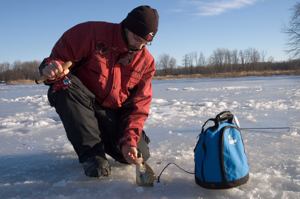 Crappies are a great species to target through the ice. At times they can be challenging to find, but worth the effort once you locate a school of slabs. Often eager to investigate lures, crappie can be wary to hit baits and, even then, takes can be extremely subtle. Here are some hints on how-to trigger crappie into biting this ice season.
From Curiosity to Commitment
I've lost count of the number of times I've watched crappie on my Vexilar hastily close in on a bait, only to stop within a few inches and not hit. This can be discouraging; however, drawing them in is the first step in getting crappie to bite. Attracting crappie means your presentation has appealed to their curiosity, now you've got to get them to commit and hit the bait. This is where a Vexilar is helpful to monitor how crappie react to you're presentation, giving you instant feedback on what's working and what isn't.
Once crappies are close, getting them to hit is a matter of trying different presentations until one works. For the most part, larger movements, like one-foot jigging lifts, will attract crappie, while pauses between jigging movements and the occasional jiggle will trigger hits. Slowly swimming or hopping the bait upwards and away from a marked fish is another tactic to force crappie to either hit the bait or watch a meal disappear. If unable to trigger a fish with the methods above, I've had success with the following.
Assuming you've marked a fish on a flasher that won't hit, raise the bait to the surface and then let it free-fall. Monitoring the lure's depth on the flasher, stop the bait a foot or so above the fish and don't move it. Often they hit it as soon as it stops and sometimes will swim up to hit the bait on its long descent. For negative-mood fish, adapt the above by slowly swimming the bait down on a controlled drop instead of an open bail free-fall. Jiggling the bait after the fall-and-pause approach might trigger hits.
Finer Details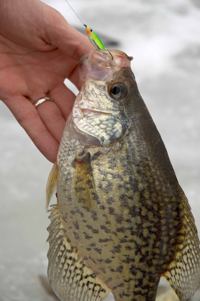 Lure selection can be critical to triggering hits. One outing last season, I tried three different types of jigs before I could convince a school of crappie to bite. But the action was hot once I discovered the right bait. It would have been a miserable outing if I hadn't have changed jigs and experimented with my presentation. In this case, paying attention to details resulted in a great catch.
If using horizontal jigs, make sure the knot is centered so when the bait's stationary it rests straight and not on an angle. Just as important is tying a swivel a few feet up the line to prevent line twist so lures won't spin when at rest. Keeping hooks ultra sharp is also important to hooking fish. Lastly, it's best to tip lures with some form of bait, whether real live bait or artificial products as scent is a big factor in getting neutral or negative mood fish to hit.
Gear
I love fishing in my portable shelter. It blocks wind, letting me watch the line for crappie's subtle hits and concentrate on presenting baits. Of course on mild days, it's fun to hop from hole to hole in bays looking for active fish. In both cases using a spring bobber can help you spot light hits. HT Enterprises' new "Big-Eye" spring bobber takes longer to freeze than traditional coiled springs, making them ideal for cold temperatures or unsheltered fishing.
Low-stretch, light line from two- to four-pound test is recommended. Light line won't spook fish, but it also stays straight when fishing micro baits. Too heavy a line won't fully uncoil if using light lures. A light to ultra-light, graphite rod with a fast tip to signal hits is a good choice. Make sure you pick one with enough backbone to muscle a crappie through the hole.
To be an effective crappie angler you need the right tools and need to be willing to experiment with baits and presentations. Paying attention to small details and how you present lures is critical to getting crappie to hit. It might take a few attempts, but once you figure out what they want, crappie fishing can be fantastic.