In this issue:
Fishing Resolutions for 2002

ACTIVE SECLUSION ALL YOU NEED IS YOUR TACKLE
Join us at an all inclusive fishing resort 5 hours north of Toronto. At this remote lodge guests are ferried in two boats rather than flying.Check our web site www.island10.com
Camp Raymond
Lake Nipissing Fishing
Fun for the WHOLE Family. Revitalize your life. Recharge your batteries. Rest those work weary bones along the waters of the Northwest Bay of Lake Nipissing, one on Ontario's most beautiful and rich lakes. Camp Raymond will take you, your friends, and your family back to where you belong...the COMFORT ZONE.
www.campraymond.com
(800) 205-7480
Marsh Bay Resort


A quiet family style camp nestled on the shores of the Montreal River, just off Hwy. # 11. It has been owned and operated by the O'Brien family since 1976. Open year round, our services include Cottages, Camping, Trailer Sites, Boats & Motors, Fishing, Hunting and Snowmobiling.
duenorth.net/marshbayresort
(705) 679-8810
Robs Lake Nipissing
Ice Bungalows
Ice fishing at its finest
www.robsfishingcharters.com
705-752-1727
Red Pine Wilderness Lodge
Lady Evelyn Lake - Walleye, Northern Pike, Smallmouth Bass, Whitefish, Perch. This is one of the last, large lakes in Northeast Ontario that is still classified as being remote, mainly due to the dam at the north end and no road access.
www.redpinelodge.com
(905) 689-3000
Ontario Fishing
Information
Visit
"Fishing Resolutions for 2002" By Justin Hoffman (c)2001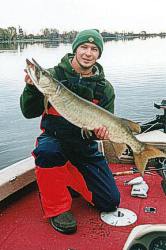 As the New Year is finally upon us, it is time, once again, to make some resolutions for the seasons ahead. Anglers may not be so inclined to lose weight or quit smoking, however, there are some fishing resolutions that will make each of us a more proficient and well-rounded fisherman. Many of these resolutions will also encourage you to experience a different side to angling - one that will bring smiles and happiness throughout the year 2002, and memories that will last a lifetime.
Resolution # 1. Enter a Fishing Tournament
For those of you that have never fished competitively, this year should be the one for you to try it. Tournaments are a wonderful arena to learn new aspects of the sport, while making new friends and, hopefully, earning some money along the way.
I fished my first tournament some ten years ago, and, although I did not make it to the podium during that first event, I did later on that season. I must admit that I was a little apprehensive and nervous as I sat in my boat waiting for blast-off, but once that signal was heard, I felt a rush of excitement and a pounding in my heart that is second to none.
Tournaments teach you how to adapt to a variety of conditions that you may face, and it is this knowledge that is so helpful in "everyday" fishing situations. Watching how the "professionals" prepare and fish an event will open your eyes to this learning curve, and there is no better way to increase your knowledge than by fishing an event yourself.
Sign up for a tournament this coming year and get ready for fun, thrills and improved expertise.
Resolution #2. Join a Fishing or Conservation Club
The majority of anglers are conscious and conservation-minded people, however, many do not realize the helpful and beneficial practices that groups and clubs give back to the sport of fishing. Joining a club or group will give you the personal satisfaction in knowing that you are making a difference in how our resources are being used and maintained.
Stream cleanups, rehabilitation and stocking practices are just some of the hundreds of ways many of these factions are making a difference to the sport we all care about and cherish. Becoming a member is easy, and the satisfaction you will earn as well as the new friendships you will gain will make fishing seem even more valuable to you in the end.
Look into joining a local club or group and start putting something back into this precious sport we all love.
Resolution #3. Experience Ice Fishing
Although many of you probably enjoy ice fishing, there are still a lot of "summer" anglers who refuse to venture out during the cold winter months. Ice fishing is a wonderful way to continue the fishing experience year round, and is really a remarkable pursuit once you are willing to give it a try.
For those that have never tried this sport, my advice is to head out on the frozen surface with someone that has some "ice" experience. Even better, gather up a group and let a hut operator take care of all the details.
Ice fishing is not a dreary, cold and slow way to pursue fish. It is quite the opposite, in fact, and a passion that will grow on you from the first time you drill that hole. Head out this winter for some ice fishing fun - it sure beats sitting on the sofa and day dreaming about the summer.
Resolution #4. Organize a Tackle Swap
If any of you are like me, you are bound to have a huge selection of tackle that inevitably gathers dust in the bottom of your tackle box. A great way to rid yourself of these unwanted lures is to organize a tackle swap and turn your "junk" into "treasure." I annually gather a group of fishing friends together for a day of trading which enables me to swap for lures that I will actually use and enjoy. Remember, not everyone prefers to use the same lures and tackle, so there is a good possibility that your friend has something that you desire and vice-versa. Another good idea is to share your fishing photos from the previous year with your friends while swapping stories and lures, and some pizza and drinks wouldn't hurt the belly either.
A tackle swap is a great way to cure the winter doldrums, and will become a regular event after you see how much fun you and your friends can have.
Try some of these fishing resolutions this upcoming year, but be ready for some thrills and learning experiences along the way. Have a safe and happy 2002, and may the fishing gods shine down on you for the months to come.