Tip-Up Upkeep
By Tim Allard


"One thing that's nice about a tip-up is they don't require a lot of maintenance. I think that's part of their appeal, that and they last a long time," says Eric Poster of HT Enterprises, Inc. Odds are if you're an ice angler you own tip-ups, and to many of us, they're a critical component to the hard-water season. Like fishing reels, underwater-style tip-ups require occasional maintenance to keep them in fish-catching shape. To help me explain the process for cleaning and caring for tip-ups I contacted tip-up expert Eric Poster of HT Enterprises, an ice fishing company with over a dozen different tip-up models and more than 20-years experience making tip-ups.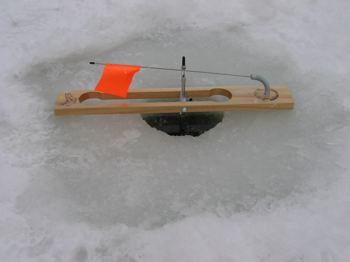 HT's Predator underwater-style tip-up in action.
Signs of Tip-Up Neglect
To properly function, underwater tip-ups must be well-lubricated. Over time, the manufacturer-applied lubrication will dry out or drain from the tip-up; the rate at which this occurs is influenced by: the range of temperatures the unit is exposed to, the frequency it is used, and its storage location. Poster explains that anglers will know their tip-up needs to be lubricated when the unit's performance starts to fail. Common indicators include: spools not spinning smoothly, the trip mechanism failing, or the unit freezing in cold temperatures. Ideally, anglers should lubricate their tip-ups once a season, but Poster comments that every second or third season is sufficient provided tip-ups are stored properly and not heavily used.
Proper Low-Temperature Lubrication
Poster recommends that tip-ups should be lubricated with a quality, low-temperature rated lubrication (like HT's Blu-Lube) that's designed for cold temperatures. Regular reel grease will stiffen and sometimes freeze-up in cold temperatures, compromising the unit's performance. "Proper lubrication not only prevents a tip-up from freezing, it also prevents it from rusting, prolonging its lifespan" he notes. Neglect to keep your tip-up lubricated and you'll likely loose fish because of equipment failure.
Tip-Up Disassembly and Lubrication
The procedure for disassembling a tip-up varies with each design, but the basics tend to remain the same and some models come with instructions on disassembly. Poster explains that for most tip-ups, there's a bottom nut underneath the spool that allows the spool-shaft components to be disassembled for cleaning and lubrication. Other models can be disassembled by removing the nut and trip shaft if the spool is secured to the inner-shaft. On most underwater, style tip-ups the spool is secured to a shaft which sits in an outer tube; the outer tube holds the lubrication. "Once you've removed the spool shaft, place a dab of Blu-Lube onto a dry cloth and wipe the shaft down," Poster explains. This cleans the shaft, removing old lubrication and debris. Next, apply a small amount of lubrication along the length of the spool shaft and the tube's end, before reassembling the unit. Test the unit by spinning the spool; it should spin freely with little resistance. To finish, wipe the shaft down with the cloth to remove excess lubrication. If you've followed these steps, your tip-up is now properly lubricated and clean.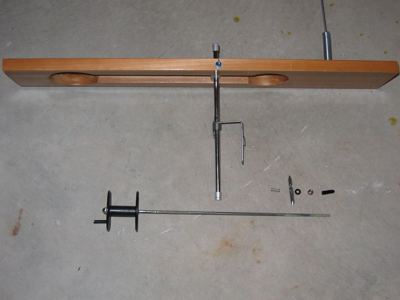 A Polar II Tip-Up disassembled, lubricated and ready for assembly.
Storage
Poster explains that cleaning and lubrication are only part of tip-up maintenance, proper storage is just as crucial. "One important component of tip-up maintenance that anglers don't typically think about is tip-up storage. You shouldn't store a Polar style (or underwater style) tip-up vertically. You want to lay them flat so the lubrication doesn't leak out of the shaft. Storing units flat is really the first step in taking care of your tip-ups. You also want to be careful where you store your tip-ups and make sure you don't keep them in an environment that's too hot or too cold. It's not that you can't store them in these conditions; it's just if you do, you'll need to re-lubricate tip-ups more often, as varying and extreme temperatures ranges breaks down lubricants faster than more stable temperatures."
Tip-ups require little maintenance and the time required to keep them in top-shape is minimal when compared to the rewards they deliver on the ice. After each outing and at the end of the season's end store your under-water style tip-ups horizontally to prevent lubrication leakage. Also, take the time to keep your tip-ups lubricated for better sensitivity to strikes and smoother spinning spools, ensuring your tip-up won't fail when you get a hard-strike from an aggressive fish.