In this issue:
Our Fishing Video Site is up and running. If you have hi-speed internet access click here to see some great short fishing video clips. We've added a few new UNDERWATER Videos
White Birches Camp - Explore and fish the Pickerel River system. Lakeside housekeeping cottages, RV and tent camping and secluded outposts. Well maintained docks, and boat and motor rentals. Beaches, recreation room, children's playground, laundomat, sauna. Off season discounts.
Camp Horizon - Picture a quiet lake...sitting with a fishing pole in your hand...the stillness of the forest as you wait with gun or bow...a variety of wildlife...the colorful splendor of the autumn leaves...the crisp fresh air of a winter's day...Camp Horizon has it all! Camp Horizon is located 40 miles northwest of North Bay, on beautiful Lake Muskosung - the only camp operating on the lake. We have been your hosts for the past 18 years.
Camp Waterfall - Rushing River / Blindfold Lake, Kenora. This "little piece of heaven" started as a fishing camp in the late 1930's. decades to its current state. It is now a fully modern housekeeping resort which can provide a superb fishing experience for the serious fisherman, as well as all of the amenities necessary for a fun-filled vacation. The extensive pool above the falls has a gently sloping, natural sand bottom which provides a wading area for children.
Auld Reekie Lodge - Whether you pamper yourself with our full meal plan and the ultimate in comfort in one of our 6 luxury suites, or stay in a fully equipped 4 star cottage where you can cook your own meals, at Auld Reekie Lodge we feel we've got everything you're looking for and more. Auld Reekie Lodge, as featured on the Canadian Sportsfishing Show, is a true escape in the beauty of Northern Ontario's wilderness.
Shoal Lake Lodge - All new quality accommodations will include six individual cottages, the Lodge/Dining Hall, Recreation Room and out buildings. Our specialty is Northern Pike and Small and Largemouth Bass fishing. Northern Pike fishing is simply fabulous both in number and size. Shoal Lake is rated by Ontario out of Doors as the #1 drive to pike lake in Ontario.
Lang Lake Resort - Summer or winter our cabins are winterized have a full kitchen, running water and a personal dock. Choose from either housekeeping or American plan. We also have boat and motor rentals. Fish our main lake system for trout, walleye, pike, smallmouth and largemouth bass. Our resort also offers quiet back-lake retreats. We have many activities such as hiking, snowmobiling, swimming in the sparkling-clean water of Lang Lake or relaxing in the hot tub. Don't forget to bring your camera!
"Boat Control is Vital When Playing the Bassin' Game"
By Justin Hoffman
Before you fire off that fateful cast in search of the next trophy bass, have you considered the position of your boat? The majority of anglers neglect to realize that boat position, and how you work your rig can play an important part in the success you achieve. Although it will ultimately be up to you to put the fish in the boat, your approach before and during each cast is a crucial link in the game of catching bass.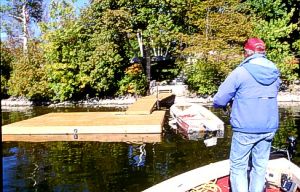 A quiet, stealthy approach is mandatory when fishing docks and other structure areas. Keeping the trolling motor on low, and working with the wind in your face will lead you to bigger and better bass.
Boat Docks
I see a lot of sights out on the water that make me shake my head in utter disbelief. One of those sights is boats blaring into a row of docks, water splashing up on shore while the boat comes to rest a few feet from the intended target. I wonder why the fish refused to bite?
Boat docks, or visible structure points (banks, duck blinds, bridge pilings etc.), are meant to be fished in a calm, unobtrusive manner. Main motors should be shut down at least fifty to seventy-five yards away, leaving the electric motor your means to approach your target. (It should always be set at a low setting.) While slowly making your way up to the dock, begin to run a game plan through your head. Decide what part of the dock to pitch or flip to first, what is the easiest way to play the fish back to the boat and also, whether there is any visible snags or structure that might cause problems.
One other important aspect is to always approach your target by running your boat into the wind. This allows you to thoroughly fish your target by using only the electric, and prohibits you from bumping into, or blowing right by the dock. While working a dock, I've found it best to keep the electric on ultra slow at all times. Turning your motor on and off creates a lot of commotion and noise below the surface, possibly spooking any fish present. By taking it slow and steady, you can work the dock to its fullest, while maintaining a less obtrusive approach.
Underwater Humps
Underwater humps are prime bass magnets on any given lake. They are also a tough structure to fish efficiently and effectively. On first inclination, it looks inviting to rush up to a hump and begin fishing. Chances are this idea will only lead to your boat blowing clear over the top of the hump. As with the dock, you want to approach any underwater humps downwind, enabling you to stay in direct contact with the hidden structure. When taking on a hump from "behind," make certain that you stay within a cast of the top of the hump. By staying at this optimum distance, you can be assured that the prime "top" of the hump will be covered efficiently, as will the deep breakline that your rig will be sitting over top of. (A vertical presentation for the deeper water and a horizontal tactic for the top of the point would be your best bet for success.)
If you don't want to run the electric all day when fishing a hump, the use of an anchor can certainly come in handy. Dropping the "lead" behind the hump at the deep breakline will position your boat perfectly. How much tightness or slack you leave in the rope will determine the amount of lateral movement your boat can travel. (Using the electric in conjunction with a loose rope will enable the boat to swing left or right, thereby covering more of the prime real estate you're parked on.) This can be useful when dealing with a large hump, as it enables you to cover more of an area while maintaining a desired position.
Fishing The Flats
We all know that flats can hold tremendous populations of bass. They can also be a huge area to cover. Drifting with the wind is the best option to cover these large, expansive fish factories, but what to do if the wind picks up? Drift socks (large bags tied to the boat and trailed behind) are a great option for slowing down your drift and achieving proper boat control. These socks work wonders in allowing you to cover the flat more thoroughly by giving you additional time for casting and retrieving, while enabling you to hit every nook and cranny you come across.
Thick Weeds and Vegetation
Bass and weeds go together like bread and butter, but this formula can wreak havoc on an angler trying to reach them. Weeds can be thick and impenetrable, leaving the electric motor virtually useless. In this case, a reach for the handy push pole will make boat positioning and maneuvering a breeze, while adding a stealthy approach at the same time.
Push poles are long, extendable sticks that have duck-shaped feet on the bottom that enable the angler to push his way through the thickest growth he can find. It does take a bit of muscle to push your rig through this jungle, but the rewards in pin-point boat positioning, and getting back into the lair of the bass will be well worth the effort.
As you can see, boat position and control can make or break a day out on the water. Learning how to approach certain structure areas, or how to work through the thick stuff can lead you on a path to greener pastures in the bassin' game, and make your job a whole lot easier on the way there.