---
---
"Fishing Rod Totes and Carrying Systems"
By Justin Hoffman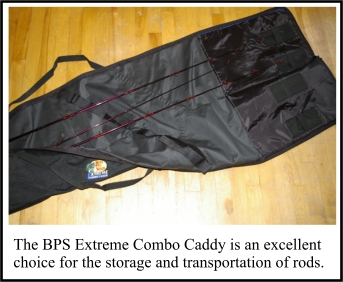 A common trait among anglers is the enthusiasm we share when it comes to buying rods. Rods for spinning, baitcasting and trolling applications. Rods for jigs, topwaters, cranks and worms. If truth were known, we really have more rods than we can shake a stick at! (No pun intended.) But with the more rods we own, the greater the chance for damage and breaks when traveling to the lake, or storing at home or in the cottage.
Rod totes and carrying systems help keep your fishing rods in one neat and compact package, and all but eliminate the risk of scratches or breaks. Here is a guide that can help you choose the best for your situation.
Rigid Tubes
A staple for the airline-flying angler, molded plastic tube holders are an excellent choice when security and protection are of utmost importance. Most holders in this design are made from a rigid plastic, capable of taking the bumps and bruises that go with traveling.
Although there are many different configurations, the premise is the same. A foam or padded-lined inside that can store multiple rods without any chance for damage.
What style you purchase is purely a personal choice. Models range from allowing the storage of one rod, all the way up to nine or more. It is always best to go for the largest diameter you can afford, as your rod collection will always be increasing, and the extra room can come in handy for excess tackle or fishing attire.
Will the tube accept rods with reels, or just the fishing sticks themselves? Without the reels fitting inside, it means one more bag to lug around.
Other interesting aspects to ponder are the collapsing capabilities. Always a nice aspect of a rod case when not in use, or when it needs to fit in the trunk of a car. It also will determine if those 7'6" flipping rods will fit safely inside.
Can the case be locked? This can come in handy when leaving your gear unattended, and especially after you check your luggage at the airline gate. Although it won't deter a thief from taking the whole lot, it can make them second-guess sneaking one out.
Other useful attributes are heavy-duty shoulder straps, wheels and tackle storage. Similar to the options on a car, rod tubes can be as customized, or as no-frill as you choose. It's entirely up to you.
Rod Socks
Rod socks hold a single rod at a time, and are made from a lightweight nylon that slides over the length of the rod. They have an adjustable elastic strap that fits over the reel, keeping the sock tight and in place. Depending on manufacture, most will fit rods between six and seven-feet in length.
Rod socks are an excellent tool for keeping dirt, grime and the elements from wreaking havoc with you sticks, ultimately protecting your valuable investment. They are inexpensive to buy, and they allow the luxury of covering as many, or as few rods as you desire. They even have a handy loop for hanging on the wall.
Many anglers feel these are an excellent tool when storing rods in boat lockers, as they excel at keeping the area neat and tangle-free.
Combo Caddies
Combo caddies provide for excellent storage and transportation, and are lightweight and inexpensive to boot. Made from nylon or neoprene, these thin, suitcase-style bags easily hold multiple rods and reels, with a padded inside to protect from any bumps or bangs.
Most models will easily handle your biggest rods, and upwards of 8 of them at that.
Styles include an open-at-the-end and fully closed model, and offer waterproof material to keep everything nice and dry.
I use a BPS Extreme Combo Caddy, and find that the protection it offers my rods, be it loading them in the truck or taking them to a lodge, is second to none. Dust, dirt and grime have become a thing of the past, and with the individual straps that are contained within, tangles are almost non-existent now. It certainly has made my traveling easier, as well as my storage when back at home.
When choosing a model, look for features that add to the functionality. Velcro straps, large shoulder straps and handles, padding, waterproofing and length and width for adequate storage. Cover all of these bases, and you'll be one happy angler.
Rod Wraps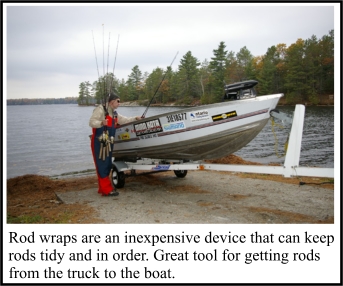 Although not as majestic as a case or caddy, a rod wrap holds many valuable uses. Being a simple, Velcro strap, rod wraps hold numbers of fishing sticks together in one tight bundle, allowing easy transfer from truck to boat, and of course, boat to cabin. They alleviate many of the tangling situations that happen when loose rods are thrown together, and are at the "bare minimum" in terms of a rod carrying system. Saying that, they have come in handy when traveling light, and can be easily tucked in a back pocket or tackle pouch for easy access.
I will often use rod wraps in conjunction with my caddy, and depending on the fishing situation at hand, will often make a game-day decision on which tool to use. For times when I am bringing the bare minimum, or if I have a 100-yard trek to the cottage, rod wraps work like a charm, and in a snap.
Rod Totes
Resembling a rod rack with a handle, rod totes are a rigid, plastic carrying unit that can store upwards of four-rod combos at a time. Rods simply snap into place, and it's off to your favorite fishing hole.
Although they don't offer any real protection to the rods themselves, these units do act as a very nice transportation means. They are lightweight, set up in seconds and can also be fixed in place for traveling in a truck or boat. Now that's pretty slick.
Rod totes are a great design for the shore angler, as the switch from vehicle to lake is quick and effortless. And when working the shoreline, dealing with Velcro, zippers and enclosed bags is usually the last thing on your mind.
As you can see, rod-carrying systems are a necessary piece of equipment for all anglers. Not only will they protect your valuable investment, they will also make the transportation and storage of your rods much simpler and easier. Happy toting!