In this issue:
Vertical Jigging for Suspended Smallies
NEW ONTARIO FISHING CHAT
CLICK HERE!
Camp Raymond
- Camp Raymond is situated on the picturesque northwest bay of Lake Nipissing. A fully equipped housekeeping camp geared to both families and fishermen. We offer many amenities to make your vacation a memorable one
Auld Reekie Lodge
- Whether you pamper yourself with our full meal plan and the ultimate in comfort in one of our 6 luxury suites, or stay in a fully equipped 4 star cottage where you can cook your own meals, at Auld Reekie Lodge we feel we've got everything you're looking for and more. Auld Reekie Lodge, as featured on the Canadian Sportsfishing Show, is a true escape in the beauty of Northern Ontario's wilderness.
Long Point Airways
- Charter flying is our business for fishermen, hunters, and servicing mining and bush operations in the James Bay Frontier. There are literally hundreds of lakes, a great many of them inaccessible except by difficult portage, or by air. Plan a vacation to enjoy the quiet, relaxing atmosphere of the pine scented forest while you fish for Lake Trout, Speckled Trout, Pickerel(Walleye), Bass and the great Northern Pike and relax in the evening around the camp fire.
Trails End Lodge
- A full service facility, situated on Pipestone/Clearwater chain of lakes, offers incredible fishing experiences with Muskie, Lake Trout, Walleye, Bass and Northern on 76 miles of pristine waters. Enjoy a shorelunch prepared by experienced guides and explore the white pine forest. Join the fall hunters for white tailed deer and grouse. The new Conference Centre allows for groups of up to 80 people for reunion or corporate meetings.
Ontario Bass Fishing
"Vertical Jigging for Suspended Smallies"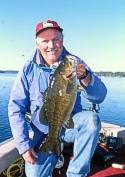 By Justin Hoffman
Retrieving baits and lures in a horizontal fashion is one of the most commonly utilized and effective techniques in fishing today. There are times, however, when a vertical approach may be your best bet when dealing with certain situations. Smallmouth that suspend in open water is one key period where vertical jigging a lure will outshine and out produce any other methods on the market. Next time you come across some suspended smallies, change things up and trick them into biting your lure "vertical style."
Finding the Fish
Smallmouth bass are renowned for grouping up off prime structure areas throughout a lake system. Directly after the spawn, this area will most likely be the first drop-off or hump found adjacent to their spawning grounds. The summer months will usually find the bass hovering over deep offshore humps and islands. Moreover, during the fall months, smallies will congregate close by to deep over-wintering areas. Let's face it, a large part of the smallmouth's life is spent suspended in prime areas, making it often difficult to find and locate, and also harder to catch, without the proper tools and techniques.
In order to locate a school of suspended smallmouth, the use of electronics become paramount in order to "view" what is happening below the surface of the water. Start by slowly motoring over prime areas of the lake that you think the smallmouth may be relating too. Gradually move out from structure until you begin to mark fish on your sonar or fish finder. Once a school has been located, it is often best to throw out a marker buoy to pinpoint the location should you lose your bearings, and to anchor as vertical jigging requires direct surface to bottom contact with the school. Depths can vary greatly when dealing with suspended smallmouth. I have caught fish in eight feet of water all the way up to forty feet. Experimenting and searching the water thoroughly will help hone your skills in locating these schools more efficiently.
Tackle Talk
The equipment that is needed for vertical jigging is fairly basic. I prefer to use a six-and-a-half foot to seven-foot medium action spinning rod coupled with six to eight-pound test monofilament. Make sure the rod has some backbone to it, as smallies are notoriously hard fighters. Some of the new Firelines and Braided Lines on the market are also ideal for this application - make sure that you do not pull or horse the hook out of the fish's mouth due to the low-stretch line capabilities.
There are a variety of different lures and baits that can be used for vertical jigging, yet the predominant two are spoons and jigs. Spoons have extraordinary flash and vibration, plus the fluttering motion they exhibit on the fall is enticing to the smallmouth bass. A few of my favourites are the Williams Wabbler, the Cicada and the Deadly Dick. Experiment with different styles and thicknesses of metal as each will have its own motion and flutter in the water that will work in different conditions.
Jigs are another useful bait for using vertical, although I have found that bucktails rein supreme in this category. The hair of these jigs moves and undulates on the lift and fall - something that seems intoxicating and attractive to even the most neutral fish. Choose a variety of colours and sizes and see which works best on your home lake.