In this issue:
Our Fishing Video Site is up and running. If you have hi-speed internet access click here to see some great short fishing video clips. We've added a few new UNDERWATER Videos
Teal Paddles and Canoe Yokes Teal paddles and yokes originated in the midst of northern Ontario's lakes and rivers almost 30 years ago. Since then, they have been distributed to canoe enthusiasts through out the world. We make one piece paddles of birch and ash woods. They are durable, reliable and affordable. The Teal portage yoke is of the highest quality and comfort available in a yoke.
Wildlife Stained Glass We manufacture quality stained glass ornaments using both snowshoes and fishing nets as frames for our work. Our designs are unique and wilderness and outdoor related. If you are interested in any of our designs or need some custom work done, please give us a call at the phone number below and we will be glad to speak to you.
Fork Lake Resort - Our Resort operates on a year round basis. We operate a Restaurant at our Resort with the finest Home Cooked Meals for your dining pleasure. We offer accommodations on our beautifully landscaped site in the form of Cabins and also tent and trailer sites. Cabins and Trailer sites are fully serviced for your convenience. We also offer Summer Fishing packages as well as Ice Fishing packages, Hunting packages for Bear, Moose and Small game.
Auld Reekie Lodge - Whether you pamper yourself with our full meal plan and the ultimate in comfort in one of our 6 luxury suites, or stay in a fully equipped 4 star cottage where you can cook your own meals, at Auld Reekie Lodge we feel we've got everything you're looking for and more. Auld Reekie Lodge, as featured on the Canadian Sportsfishing Show, is a true escape in the beauty of Northern Ontario's wilderness.
Shoal Lake Lodge - All new quality accommodations will include six individual cottages, the Lodge/Dining Hall, Recreation Room and out buildings. Our specialty is Northern Pike and Small and Largemouth Bass fishing. Northern Pike fishing is simply fabulous both in number and size. Shoal Lake is rated by Ontario out of Doors as the #1 drive to pike lake in Ontario
Cedar Shores Resort - Located North of Thunder Bay, close to East Lake Nipigon. Excellent walleye/pickerel, northern pike, trout fishing, ice fishing, partridge , small game hunting, moose, moose tags (bow and rifle), bear, cabins, motel, camping, reasonable rates, weekend packages bait/ice available, boat/motor rentals, licenses , sauna, swimming.
Samoset Lodge - Fishing at Samoset Lodge is a treat. The angler can take advantage of miles of reed beds, countless back bays dotted with lily pads, and rich, rocky shoals where you can find the species you are looking for - Muskie, Bass, Great Northern Pike, Walleye (Pickerel), as well as several lesser demand species. Lake Nipissing is one of the most beautiful lakes in Ontario. Ninety miles in length and forty-five miles wide, this healthy, vital lake is a maze of rocks and islands to discover.
"Sight Fishing 101" By Justin Hoffman
Nothing can get the heart pumping or the nerves shaking as much as seeing a chunky bass slowly swim up to your chosen bait, engulfing it in one fell swoop. Sight fishing is a productive and versatile technique that requires a set of trained eyes, as well as a concentrated mental focus. Come and join me as I explain how to go about spotting fish well before you cast to them - it may sound backwards, but the astonishing results certainly won't lie.
The Eyes Have It
When it comes to sight fishing for bass, the ability to spot cruising or stationary fish is your greatest ally. Without the use of polarized fishing glasses, however, this goal will most certainly turn into a lost cause.
Polarized glasses work by cutting out the glare that is present on the waters surface, while also increasing the area and depth that can be viewed with the human eye. Wearing these glasses will allow you as an angler to probe through and into the water, giving you a distinct advantage for differentiating fish from cover or structure.
Choosing a high-quality pair of fishing glasses in a wrap-around style (this allows a greater viewing area and less light penetration to the eyes) would be your best bet. Yellow or brown tinted lenses seem to offer the highest definition when searching for bass, although any tint will most certainly be better than no tint or glasses at all.
Another handy addition to the glasses is a wide-brimmed hat or baseball cap. This will help cut down additional glare while also deflecting the sun's light rays.
Water Clarity
An important factor of sight fishing is the actual water clarity of the lake or pond you are fishing. Extremely clear water may seem like the number one choice (and it will cough up exceptional bass!) but it also has repercussions that go along with it.
The clearer the water is, the easier it will become for bass to spot you. Spotting an angler or his boat is a dead giveaway for danger, causing a spooked reaction in the fish time and time again. As the water clarity increases, so does the amount of time a bass will spend inspecting your bait, and possibly turning their noses up at something that just doesn't seem right.
My favorite type of water to fish when sight fishing would be slightly stained. This will still allow increased visualization, yet will conceal the angler and boat much better than clear water. Fish will generally be more active during this water color stage, and activity levels will certainly be on the upswing.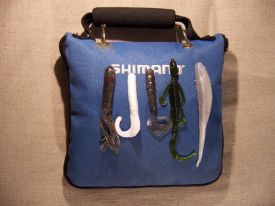 Utilize small, natural looking baits to fool bass when sight fishing shallow water. Twister tails, tubes, lizards and jerk worms will all do the trick nicely.
Scouring the Shallows
It goes without saying that the most productive type of water to search for fish will be shallow in nature. Shallow can mean many things to different people, but in my books, shallow represents water that is less than six-feet deep. (Any deeper and you may encounter visibility problems that could render this system unusable.)
Early morning periods will find me slowly cruising productive looking shoreline areas - these spots will include open area sand and weed flats, as well as dock and weed/rock locations. What you are searching for during this "prime time" is active largemouth, hence the concentration on shoreline feeding troughs. Try to keep the sun to your back if at all possible (this will make it harder for fish to see you), and be extremely quiet and stealthy in your approach. An electric motor run on low, or a push pole, are your best methods of movement when perfecting this technique.
Scanning the water for fish is the basic technique for sight fishing, but it isn't the only course of action you have for finding bass. Paying attention to surface disturbances and bait fish action will also lead you to the bass below. Largemouth bass will often "bust" or chase baitfish on the surface - spotting this commotion can give you an area to concentrate on, and if your eyesight is good, hopefully a bass to see.
Tackle and Baits
Light equipment is the key to sight fishing, mainly due to the fact that water clarity will be good, and these shallow water fish can be spooked easily. I prefer to use a medium-light-action spinning rod in the six to six-and-a-half foot length. A high-quality spinning reel loaded with clear 6-pound test monofilament is my choice for partnering up with the rod.
When it comes to choosing baits, small and natural is certainly the route to take. Tubes, craws, lizards and jerk worms (in the three to five-inch sizes) are my top choices when casting to fish that have been spotted. (A couple of my favorites are the Zoom Super Fluke Plastic Worm and the Kalin's Super Floozy.) These baits will entice largemouth in clear water, while remaining natural and unobtrusive enough not to spook them. Use the lightest worm weight or jig head you can get away with, as this will allow the bait to fall at a slow rate of speed, allowing more time for a fish to spot and react to it. Colors can be a hot topic, but my experience has shown that sticking to natural hues will usually work best. Smoke, gray, white and black will all produce well, as will these shades with a fleck or sparkle in them for contrast on cloudy days.
When casting to fish you have spotted, accuracy and soft landings are two important controls you need to practice. Never cast directly at the fish. Doing so will undoubtedly spook it in this clear and shallow water. Instead, cast six or eight-feet beyond the bass, and slowly work your bait towards the fish. Be prepared to make long casts. The further away you can position yourself and your boat from the fish, the greater your chances for success.
Allowing your bait to land with the least amount of surface disturbance is also key to attracting a bite. Any unnecessary splashes within "earshot" of your targeted fish will surely alert him to danger, most times allowing him to scoot away. (Feathering your line with your fingers before splashdown is a sure-fire method for splash-less entries.)
Sight fishing for largemouth bass throws a whole new twist on the angling game. Targeting and actively searching for fish can lead to excitement-packed days, and when conditions are just right, a steady bend on the rod and a grinning smile on the face.