In this issue:
Find Fish Fast on a New Lake
Lost Lake Wilderness Lodge
- Wilderness retreat near the villages of Elk Lake and Gowganda, Ontario awaits you for your next holiday. We provide a clean full facility private cottages in a gorgeous setting. Provide all the opportunity to relax and have a memorable vacation. Of course we'll be there if you need us to provide you with bait for your fishing trip, or to cook your meals if you are on our American Plan package. Maybe just to chat about the area or maybe find where the BIG fish are hiding!
Silv'ry Moon Lodge
- Silv'ry Moon Lodge is situated on scenic South Shore of Trout Lake and offers a simply quiet getaway, be it for families or the avid fisherman. Aside from fishing, Silv'ry Moon Lodge has a safe and sandy beach and playground for families to enjoy. Nature lovers among us – Hike down the trails and old logging roads to see old growth forests, birdwatching and boating along picturesque shores
Land O'Lakes Resort
- Land O' Lakes Resort is a housekeeping facility situated on the Marten River in Ontario. Enjoy fishing walleye, northern pike, bass and lake trout. Camping, biking and canoeing are also offered at Land O'Lakes Resort.
Blue Heron Resort
- Enjoy this family fishing resort offering Modern Cottages, Camping, and RV sites. Fishing the Spanish River or the North Channel of Lake Huron offers anglers a wide variety of fishing action and beautiful scenery. Fish for Smallmouth Bass, Walleye, Northern Pike, Perch, Crappies, Musky, Sturgeon and Catfish. Fish the North Channel for Lake Trout, Rainbows, and Salmon
Ice Bungalows
- Ice Fishing - 4 & 6 Person Ice Bungalows, located on the South Shore of Lake Nipissing.
Ontario Walleye
Fishing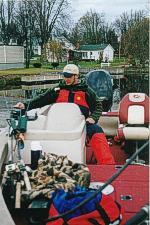 "Find Fish Fast on a New Lake"
By Justin Hoffman
Nothing beats the thrill and excitement of launching your boat onto a brand-new lake. Everything looks so good as you start up the outboard, but where in the world should you start? No matter what species of fish you are after, by being prepared and following some rules, you can find fish fast and easily. (And that's about as fun as anything when it comes to fishing!)
Before You Hit the Lake
Once you have decided on a lake you would like to fish, the first step is to purchase a good-quality topographical map. What a map of this type shows is the depth throughout the body of water and the structure the lake contains. By pinpointing sudden depth changes or islands and points, you will be well on your way to finding fish. I like to take a waterproof pen and circle any areas of the map that has a good possibility of holding fish. These can be things such as underwater humps, weedy back bays or islands. This map will become your eyes while out on your new body of water, and will ultimately lead you to success.
Another tactic I employ is researching any information on my chosen lake that I can get my hands on. This can take the form of the Internet, magazines and tackle and bait stores. There is a ton of first-rate information out there, and it can all up your odds greatly.
Out on the Water
Once you have finished your homework, it is now time to apply it to the real thing. One technique I employ when starting out from the dock is to run my graph while traveling up and down the lake. This will help in locating weedlines and bottom structure, and will be used in conjunction with your topo map. Many times I will run the boat for an hour or two while investigating the lake before even throwing a cast. Once it is time to make that first cast, I want to be sure that it will be to a productive spot.
Marker buoys are my favorite trick when it comes to "virgin" lakes as they can help you pinpoint and stay on productive structure. Although they will not necessarily mark the fish, they will enable you to stay on cover or structure that will be holding the fish. Take a half-dozen of these markers while hitting the lake, and toss one over the side when you come across a productive hump or point. A great use for these buoys is to mark a long weedline so that you can troll its edge with accuracy or keep your casts in the strike zone longer. This trick has salvaged some days for me when facing new water.
What to Throw?
When fishing a new body of water your main goal is to find fish fast. One of the main ingredients of this credo is to cover water quickly and efficiently. By incorporating a "fast-moving" lure, you can be assured that fishless water can be quickly abandoned, while also hooking the most aggressive fish you come across. For bass, a good choice of bait would be a spinnerbait or buzzbait, while for musky it would be a bucktail. By keying-in on the productive water you have already found, coupled with this high-percentage technique, you will find yourself in the midst of accommodating fish.
Regardless of the species of fish that you are targeting, throwing a fast and efficient bait will up your odds for success. Once you have caught a number of fish with this rapid-fire technique, it is then time to slow things down and carefully go over the area with a slower-moving presentation. This would also be a great time to toss a marker buoy so you can stay directly on this productive spot that you have unearthed. If the fishing starts to slow or the conditions begin to change, simply move to another productive area you had found earlier in the day.
When To Go?
In order to up your odds fully on your trip to a new lake, you should consider when is the best time to go. Several days of calm, stable weather is a good sign that the fish will be cooperative. It may also be better to fish earlier in the day or towards the evening if the conditions have been unusually hot.
I also like to time my trips to a new lake to coincide with the best period of the year for the fish I am after. For walleye it would be right after the spring spawn, or for big smallmouth it would most likely be the fall period.
Fishing a new lake can be a fun and rewarding experience for the angler. Try these tips and tactics out when you try your luck at a different spot, and reap the rewards that your new-found lake may hold.