In this issue:
Seven Tricks for Improving Your Bassin' Results
ALL NEW ONTARIO BOATS FOR SALE CLASSIFIEDS
CLICK HERE!
Red Pine Wilderness Lodge
- Our 8 guest cottages set amidst towering, red pine trees on a 7 acre island is the place for your special remote fishing trip or wilderness family holiday. We are the Gateway to two huge parks: The Obabika Waterway Park and The Lady Evelyn/Smoothwater Wilderness Park. We offer the serious angler Northeastern Ontario's finest Walleye (Pickerel), Great Northern Pike, Smallmouth Bass, Whitefish and Perch fishing. Don't forget about the 3 species of Trout that also call this area "home".
Due North Outpost Adventures - We are a full service fishing and hunting outpost located in the boreal wilderness, 2 hours north of Thunder Bay. Your quest for adventure will be more than satisfied as you reel in as many walleye and trophy northern pike as you can handle.
Sunbeam Bungalows - A family and fishing resort. Located in the small, picturesque hamlet of Callander, Ontario, yet only 10 miles from larger city attractions. Our resort is nestled under the pines, where we offer clean, fully-furnished, deluxe, spacious cottages. Enjoy Lake Nipissing which offers the best in fishing...we guarantee to believe all stories about "the one that got away".
"Seven Tricks for Improving Your Bassin' Results"
By Justin Hoffman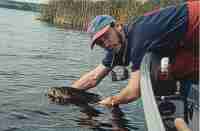 Bass fishing is a game of highs and lows. Going from banner days on the water to empty live wells the next is a fact of life when chasing these challenging adversaries. There are, however, a number of tricks that can improve and elevate your bassin' game to the next level. Test these out on your next trip to the lake and watch your success jump in leaps and bounds. (With the Fishing Shows upon us, it might be the perfect time to pick up some of these items in anticipation of the coming seasonů)
#1. Bring a Map
Topographic and hydrographic maps can do wonders for your bass productivity. Fishing blindly on the water is a thing of the past, and these maps are the current key to your underwater view of the lake. Maps can help in pinpointing productive areas of the lake long before you set foot on the boat ramp, and can narrow down feasible spots in order to make your fishing less time-consuming. Marking or highlighting humps, shallow flats, spawning areas and breaklines will enable you to quickly run to these spots and figure patterns out - a definite advantage in helping you catch more and bigger fish.
#2. Push Your Way Through
Getting into shallow water when targeting bass can oftentimes be a real problem. Trolling motors can choke up with weeds and muck, and running the big motor can be a real risk. Carrying a "push-pole" in your boat can be the answer to your prayers - and will help you discover those previously out-of-reach places. Push-poles are telescopic rods that have duck-shaped feet on the bottom that literally allow an angler to push his boat through and around shallow water. These poles are also dynamite in reducing noise when traversing through the thick salad - something the trolling motor is quite inept at doing. Try pushing your way into uncharted water during your next outing, and discover the hidden bass that you've been missing.
#3. Mark That Spot
How many times have you found a productive bass spot, only to drift or be blown off it, ultimately losing it in the end? This can be a frustrating occurrence to endure, but the remedy can be had for less than ten dollars. Marker buoys are an ideal apparatus that allows an angler to mark a key spot and remain in direct contact with it. Dropping a marker on a hump, point or weedline will help you stay on top of your underwater honey-hole, meaning more fish due to this innovative and simple beacon of the water.
#4. Tools of the Trade
Much the same way a golfer needs a variety of clubs when hitting the links, a bass angler needs an equal amount of rods and reels when scouring the lake. Trying to use one rod for different techniques and applications can be extremely frustrating, and will certainly equate to less fish in the well.