In this issue:
Timely Tactics for 'Negative-Mood' Largemouth
NEW ONTARIO FISHING CHAT
CLICK HERE!
Camp Raymond
- Camp Raymond is situated on the picturesque northwest bay of Lake Nipissing. A fully equipped housekeeping camp geared to both families and fishermen. We offer many amenities to make your vacation a memorable one
Kamp Kinniwabi

- Enjoy spectacular scenery while fishing for Speckled Trout, Northern Pike, Whitefish, Walleye, Smallmouth Bass and also Yellow Perch inhabiting some lakes. Fall Black Bear hunts also available.

(Chapleau)
Land O'Lakes Resort
- Land O' Lakes Resort is a housekeeping facility situated on the Marten River in Ontario. Enjoy fishing walleye, northern pike, bass and lake trout. Camping, biking and canoeing are also offered at Land O'Lakes Resort.
Blue Heron Resort
- Enjoy this family fishing resort offering Modern Cottages, Camping, and RV sites. Fishing the Spanish River or the North Channel of Lake Huron offers anglers a wide variety of fishing action and beautiful scenery. Fish for Smallmouth Bass, Walleye, Northern Pike, Perch, Crappies, Musky, Sturgeon and Catfish. Fish the North Channel for Lake Trout, Rainbows, and Salmon
Ontario Bass Fishing

"Timely Tactics for 'Negative-Mood' Largemouth" By Justin Hoffman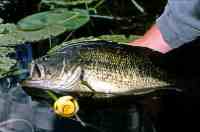 Nothing can frustrate an angler more than targeting largemouth bass that are in a definite finicky mode. The more lures you throw at them, the more they seem to turn up their noses and silently mock your futile efforts. If fronts, dog days of summer or pressured fish are bringing you down, try these proven tactics in order to put more largemouth in the boat during these "tough times."
There are a number of reasons why largemouth bass seemingly shut down and refuse to bite any offerings that you may send their way. The number one cause of negative-mood bass is fronts. This is a stable weather pattern that is interrupted by a sudden temperature and barometric change. (Think 80 degree F weather for a straight week ending with a dip into the low 60's.) Another reason may be severe heat that causes bass to seek cooler water and shade for comfort. Finally there is the case of pressured fish that have seen every conceivable lure thrown at them and become conditioned to let every single one of them pass it by. (This can often happen on "popular" lakes or during tournament days.) Recognizing the fact that one of these conditions is affecting the fish on your body of water will enable you to adjust your patterns and lures accordingly.
Rule #1: S-l-o-w D-o-w-n
Fish that are in a negative mood are not willing to chase down a fast-moving presentation in order to feed. These fish are downright lazy, and can only be coaxed into hitting a bait that is fished ultra slow. A rule of thumb I use when facing these conditions is to at least double my retrieve time for each cast. This is at the bare minimum and may change to as much as quadruple the amount of time depending on how finicky the fish really are.
Negative fish have an extremely small strike zone in comparison to actively feeding bass. Keeping your bait in this strike zone and for longer periods will be your key to increasing your hookups. Many times this zone may be only inches out from a fish, therefore, slowing down your bait will ensure that you remain in this small window of opportunity for the greatest amount of time.
Rule #2: Downsize Your Bait
Big crankbaits, large worms or bulky flipping jigs hold no interest for a negative-mood bass. They will continually turn their noses up at these offerings, but they can be coaxed by a smaller version of the same lure. Small tube jigs, mini cranks and light flipping jigs have all accounted for many finicky bass over the years, and continue to be my top three choices when it comes to "seducing" largemouth bass. A smaller offering will seem less threatening to a bass, and will appear much more natural and edible to these weary fish. (A well-presented "Itsy-Bitsy Bug" or a "Three-Inch Tube" represents an after dinner mint when slowly pulled by these sulking fish.)