In this issue:
ALL NEW ONTARIO BOATS FOR SALE CLASSIFIEDS
CLICK HERE!
TOTAL TACKLEBOX
We are on our way to becoming the worlds largest fishing tackle search engine!
Owl's Nest Lodge
- We are located on the south shore of of the unspoiled Trout Lake with facilities designed to offer a year-round escape to experience the beauty of Rainbow Country. Trout Lake is sixteen miles long and half a mile wide and is located eighteen kilometers from the village of Alban. The clean pollution-free water is noted for lake trout, pike, muskie and bass. We also offer camping, trailer sites, fishing, hunting, ATV & Snowmobiling.
Midnorth Outpost Camps - We have fly-in remote fishing & hunting outpost camps, located half way between Elliot Lake and Chapleau. Choose from several lakes that offer fishing for Walleye, Northern Pike, Lake Trout, Brook Trout, White Fish, Bass, & Perch. We als have a variety of hunting options available.
Branch's Seine River Lodge Outfitters - Experience the Canadian Shield Wilderness! Full service camp in the centre of the "Seine Chain of Lakes". Over 30 miles of excellent walleye, northern and world class smallmouth fishing. Quetico Park & White Otter ultralite canoe trip outfitting. Top rated fall hunting with guided white tail hunts, black bear, small game & grouse. Bow & rifle welcome!
Playing the "Size" Game With Musky By Justin Hoffman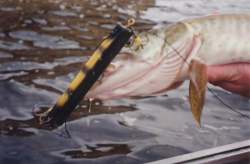 Musky fishing is literally a game of size. Searching for the lifetime fish that stretches beyond the fifty-inch mark on the tape, or a 'ski that bottoms out the scale at thirty-pounds are targets we all strive for when out on the water. Lets face it - size does matter to a musky angler. But how about the size of the baits you throw at these fish in the hope of luring them in? There is a time and place for big baits and small in musky fishing, and learning the in's and out's will help you in attaining that fish of a lifetime.
Small Baits
The phrase "small bait" is a relative term when discussing species-specific lures. For the freshwater musky, small can be defined as a lure that measures less than five-inches in length. (Quite the contrast to some of the monster twelve and fourteen-inch baits used to scour the depths by some musky hunters.)
Although musky can attain tremendous weight and size, there is something about a small bait under the right circumstances that can work pure magic. Early season is one of those moments. Springtime means cooler water in many regions of the country, and it also means slower metabolism for its watery friends. Muskies are less likely to exert themselves chasing down large prey, but can be convinced to take a swipe at a bite-sized snack. (This only makes sense, as the natural prey they will be feeding on will be young of the year baitfish, perch and bluegills in the two to five-inch length.) Tossing around small bucktails, cranks and jerkbaits can be the key to success early on in the season.
Cold front conditions are another situation that calls for downsizing your presentation. We've all been there before - bright blue skies, sunny and without a cloud in the sky. This is darn tough fishing in anyone's book. Muskies can be caught during these periods, but it will take something small, natural and unobtrusive to do the damage. This isn't a time for monster cranks or behemoth trolling plugs, but scaled down versions that will be appealing and noteworthy to the lazy musky with lockjaw.
Fall time has traditionally meant BIG baits, but what about those days when the fish continuously follow the lure but refuse to strike? Small baits are the answer to the question. Musky can become conditioned to big baits that are commonly thrown by the majority of anglers. Most days, everyone and his brother are throwing large jerkbaits or gliders, sometimes resulting in fish that love to follow. Next time you run into this frustrating dilemma, make a quick switch to a smaller version of the bait you are using, and be prepared to hang on to that rod. A simple switch in the "size game" is often all it takes to find action.
Large Baits
Now that we've discussed when to utilize small baits for musky, lets find out when big is best. Hot summer weather is generally a good time to go big. Fish will be extremely active, and will be looking for a substantial meal to keep their energy levels up.