Night Fishing Primer by Tim Allard
Fishing under the cover of darkness has long been a strategy for walleye and crappie anglers. Recently, night fishing is becoming popular on water bodies that receive a lot of day fishing pressure and boat traffic. Angling in the moonlight is not for everyone, it requires more planning, adequate lighting gear, and extra safety precautions.
Planning:
Never fish new water at night for the first time. It's a good idea to get on the water before sunset, so you can easily launch your boat and drive to your first fishing spot before darkness falls. It also allows your eyes to gradually adjust to the changing light conditions. In addition, you'll be fishing prime time conditions. Predatory fish move into shallow water to feed, taking advantage of the waning light to ambush their prey.
If you head out at dark you'll avoid the crowds, but make sure you have a thorough understanding of the water you'll be on. Night fishing calls for hydrographic maps, along with a compass or a GPS unit. If using GPS, mark the boat launch as a waypoint so you can plot a route to find your way back. Don't count on landmarks for navigation. Fog can quickly roll in on the water making it difficult to see objects, even with a spotlight.
Illumination:
Proper lighting is paramount for night fishing safety. Launches featuring lights will significantly help your boat ramp entry and exit. Your boat should feature the required navigation lights which should be on at all times at night. Many marine laws also require a boat be equipped with a flashlight. Additionally, a spotlight with at least one million candlepower output will help you pinpoint landmarks on a fog-free night, or signal your position to an oncoming boat.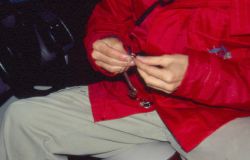 Some boats come equipped with illuminated consoles and interior running lights. Most fish finders also feature backlit displays, but be careful not to leave the unit on too long or you may drain your battery. Aftermarket lighting is available to customize your boat's interior for night fishing. Black lights are particularly popular as they illuminate fishing line well and do not to attract as many bugs as bight, white light. A headlamp is a great hands-free light. Wear them for the evening and you can quickly turn it on to rig a new lure or to help you see and land a fish. One final note on lighting is to be cautious when shining lights into the water's surface; using them to attract fish is illegal in most regions.
Safety:
Planning and lighting are both important to angler safety, but a few more specific items should be discussed. First and foremost, keep your lifejacket on at all times, carry a first aid kit, and never fish alone. Error rates increase exponentially when night fishing. Anglers should also be aware of boat space, exercising extreme caution when casting at night and never cast baits near other anglers. Knowing how close your bait it to the boat it also important. It may sound simple, but missed hook sets at boat side can cause a lure to swing around and hook someone. Adding a glow bead to a leader is a great way to signal when your lure is close. Boat space also applies to water body navigation. Obstacles, especially small islands, can quickly pop up during night driving - exercise caution and move slowly.
Give someone on shore and an itinerary with your whereabouts and the time you plan to come off the water. Also carry a communication device, such as a 2-way radio or cell phone. Having bug repellant is also important when night fishing. Sometimes nights can be bug-free, but most evenings call out black flies and mosquitoes. This is especially true at boat launches. Before getting to the ramp, spray on fly dope to keep bugs from biting, so you can properly secure your rig to the trailer. Rushing a boat on a trailer to get away from a swarm of bugs can equate to forgotten steps, which can be an expensive and dangerous oversight.
Night fishing can be an enjoyable experience with high catch ratios. The intent of this article is not to scare you; it's to prepare you. Odds are you'll catch just as many, if not more fish, as day fishing. You'll also gain a new appreciation for how dependant we are on our sight.