In this issue:
Ice fishing for perch
The case of the missing
minnow bucket Pg 4.
---
---
Your Ad Could go here for as little as $20
---


When only the best will do!
Bug Shirts, Sleeping Bags & Canoe Packs!
Check out the 2001 Lineup
Ice Fishing for Perch
Small Holes = Big Perch - Catching Jumbos Through the Ice
by Justin Hoffman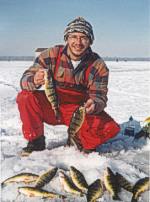 To some people it is always a sad occasion to put the boat to bed, and bid farewell to the open-water season, knowing that it's a long time till the robin's make their return. But for me, my smile remains intact, as ice fishing is just around the corner and that means one thing - JUMBO perch. Perch through the ice is one of life's great pleasures. For many seasoned ice anglers, it is a back to basics approach to fishing; standard and simple rigs, large schools of fish and delicious fillets for the dinner table. For the beginner, it means relatively easy fishing with the possibility of 50 or 100 fish days!
By following these simple tactics and techniques, sticking to lakes that hold quality fish, and spending the time needed to find the fish, you will be on your way to bucket loads of perch and broad smiles. (And who knows, maybe you'll put the boat to bed with a smile on you face next time too.)
Where are They Hiding?
One key thing to remember when searching for perch is to keep moving. Perch gang up in big schools during the winter, and will spend the days cruising in search of food. If you can intercept one of these untouched schools, you can be sure of great fishing, as long as you give them what they want and are prepared to move with them. Your best bet to start, as soon as the ice is safe enough to venture on to, are the shallows. At the start of the hard-water season, the shallow water bite is on big time, and the fish seem almost suicidal. Your lure will hardly make it down the hole, before another hungry perch grabs your offering with almost reckless abandonment. Action like this can be hot for days or even a week, depending on how hard the shallow fish get pounded. One thing to keep in mind, is that ice fishing for perch is a popular sport, and the ice can become "crowded." If you can keep ahead of the next guy, and find an untouched school, you will reap the rewards.
Undoubtedly the time will come when the shallows will be devoid of perch. Fish will now be found in deeper, off-shore areas, yet can still be easy to find if you search for them. Begin by trying deeper water adjacent to shallow spawning areas. Another good bet is areas between islands or off of points. Perch will often be found throughout the entire water column, so it is often a good idea to experiment with depths. Unlike the walleye, which is usually found on bottom during the winter, perch will often suspend a foot below the bottom of the ice. The key here is to experiment and probe the depths, and make note how deep that first fish was caught.
A productive way to find out where the fish are, in relation to the lake, is to talk to hut operators or local tackle shops. They will be more ..
Continued on page 2