In this issue:
The National Fishing League has launched it's new home site - www.NFL.ca . The NFL.ca is a membership free to all anglers. The mission is the promoting and developing of fishing resources for all to be able to enjoy. The year starts off with a participation Fall-Winter Derby held in District 5 - Lakes Simcoe and Couchiching. We invite everyone to come and look over the information online, just visit the homepage and surf around. There are four more events planned - to be announced in the coming weeks.
Mid North Outpost Camps - We have fly-in remote fishing & hunting outpost camps, located half way between Elliot Lake and Chapleau. Choose from several lakes that offer fishing for Walleye, Northern Pike, Lake Trout, Brook Trout, White Fish, Bass, & Perch. We als have a variety of hunting options available.
Peace Island Lodge - Peace Island Lodge is a five star American Plan fly-in Northern Pike, Lake Trout and Walleye Fishing Lodge with Indian guides, on Deer Lake, 120 air miles north of Red Lake, Northwestern Ontario.
Sunny Side Lodge - We are located on the north shore of beautiful Lake Nosbonsing. We have 5 fully equipped lake front housekeeping cabins. There is a wide variety of fish in Lake Nosbonsing, walleye, northern pike, trophy muskie, small and largemouth bass and yellow perch. We also offer a full guided black bear hunt in the fall which includes baited trees stands and accommodations for a 6 day hunt (license is extra) there are also fall and winter fishing packages available.
Tornado's Canadian Resorts - 4 season resort on Pickerel River, Port Loring, Cloverleaf trail system, Trail AR501. Accommodations in lodges with fireplace, snowmobiling American Plan packages, hot tub, sauna, fuel. Fine dining, restaurant open daily, lunch specials, licensed lounge, pool table & satellite TV. Dogsledding packages.
Cedar Ridge Lodge - Moose hunts still available! At our Lodge you get a truly memorable experience at a reasonable cost. Run by sportsman who have a passion for the outdoors and want you to experience the same. Located on pristine Burt Lake, 30 km west of Kirkland Lake. We operate a clean lodge and offer full American Plans.
Golden Eagle Camp - Looking for an early and long season?? we've got it!! We are located on Hwy 65 just 18km north of Elk Lake. groomed trails right to our door and TOP Trail A only 6km away. Enjoy a sauna and retire to a rustic log cabin or brand new cottages equipped with air tight wood stoves, elecrtic heaters and a whirlpool tub. A delicious European style meal is available with advance notice.
Greening Bay Cottages - For awesome ice fishing or great snowmobiling with immediate access to trails, join us on the south shore of Lake Nipissing. Our deluxe accommodations, equipment, service, and pricing will be sure to please!!
"The Do's and Don'ts of Trolling" By Justin Hoffman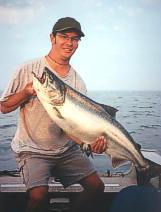 Trolling can be one of the most productive ways to scour a lake for fish. However, for those that believe it's simply a matter of tossing out a lure and cranking up the motor, it can also be one of the worst. Like everything in fishing, the art of trolling takes specific knowledge and techniques in order to catch our aquatic friends on a consistent basis. Adhere to the following fundamentals, and watch your trolling prowess grow in leaps and bounds.
Types of Lakes
Trolling can be performed on virtually any lake in North America, but choosing the best lakes to troll on can be decided by following some basic criteria. First, you need a body of water with some depth to it. Although you can troll in shallow water (less than five feet) for a few select species, for the most part, lakes that have a variety of deeper depths are dramatically better. Picking lakes that have a large minnow or baitfish forage can also up your odds for success. These lakes will hold fish that have become accustomed to chasing down schools of prey, therefore, they are much more likely to strike a trolled presentation that passes them by.
I also like to pay attention to lakes or reservoirs that garner little fishing pressure. The less boat traffic whizzing around, the more apt that fish will feed actively and not be spooked by all the noise and surface commotion.
Structure Is the Key
Although it is possible to catch fish by "blindly" trolling a lake, paying attention to certain structure areas is fundamental in finding real success. No matter what the specie of fish you are chasing, they all relate to change. Change can mean anything from open water turning into a weedline, humps and underwater saddles, points and islands and certainly breaklines. Finding these fish magnets on your home lake, and fishing each one differently is the name of the game.
Weedlines : Weedlines are just as the name suggests - a distinct edge or line of vegetation that meets open water. Always troll parallel to the green stuff, following the distinct changes you'll come across, and try to keep your lure within ten feet of the edge at all times.
Humps : "Underwater islands," or humps as they are commonly referred to, are great for attracting and holding a variety of gamefish. I prefer to make trolling passes across and around the actual hump, starting my first pass in deep water and progressively working shallower, until my final pass is directly over top of the hump itself.
Points and Islands : Both of these areas are dynamite trolling spots, but definitely come into their own during rough or windy conditions. Approach points by making a trolling pass directly in front of the tip itself, and also along both edges as it relates to the land structure. If the island you come across has a point, pay all of your attention to that structure area. Islands without points can be simply circled, starting in shallow water and working deeper, depending on the overall size of the island itself.
Breaklines : Breaklines are one of the most prolific structure areas that cough up trolling fish on a consistent basis. What these areas represent are sudden depth changes. Ten feet to fourteen feet. Eighteen feet to twenty-four feet. The key is to present your bait right on the breakline, always trolling parallel to the break and not across it.
Using Your Underwater Eyes
On-board electronics are a must for trolling, allowing an angler to see precisely what is below the boat at all times. Finding those subtle depth changes, locating school of baitfish and their prey and staying right on the edge of a weedline is impossible without these digital dynamos. Although fishfinders run the gamut in terms of price, even the most basic of units will improve your trolling success greatly.
Spend a day zipping up and down the lake while watching your screen, making a mental or physical note on a topographical map of all the breaklines, points and humps you come across. Having this information at your disposal will make it as simple as 1-2-3 to come back later and fish these hotspots to the best of your ability.
Another important tool for trolling is a GPS unit. Punching in the coordinates of schools of baitfish, the precise spot an underwater hump is located and where the weedline starts and stops allows you to come back time and time again to fish that exact same waypoint.
Ten Tips for Trolling Success
1. Experiment with lures. Try everything from shallow to deep divers until you connect with a fish.
2. Vary your speed. Constant speed can trigger fish, but changing your speed from faster to slower can turn the fish into a frenzy.
3. Never troll in a straight line. Zigzag patterns, circles and L-patterns cause your lures to run at different speeds and in different directions - both excellent triggering factors for following fish.
4. Apply a scent product. Coating your bait with a commercial scent will leave a scent trail in the water, enabling fish to find your bait and strike it.
5. Run your lure at different lengths. The more calm the water, the longer your lead to your lure should be. This wisdom should also be applied when fishing shallow water.
6. Bump the bottom. Making contact with the bottom occasionally will stir up fish and entice them to strike. This is especially productive when targeting musky and walleye.
7. Use a marker buoy. Tossing out a marker when you connect with a fish, or when you find a productive hump, will allow you fish the area more thoroughly and will usually mean some extra fish.
8. Use an electric trolling motor. If the fish are extremely spooky, or the water is crystal clear, switch over to an electric trolling motor for a quiet and unobtrusive approach.
9. Use downriggers. For fishing deep water, or for fish that suspend deep, a downrigger can be the key to catching fish. Look for a small hand model that is easy to use and inexpensive.
10. Never give up. Although trolling can be boring and uneventful at times, for those anglers that adhere to some principles and put in the time, the rewards will outweigh the wait.
As you can see, trolling is a specialized and productive technique for connecting with fish. Follow these do's and don'ts, and be content in knowing that the mighty "trolling gods" will always shine down on you!
Justin Hoffman is the proprietor of Nature's Eye Images, a photographic stock company that specializes in nature and outdoor themes. Check out his online catalog at : www.geocities.com/natureseyeimages/stockpage.html