In this issue:
Our Fishing Video Site is up and running. If you have hi-speed internet access click here to see some great short fishing video clips. We've added a few new UNDERWATER Videos
Marsh Bay Resort - Open year round, our services include Cottages, Camping, Trailer Sites, Boats & Motors, Fishing, Hunting and Snowmobiling. A quiet family style camp nestled on the shores of the Montreal River, just off Hwy. # 11. Open year round, our services include Cottages, Camping, Trailer Sites, Boats & Motors, Fishing, Hunting and Snowmobiling. The Montreal River is a calm body of water and is one of the main tributaries of the Ottawa River System.
Normandy Lodge - Fishing for walleye, northern pike, brook and lake trout, as well as perch on or near Kabenung Lake, Wawa.
Lang Lake Resort - Summer or winter our cabins are winterized have a full kitchen, running water and a personal dock. Choose from either housekeeping or American plan. We also have boat and motor rentals. Fish our main lake system for trout, walleye, pike, smallmouth and largemouth bass. Our resort also offers quiet back-lake retreats. We have many activities such as hiking, snowmobiling, swimming in the sparkling-clean water of Lang Lake or relaxing in the hot tub. Don't forget to bring your camera!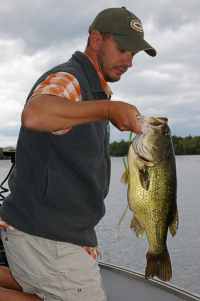 "Setting Your Sights on a Trophy"
by Justin Hoffman
Everything in life seems to garner respect for being big. Big cars, big houses and of course, big wallets. The same can be said for fishing, where average-sized fish get nary a raised brow, yet oversized monsters are akin to hitting the lottery jackpot.
Catching trophy fish, regardless of the specie, is more to do with skill and advanced preparation than anything else. It takes a well-executed game plan and long days on the water, but the overall results are certainly well worth the effort. Putting the net under a rare trophy fish is the ultimate angling high, and one that won't soon be forgotten.
Doing Your Homework
The search for a trophy fish starts well in advance of getting the boat or your lures wet. In order to catch a big fish, you need to start thinking like one, and this is when preparation becomes key.
Deciding on a body of water is the number one priority. You need to specifically hit a lake that has big fish potential. An easy step to accomplish this is through the beauty of the internet. Start by checking out recent tournament results from various lakes in your region. If the Big Fish award from each tourney is tipping the scales past trophy proportions, you may have found a good place to start. Message boards or lodge advertisements are other great areas to delve into. People love to scoff about big fish being caught, and you can use this information to your definite advantage. Contact the local ministry and enquire about recent netting or electro shocking studies. (One lake I frequent for bass did a study some years ago; netting largies up to 7.5lbs and a smallie that tipped the scales at 8lbs! You can bet that I spend some time trophy hunting on that body of water!)
Lake composition is another important consideration. Aside from largemouth, most trophy fish will be found in large, deep-water lakes. For muskies here in Ontario, Georgian Bay, the Ottawa or St. Lawrence river all hold the potential for a truly monster fish, and quite possibly the next world record. Although the Kawartha's hold plenty of skie's, the chance of connecting with a bigger-than-average fish on this numbers water is slim to non-existent. If your heart truly lies with catching a big fish, you need to head to where the big ones are hiding.
Once you have narrowed down your destination, figuring out where on the lake you are going to try is paramount. If there's one thing I can stress, its not spending time in unproductive water. Get yourself a topographical map and highlight all of the areas that would be conducive to housing a giant fish. Offshore humps, deep water breaklines and shoals will all have potential in your quest, and having an easy to consult map of the lake will take the guessing game out of where to look.
The last thing to mull over before hitting the water is time of year. Most fish species really bulk up and put on the weight come late fall. This certainly applies to musky, walleye and bass. Northern pike, on the other hand, can be at their heftiest during the spring period, while the winter is advantageous for perch. Knowing when your target is at its heaviest is crucial for finding the biggest fish. (If a trophy musky is what you're after, the month of November is probably your best bet.) Plan your trip accordingly, and you shouldn't be disappointed.
Big Baits for Big Fish
Once you've found yourself on a lake, deciding what to throw can really make or break you. Trophy fish reside at the top of the food chain (for each of their respective species), and they attain these great weights from eating whatever they want. Tossing big lures to get their attention is the only way to go in my eyes.
For musky and pike, oversized body baits upwards of 14-inches are a necessity. For largies, throw the biggest and bulkiest flipping jigs or spinnerbaits you can find. For smallies the shape of footballs, six-inch topwaters should be the norm and not the exception. These are just examples, but you get my drift. Don't head out on the water with snack-size baits, basically hoping for the best. Show the fish you're serious, and give them something they can really chow down on.
The Worse the Weather the Better
We all like to fish in sunny, calm water conditions. Sad thing is, many of the trophy fish that swim prefer to move around and feed when the weather is at its worst. Rain, high winds and overcast skies is a musky or walleye's calling card. Most big fish that people encounter come when the elements are uncomfortable to say the least. And this is what divides the trophy hunter from the pleasure fisherman - in order to get those big fish in the boat, we'll fish in whatever weather it takes. No questions asked.
Reliance on Equipment is Paramount
Trophy fish require stout gear that is of the highest quality. Dependable drags, high-test line and well-constructed rods will help put fish in the boat. This isn't the time for saving a few bucks.
Check line religiously, adjust drag accordingly and sharpen hooks on the hour, every hour. Believe me, failure to do so will end up being the one time a big fish decides to hit, and you'll be left with only a fish tale to tell your buddies.
Always bring a net when chasing the big boys. Even though you can lip those massive smallies and largemouth, a net slid under her is a sure-fire way to guarantee she gets in the boat.
Reliance on your body's equipment is also mandatory. Staying concentrated and focused on the game at hand is the mindset of a true trophy hunter. Look at each cast as being the one that you finally connect, and stay on your toes for when that hit eventually does come. When it does, you need to react with lightning fast speed to ensure that that fish ends up in the boat. A momentary lapse of judgment could spell disaster, especially if the biggest fish of your lifetime is about to strike your bait.
Going after trophy fish is a different sport in the world of angling. It requires a new found penchant and motivation, and the rewards are unlike any you've experienced in the past. September 20, 2005 marked the day that I landed my biggest largemouth bass, a six-pound trophy. This has taken me 16 years of serious fishing to accomplish. I was specifically chasing a big fish that week, and the results were well worth the effort. Putting a personal best in the boat is a high, and a definite stepping-stone until that next trophy fish is swung over the side of the boat.
Happy hunting to everyone…..and good luck in chasing that next world record that swims!