In this issue:
NEW ONTARIO FISHING CHAT
CLICK HERE!
Long Point Airways
Last minute fly-in trips. We have some openings available at some of our fly-in lakes. These trips have been discounted for the rest of the fall. Go on the fly-in trip you been dreaming of at extremely affordable rates. Click here to find out more!
O-Pee-Chee Lake Lodge
- O-Pee-Chee Lake Lodge is the only lodge on two beautiful lakes, O-Pee-Chee & O-Pee-Chee Boys Lakes. Enjoy the quiet Canadian wilderness as we are set back one mile off Hwy #11 north, 64km north of North Bay and 35km south of the town of Temagami, Ontario. Excellent fishing for pickerel (walleye), northern pike and bass. Fall black bear, moose and small game hunts. Fully equipped Housekeeping cottages, American Plan packages, Back Lake guiding adventures and boat & motor rentals.
Kenogaming Lake Lodge
- Located in one of Northern Ontario's finest moose & bear hunting and fishing areas. We provide affordable American Plan vacations. Kenogaming Lake Lodge will stir your heart with memories of scenic wilderness discoveries, wildlife encounters and dawn to dusk fishing! Kenogaming Lake is 11 miles long and offers an abundance of walleye, great northern pike and whitefish. It also provides portage access to over 10 more lakes with excellent speckled (brook) rainbow and lake trout fishing
Ontario Walleye Fishing
"Tempting the Big Walleye's of Fall" By Justin Hoffman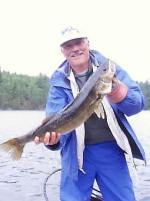 As the leaves begin to drop and the temperature starts to cool, the walleye begins a migration to typical areas in search of food to fatten-up for the upcoming winter. Fall time is synonymous with trophy time as these fish display size, strength and a willingness to bite. Locating and tempting these lunker fish can be a rewarding experience by trying the following tactics and techniques for hot action on those cool days of autumn.
Finding the Fish
Cooler water temperatures signal an impulse in the walleye to "migrate" to areas that they typically frequented during the spring months. River mouths and inlets, shallow water weedlines and island breaks are just three locations that the walleye will call home for the fall months. One key aspect to keep in mind is that most fish will be found in water predominantly shallower than they occupy during the summer months. One reason for this shift is due to water temperature, mainly, a more comfortable level. Another reason is in part to the influx of baitfish that are calling the shallows home at this time of year. The walleye are gorging right now, leaving the shallows the best bet to appease their appetite.
Mud flats are another interesting option to seek out fall walleye. I've had tremendous success fishing these "structure less" areas, as they seem to group up and hold large pods of feeding fish.
Nighttime is Right Time
If you are looking for an eventful time on the water with the possibility of some trophy 'eyes, then book yourself a night shift at your favourite lake. Due to their light-sensitive eyes, the walleye will feed actively during this period of darkness and will head right up shallow to fill their bellies full. Search out an area that consists of mud, sand and green weeds and has close access to deeper water. Water depths can vary, but a rule of thumb is to start shallow (2 to 3 feet) and progressively move deeper until you connect with fish. Shallow running cranks are your best bet, especially thin minnow-style baits. BIG baits are the norm at this time of year, with 6-inches being a common length to throw. Remember, the fish you will catch are generally larger and are gorging on baitfish - this is no time for small 2 or 3-inch crankbaits.
Choosing baits that have rattles can be a definite plus as it will help the walleye hone in on your bait during the darkness. Bagley's, Rebel and Wally Divers have all proven their merit while out on the water with an action and frequency that walleye jump all over.
Casting or trolling are two techniques that are both productive for nighttime walleye. If the area is a confined spot with a small feeding shelf or flat, casting is your best route to take. If the stretch is long and even with a prominent weedline along the edge, a trolling style will be best suited. Test the water at night this fall and see what's lurking under the surface.
Live Bait Applications
Live bait can be a deadly application during the fall months due to the fact that it represents what the walleye are feeding on to the truest sense. Leeches and minnows are your two tops bets for connecting with fish at this time of year, and they will also last longest on the hook in the colder water.