In this issue:
Tweak Your Jig and Pig for Optimum Results
Our Fishing Video Site is up and running. If you have hi-speed internet access click here to see some great short fishing video clips. We've added a few new UNDERWATER Videos
Hilltop Cottages - Hilltop Cottages, Tent and Trailer Park is located in Deux Rivieres, Ontario along the Ottawa River on Hwy 17. Our services include family camping, housekeeping cabin rentals, service trailer sites, live bait and tackle, hunting, fishing and more.
Papa Johns Cottages - Pickerel (Walleye), SM Bass, Pike, Lake Trout and Whitefish. Fish Herridge Lake, or take a wilderness day trip in our Back lake fishing packages. We have placed Boats, motors and gas on a chain of remote lakes accessible by short portages off the home lake. Great fishing, Beautiful scenery
Pipestone Point Resort - Welcome to Pipestone Point Resort. A wilderness retreat. An environment to serenity.Surrounded by some of the greatest hunting and fishing. The waters of the Walleye, Bass,Lake Trout, Northern and Muskie. Situated on a beautiful peninsula, Pipestone Point Resort offers unlimited exploration opportunities by land or water. 65,000 miles of shoreline, 14,000 islands, and countless bays make for a remote and tranquil setting.
Auld Reekie Lodge - Whether you pamper yourself with our full meal plan and the ultimate in comfort in one of our 6 luxury suites, or stay in a fully equipped 4 star cottage where you can cook your own meals, at Auld Reekie Lodge we feel we've got everything you're looking for and more. Auld Reekie Lodge, as featured on the Canadian Sportsfishing Show, is a true escape in the beauty of Northern Ontario's wilderness.
Shoal Lake Lodge - All new quality accommodations will include six individual cottages, the Lodge/Dining Hall, Recreation Room and out buildings. Our specialty is Northern Pike and Small and Largemouth Bass fishing. Northern Pike fishing is simply fabulous both in number and size. Shoal Lake is rated by Ontario out of Doors as the #1 drive to pike lake in Ontario.
Lost Lake Wilderness Lodge - Wilderness retreat near the villages of Elk Lake and Gowganda, Ontario awaits you for your next holiday. We provide a clean full facility private cottages in a gorgeous setting. Provide all the opportunity to relax and have a memorable vacation. Of course we'll be there if you need us to provide you with bait for your fishing trip, or to cook your meals if you are on our American Plan package. Maybe just to chat about the area or maybe find where the BIG fish are hiding!
Black Creek Outfitters - Black Creek Outfitters is located in the beautiful Mississagi River Valley in Algoma Country. We offer fishing, hunting, ATV riding, snowmobiling & newly renovated housekeeping cabins.
Lang Lake Resort - Summer or winter our cabins are winterized have a full kitchen, running water and a personal dock. Choose from either housekeeping or American plan. We also have boat and motor rentals. Fish our main lake system for trout, walleye, pike, smallmouth and largemouth bass. Our resort also offers quiet back-lake retreats. We have many activities such as hiking, snowmobiling, swimming in the sparkling-clean water of Lang Lake or relaxing in the hot tub. Don't forget to bring your camera!
"Tweak Your Jig and Pig for Optimum Results"
By Justin Hoffman

The jig and pig is a classic bait that catches a ton of largemouth bass. It offers the angler versatility because it can be used with so many different techniques and tactics….from flippin' to pitchin' and docks to slop. They've accounted for many of my biggest largemouth over the years, and are the only bait I turn to when a tournament win is on the line.
Although there is a wealth of information on how to use a flipping jig, there is very little guidance on how to "spruce up" or improve this bait straight out of the package. Follow me as I share the tips that have helped me put more and bigger bass in the boat.
Choosing the Perfect Bait
There are literally hundreds of styles and varieties of flipping jigs currently on the market. Although some variations may seem miniscule, they can mean the difference between catching a fish and losing one. Here are some suggestions on how to select a flipping jig.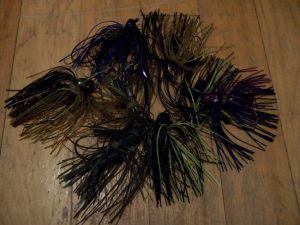 1. Wide gap hooks are a top priority in my books. Penetration will be easier and faster with this design, and hooking fish (and keeping fish hooked) will be much simpler.
2. Choose a brand of flipping jig that has "ready-sharpened" hooks. Going this route will ensure that your hook point is always razor sharp, equating to more fish in the boat. (It also saves time when out on the water by not having to stop to touch up a dull hook point.) Excalibur, Owner and Gamakatsu make dependable and sharp hooks that have worked well for me.
3. Pick a flipping jig that has a rattle chamber. This sound source will call fish in from greater distances, and will mimic the sounds that a crayfish makes. It's like a dinner bell for largemouth.
4. High-quality, life-like, living rubber skirts are my favourites. Tri-colour skirts are a great choice, allowing bass a wider range of colour options to tease them into striking.
5. Lead head options are quite varied. Choose two or three styles (line through head, cone shape or flat head) and experiment using different fishing conditions. Cone-shaped heads are great for penetrating weeds, while flat heads excel in rock and sand.
Tweaking It
Now that you've discovered what to look for when choosing a flipping jig, tweaking it to make it work even better is the next step.
The first thing I do when dealing with a new flipping jig is to slightly bend the gap of the hook outwards. This is achieved with a pair of pliers, and will give the hook an increase in penetration and better leverage when a hookset is executed. (Somewhere in the range of a centimetre or so will be sufficient.)
It's now time to look to the weed guard. No matter what type or style of flipping jig you purchase, each one will come with a weed guard that is far too long and equally as thick. Left in this state, hooksets will become harder.
The first step is to take a pair of scissors and cut the length of weed guard down so that is rests slightly below the point of the hook. With the same scissors, I then proceed to thin out the guard by cutting off individual bristles at the base of the jig head. I will continue this until I am left with between eight and 12 bristles - - more than enough for any situation you will encounter out on the water.
The last trick is to fan and bend the weed guard out and away from the hook. This will deflect weeds with ease, while also allowing perfect hooksets.
Flipping jig skirts also seem to be a little too long out of the package for my liking. I've purchased some that have completely disguised my trailer once added to the hook! For the best effect and action, I prefer the skirt to fall approximately 1-inch below the bend of the hook. If you haven't guessed it - get those scissors back out and start cutting!
Rattle chambers play a valuable part role when using a flipping jig, yet they can easily slide and fall off the shank of the hook, rendering them useless. In order to fasten the rattle securely, I like to place a few drops of "Super Glue" along the plastic chamber to bind it permanently to the hook.
Super Glue is also invaluable for attaching plastic trailers to your jigs. By running a few beads of glue along the shank of the hook and sliding your plastic trailer on, the fish will have less chance of pulling or twisting the rubber off, meaning more time fishing and less time replacing the "pig."
Tweaking Your Trailer
Regardless of whether you prefer plastic or pork trailers, there are a few tricks you can use to add effectiveness to your presentation.
1. Cut "slats" horizontally along the body of the trailer to give increased action and added vibration.
2. Increase the rate of drop to your bait by using a hole punch to modify the plastic or pork trailer.
3. Commercial colourants can be bought to dip your trailer. This can be done while out on the water, allowing an angler to change from brown claws to red claws in the blink of an eye.
4. For murky water, add a small rattle chamber into the body of your plastic for increased sound. Even if you jig has a built-in chamber, this extra addition can often prove invaluable.
5. Coat all of your trailers heavily with a commercial fish scent.
Flipping jigs remain high on my list as effective largemouth bass lures. Although they may look fish-ready straight out of the package, tweaking and altering their appearance can make them even better baits. Have fun experimenting!