---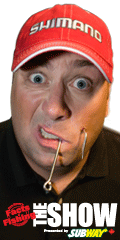 ---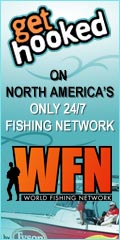 ---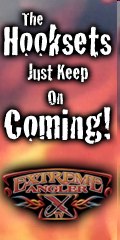 ---
---
Editors & Publishers
T.J. & Monique Quesnel
The Ontario Fishing Network E-Magazine is published 12 times a year on or near the beginning of every month. Our magazine is geared to any angler who enjoys fishing of any type in the wonderfully diverse province of Ontario.
Editorial Submissions: We welcome query letters, but assume no responsibility for unsolicited materials.
Subscriptions: Subscriptions are FREE of charge and delivered via email. You can subscribe HERE:
Privacy Policy: Unlike other publications We NEVER make our subscribers list (your email address) available to any other companies.
Advertising: If you are interested in advertising please email us.
Circulation - 8,000 email subscribers
© 2008 Due North Marketing / Ontario Fishing Network / T.J. Quesnel. All rights reserved. Reproduction of any material without prior written permission strictly prohibited.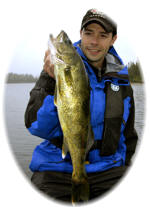 Spinnerbaits Tricks for Largemouth
By Tim Allard
Spinnerbaits put plenty of largies in my boat each season. A tried-and-true lure, they sometime produce catches for me on days when nothing else delivers. Much has been written about using these baits, in this piece I want to share four of my best spinnerbait strategies for landing more bucketmouths.
Tick the Weeds
Working weed flats with spinnerbaits is a good way to cover water, searching for active fish. Ticking the weed tops with a spinnerbait is one of the most important things to keep in mind when working lures around weeds. The disturbance this manoeuvre makes in the underwater forest riles up largies. I've had rod-jarring hits from bass using this trick. It works with willow-leaf blades and fast retrieves when bass are active. Yet is really shines for me in autumn with slower retrieves when fish are sluggish.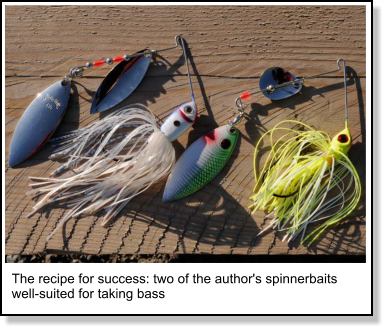 Sputtering in Shallows
Another spinnerbait trick when stalking shallow water largemouth in calm conditions is using a light, 1/4- ounce, willow-leaf bladed spinnerbait. Look for areas with some weed growth but not choked full of weeds as you'll need to manoeuvre the bait through the open areas. This said, foul-ups are part of the game so make short casts to ensure you don't waste fishing time or spook fish getting hung up. The trick with this presentation is to occasionally pop the blade out of the water so that it makes a subtle splash. It's not a loud, boisterous presentation, but a low-key sputtering sound intended to mimic a baitfish jumping out of the water to avoid being eaten. This sound rings a dinner bell for largemouth, signalling an opportunity for a surprise attack.
Bump the Stump
In addition to weeds, shorelines mixed with sunken wood and fallen trees are other areas I like casting spinnerbaits for largemouth. Bumping the stump is a well-used bass expression and refers to banging lures, in this case spinnerbaits, off of wood during the retrieve. The manoeuvre often triggers aggressive hits, as it depicts a disoriented creature vulnerable to an attack and appeals to the ambush-feeding instincts of largemouth. Anywhere you spot wood can be a good area to try this trick.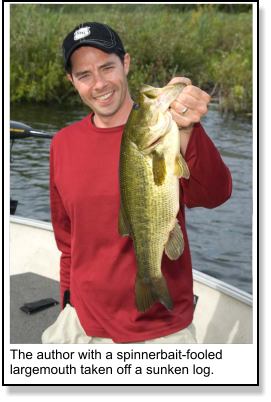 Pre-emptive Spinnerbait Strikes on Laydowns
I also use spinnerbaits as a pre-emptive strike on laydowns. Fallen trees hold big bass as well as numbers of fish. Many anglers make the mistake of rushing up to a tree, excitingly grabbing a flipping stick and pitching into the heart of the wood. No doubt, the darkest, deepest area often holds the biggest fish, but you may have bypassed others and spoiled the area coming in close right away. I'm guilty of making this mistake too and find it most frequently happens on new water when I underestimate the size of a tree, or how far it extends into the water.
To correct this problem I've started using lures, such as spinnerbaits, to work the perimeter first with long casts. This way, if fish are relating to the outside of the tree, I've got a good chance of catching them. Once I've worked the outer area, I'll move in and employ the stump-bumping trick. Usually by the time I've done this, I'll have positioned my boat into flipping range and will change to this vertical presentation. This switch up tactic is deadly and has boated me dozens of bass I'd likely have missed if I would have went straight in with my flipping stick.
Spinnerbait Set Up
It's important to use right tools for the job when casting spinnerbaits for bass. A quality baitcast with a smooth drag is important. You also don't want too stiff of a rod. You'll hook more fish if you use a medium-fast action stick. As you're often bringing in spinnerbaits on a taught line, you want a bit of give in your presentation to ensure the fish gets a hold of the bait and you get a good hook set. Too stiff a rod and you'll end up pulling the bait from fish. For similar reasons I use 14- to 17-pound test monofilament line in this presentation. The line's properties give a bit of stretch to the offering. Be sure to regularly check for nicks and retie if necessary.
A veteran on tackle shop walls, spinnerbaits continue to be confidence lures for many anglers, and for good reason. The flash, vibration, profile and overall versatility of these lures makes them deadly on largemouth. I encourage you to cast them often this season and marvel in the fish-catching power of spinnerbaits.he strike zone faster and I spend less time waiting for the bait to sink. The extra weight also helps me keep a taught line on the offering, so I can set as soon as a fish hits. Although he best action on stickbaits is achieved by letting them freefall un-weighted, adding a small amount of weight doesn't impede their effectiveness.
---