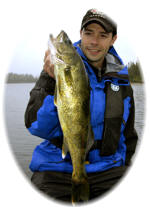 Fish Fast First to Ice More Winter Walleye
By Tim Allard

As anglers it's easy for us to fall into the pattern of ice fishing slowly for walleye. Granted, certain conditions demand lethargic presentations to get bites. Mid-winter doldrums, cold front weather systems and high fishing pressure are a few examples. Yet, fishing jigging baits at a faster pace can attract more aggressive walleye. With the right kinds of lures you can fish quickly, but add finesse moves when needed. This combination may seem like a paradox, but it catches me dozens of walleye during the ice season.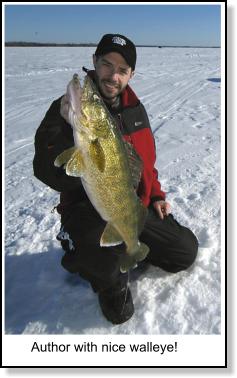 Change Your Mindset
A good rule of thumb for walleye, and other species, when ice fishing is: fish as fast as you can get away with. This allows you to work baits quickly and get the attention of fish in the vicinity. Additionally, because you're doing it at a steady clip, you'll cover more water throughout the day.
I'm not advocating jigging with reckless speed. Overworking a lure will ruin its action. What I am suggesting is first experimenting with a fast jigging sequence within the speed threshold of the bait you're using. This helps to determine if aggressive fish are in the area and if any are willing to hit a fast-moving bait. Don't assume you need to fish slowly because the water's cold.
The Best Baits
The most effective jigging baits are ones you can fish fast as well as slow. Sound like a contradiction? It's far from it. Let's look at two popular walleye baits as examples.
Jigging spoons and swimbaits can be fished quickly with a fast snap of the wrist. This causes both baits to dash upwards and then fall on slack line. To work baits fast, mix in one or two more jigging snaps after the initial fall, before holding the bait still for several seconds. If there are aggressive walleye in the area, a quick presentation will really rile them up and result in hits.
Trigger Them with Pauses
Pausing a swimbait or spoon begins the finesse presentation. When fish are feeding, it won't take them long to hit. Using flashers, like Vexilars, helps you determine if a bait has attracted fish during the jigging sequence. With this info you can then experiment with finesse moves until you discover the right combination to trigger strikes.
Try the following to coax hits. A slight jiggle of the rod tip is deadly. This shakes the bait slightly. It mimics the nervous quiver and panic of a baitfish realizing it's in danger of being eaten. Sometimes this subtle move is enough to encourage hits. Next, try jigging again or hold the bait still. It stands to reason, the less aggressive the fish, the more you'll need to slow things down. This includes the frequency and intensity of jigging lifts as well as the length of time you pause a bait.
Tipping Baits
You can still tip baits when fishing fast. Scent and meat helps get strikes when holding baits still. If using minnows, hook them through the skull to ensure they stay on. Only use a minnow head for swimbaits so as to not interfere with the bait's action. Scent-infused, artificial baits are effective too.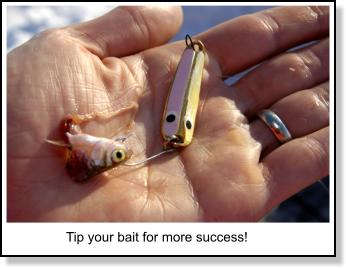 Remember, you won't know how fast you can catch fish unless you try. This winter, experiment with working baits quickly before assuming you need a slow presentation to hook walleye. The results are sure to impress you, and your fishing buddies.
---