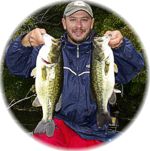 Make Some Fishing Resolutions
By Justin Hoffman

With another year firmly upon us, non-committal promises to lose weight, quit smoking or eat healthier, quickly, and for the most part definitively, run out of steam. Although we struggle with these goals year after year, proposing and adhering to fishing resolutions will most certainly bring about the positive results you desire. (And they are not all that hard to stick with.)
Here's my top ten list of fishy things to try this year. They are all guaranteed to broaden the mind, awaken the soul, and most of all, conjure up a whole whack of yearly fun.
1. Fish a New Species
Chasing the same specie of fish can become a bit bland over time. We already know how to catch them, so the exercise can often become repetitive and slightly boring.
Choose one fish this coming season that you have never caught. It could be a carp, gar, sturgeon or crappie, or anything else that swims. Going after something new will bring added excitement and an increase in fishing proficiency. It will also give you something different and unique to add to the photo album.
2. Pick Up a Fly Rod
How many of you have never picked up a fly rod? Although growing in popularity, it still remains a sport with a stifled participation. Fly fishing can bring a new dimension to the sport of angling, challenging you to learn a new and fascinating technique, different water and a cunning quarry. Combos can be relatively inexpensive to buy, and there are many clubs, fly shops and guides that are more than willing to show a newbie the finer aspects of the sport.
3. Help Out a Cause
Putting something back into the sport we all love is a win-win situation. It can take very little of your time and commitment, but the results can often lead to a very pronounced difference. Give your support this year to a stream rehabilitation effort, a fish ladder project or a kid's day event. The only way for our fishery to sustain and improve itself is if we all lend a helping hand.
4. Hit an Urban Centre
With many tuned in to the "grass is greener" syndrome, folk are still willing to guzzle gas and eat up hours by fishing areas miles and miles away. Silly really, when some great spots to fish can be found right in our own backyards.
Make it a goal to give those urban areas a try this season. Ride your bike, take the transit or walk to some of these favoured spots - many of them can cough up some great catches.
Ottawa Info :
http://www.mnr.gov.on.ca/MNR/fishing/ottawa/urbanfishhome.htm
Toronto Info :
http://www.mnr.gov.on.ca/MNR/fishing/urban_toronto.html
5. Learn a New Technique
Make it a goal this year to master a new fishing technique. Not only will this give you an enhanced tool for catching your favourite species, but it will also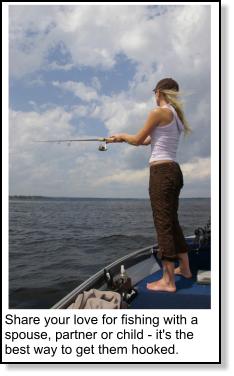 broaden your prowess when it comes to the fishing game. Some invaluable techniques that are worth a look might be dropshotting, flipping or pitching, precision trolling or Carolina-rigging.
6. Take a Spouse, Partner or Child Out
Introduce someone special to the sport you all love. Whether it is a wife, girlfriend, husband, boyfriend or child, showing them why fishing is so important, and how fun it is, can be just the thing to get them hooked too. Many want to see what all the fuss is about, but are afraid to ask. So put the invite out yourself - and see who comes along for the ride.
7. Try the Ice
Ice fishing is growing in leaps and bounds, but there are still folk who have yet to give it a try. Make getting out on the ice a resolution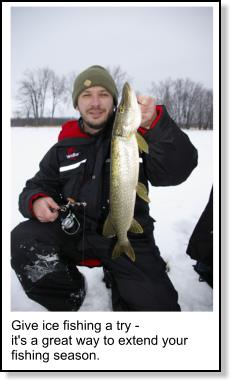 this season. There are plenty of inexpensive outfitters that can set you up in a hut and put you on fish, not to mention fellow anglers that would be more than willing to show you the ropes. Ice fishing brings a new dimension to angling, while also allowing you to dramatically extend you fishing season. Best of all - it is heaps of fun!
8. Join a Fishing Club
Fishing clubs offer a meeting place to share ideas, learn new information and connect with fellow anglers, all in the name of fun. Not only can you befriend new fishing partners, but also involve yourself in organized tournaments, seminars and outings. There are many clubs to be found throughout urban areas that are more than happy to have new members join. Give one a try this year.
9. Take in a Sportsman Show
Sportsman Shows can fill a cold winter's day with excitement, all for less than the price of heading out for dinner. Seeing what new gear is available, taking in the many seminars, picking up some gear, and meeting old friends is a tradition I have kept with for many years now. To me, it has become a rite of winter and spring.
So make it a resolution to search one out this year - you'll be glad you did.
Fish & Boat Show : Feb.15 - 18, International Centre, Mississauga
Ottawa Boat, Sportsmen's and Cottage Show : Feb. 21 - 24. Landsdowne Park
Toronto Sportsmen's Show : March 12 - 16, Exhibition Place
Sudbury Sportsman Show : April 4 - 6, Garson Arena
Valley Fishing and Outdoors Show : April 11 - 13, Carp Arena, Carp
10. Try a New Lake
Make it your goal to venture on to a new lake this year. We all have our favourite spots, but with over 250, 000 honey holes waiting to be discovered, don't you owe it to yourself to wade into something new? You'd be surprised at how many are just around the corner.

I hope you'll give a few of these resolutions a try this year. They can only enhance your love for fishing, and there's no greater benefit than that. Here's to a prosperous and fish-filled 2008!
---